Erik Karlsson and the Minnesota mystery wave
Ottawa Senators defenceman's enthusiastic gesture during game against the Wild went viral on social media.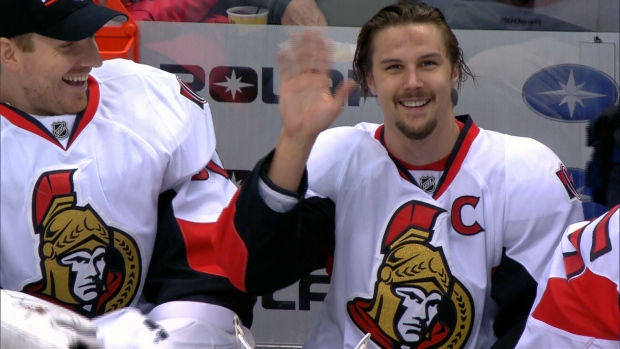 Erik Karlsson knew right away that his antics during the game against the Minnesota Wild were going to go viral on social media.
On Thursday night in Minnesota, the TSN broadcast showed Karlsson waving enthusiastically at the broadcast camera when coming back from a commercial break. And when the cameraman returned the gesture, the Ottawa Senators defenceman realized he was on live television.
"Once he waved back, I kind of knew we were screwed," laughed Karlsson when asked about the incident by TSN.ca on Tuesday morning.
Many people wondered if Karlsson was waving at the camera because he was being shown on the in-house jumbotron at the Xcel Energy Center was having some fun with the crowd.
But that wasn't the case, as Karlsson says he was simply goaded into doing something silly for the TV camera by backup goalie Andrew Hammond. Earlier in the game, Hammond — who was sitting on the end of the bench — mentioned to Karlsson that the camera across the rink was following his every move.
Hammond playfully suggested that Karlsson should do something for the cameraman and the Sens captain obliged. When everything lined up perfectly after a TV timeout, Karlsson decided to wave at the camera.
"It was Hammond who told me that the camera had been on us for a while. We saw that the red light came on and I was looking right into the camera and I waved and the cameraman waved back. So that's how we knew they were filming us and we kind of laughed," explained Karlsson. "I didn't think he was going to play that close attention."
Karlsson acknowledged he's seen the various GIFs and mentions of his wave on Twitter over the past few days. But he was quick to point out that it was a one-time thing and Sens fans probably shouldn't expect to see him doing this again in the future.
"I didn't do it the game after, so it was just one of those fluke things," added Karlsson. "And it turned out to be a little funnier than it probably was."