Erik Karlsson tops first Trade Bait board of the summer
The Ottawa Senators' all-world defenceman holds the keys as the NHL's summer trade season approaches, TSN Senior Hockey Reporter Frank Seravalli writes.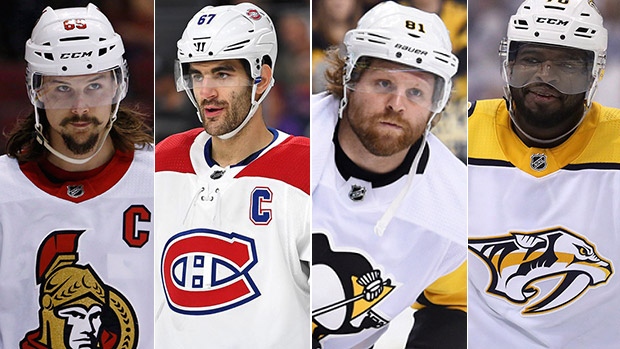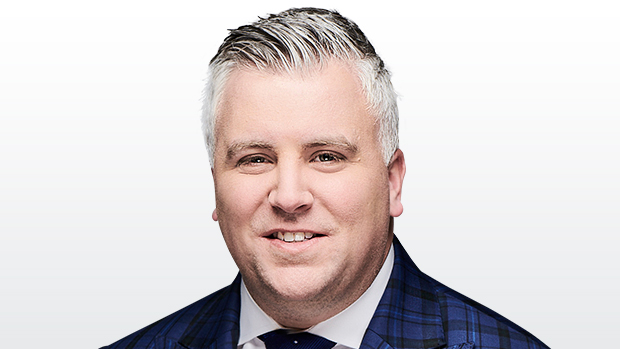 LAS VEGAS - The official position of the Ottawa Senators is that they aren't trading all-world defenceman Erik Karlsson.
General manager Pierre Dorion indicated as much in April at town hall meetings with fans, saying that Karlsson will not be dealt at the NHL Draft later this month in Dallas. He said an eight-year contract extension will be offered on July 1 to keep Karlsson in the fold.
But the fact is the Sens and Vegas Golden Knights went down to the wire, literally minutes before February's NHL trade deadline, on trade talks that would have sent the two-time Norris Trophy winner to this year's Stanley Cup finalist.
That alone is enough to make Karlsson the No. 1 player on TSN Hockey's first Trade Bait board of the summer.
The opening of Trade Season may only be one game away.
Will Karlsson be on the move? The entire hockey world wants to know.
"The ball will be in Karlsson's court," Dorion said at those town halls, according to the Ottawa Sun.
Karlsson, 28, holds the keys now with what amounts to an unwritten no-trade clause. He can stay. He can steer a deal to where he's interested in signing. He can effectively block a deal to another team by making it clear he won't re-sign there. The options are limitless.
Until there is a resolution – sign, trade, or even sign-and-trade – Karlsson will remain No. 1 on the list. There would be no more impactful player on the move since Jaromir Jagr back in 2001.
Nuggets and notes:
- Aside from selecting slam-dunk Rasmus Dahlin at No. 1, what will Jason Botterill do over the next month? The Sabres' GM is believed to be listening on just about anyone other than Jack Eichel. That's why Ryan O'Reilly (2), Ramus Ristolainen (16) and even Sam Reinhart (24) are on the board. You would think an all-Europe alliance with Dahlin on the left and Ristolainen on the right would be a nice pair to pencil in for the next decade, but Ristolainen's name has been out there.
- It's no surprise that Montreal Canadiens left wingers Max Pacioretty (5) and Alex Galchenyuk (20) are on the board. The Habs should know better than anyone it's impossible to turn a winger into a centre, but GM Marc Bergevin might be able to flip one of them for the top-four, left-shooting defenceman they also desperately need.
- Multiple teams believe Capitals backup Philipp Grubauer (6) is ready to take the reins as an NHL starter. Remember: Grubauer started these playoffs as Washington's starter, not Braden Holtby. He is an RFA and could be one less player, along with Andre Burakovsky (21), the Caps need to pay as they attempt to re-sign John Carlson.
- The belief is the Vancouver Canucks offered the No. 7 overall pick in discussions for Carolina defenceman Noah Hanifin (12). Once you get past No. 6 in this year's draft, the common refrain is many teams will be willing to trade down. That usually means few teams will be willing to pay a premium to move up that high. Either way, it's believed Don Waddell and the Hurricanes would prefer to move Justin Faulk (11) before Hanifin. But Waddell isn't afraid to shake things up.

- Oliver Ekman-Larsson (8) is believed to be sitting on a $66 million offer from the Coyotes, according to colleague Bob McKenzie. He can come off the Trade Bait board with a stroke of the pen, but he can also rocket up the list at a moment's notice. The Coyotes are also willing to move Max Domi (19) but teams may not be willing to pay the premium GM John Chayka is asking.
- Penguins GM Jim Rutherford said recently the speculation about Phil Kessel (9) on the move has been "blown out of proportion." That also doesn't mean that Kessel is untouchable, as Rutherford tries to gear up Pittsburgh for another run.
- Montreal still may not be over the trade that sent P.K. Subban to Nashville two years ago, but there is lots of chatter that Subban might be on the move again. The Preds will need to commit significant dollars to Roman Josi and Ryan Ellis in each of these next two summers, plus Kevin Fiala this summer. The hot rumour has been some kind of deal that involves sending Karlsson to Nashville for Subban. Right now, Subban is owed $36 million, which is a small percentage of what Karlsson will ultimately receive.
- Teams are calling the Calgary Flames about Dougie Hamilton (14). Brad Treliving isn't interested in trading Hamilton, but it's probably fair to say Calgary is curious about a market value assessment.
- Having previously requested a trade, Jacob Trouba (15) is no stranger to the list. He is a restricted free agent again now. The Jets are one of the few NHL teams overloaded on the right side. Another right-shooting defenceman, Tyler Myers, is also due to be paid in a year. The key question is: Can everyone get along in the sandbox, with one player biting the bullet to move to the left side? A referendum on that is fast approaching.
- Finally, it is believed the Anaheim Ducks asked former Hart Trophy winner Corey Perry (25) for a list of teams he'd accept a trade to at some point last season. He is due $24 million over the next three years. The Ducks may want to tinker with their core, but Perry's contract won't be easy to move and he holds all the cards.
Here is TSN Hockey's first Trade Bait list of the summer, which seeks to blend prominence of player with likelihood of a trade:
The Top 25
| Player | Pos | Age | Cap Hit | GP | G | PTS | Years | Clause |
| --- | --- | --- | --- | --- | --- | --- | --- | --- |
| 1. Erik Karlsson, OTT | RD | 28 | $6.5M | 71 | 9 | 62 | 1 | M-NTC |
| 2. Ryan O'Reilly, BUF | C | 27 | $7.5M | 81 | 24 | 61 | 5 | |
| 3. Mike Hoffman, OTT | LW | 28 | $5.19M | 82 | 22 | 56 | 2 | M-NTC |
| 4. Jeff Skinner, CAR | LW | 26 | $5.73M | 82 | 24 | 49 | 1 | NMC |
| 5. Max Pacioretty, MTL | LW | 29 | $4.5M | 64 | 17 | 37 | 1 | |
| 6. Philipp Grubauer, WSH | G | 26 | $1.5M | 35 | 2.35 | .923 | RFA | |
| 7. Canucks' 7th overall pick | | | | | | | | |
| 8. Oliver Ekman-Larsson, ARI | LD | 26 | $5.5M | 82 | 14 | 42 | 1 | |
| 9. Phil Kessel, PIT | RW | 30 | $8M | 82 | 34 | 92 | 4 | M-NTC |
| 10. P.K. Subban, NSH | RD | 29 | $9M | 82 | 16 | 59 | 4 | |
| 11. Justin Faulk, CAR | RD | 26 | $4.83M | 76 | 8 | 31 | 2 | |
| 12. Noah Hanifin, CAR | LD | 21 | $925K | 79 | 10 | 32 | RFA | |
| 13. Alex Petrovic, FLA | RD | 26 | $1.85M | 67 | 2 | 13 | RFA | |
| 14. Dougie Hamilton, CGY | RD | 24 | $5.75M | 82 | 17 | 44 | | |
| 15. Jacob Trouba, WPG | RD | 24 | $2.81M | 55 | 3 | 24 | RFA | |
| 16. Rasmus Ristolainen, BUF | RD | 23 | $5.4M | 73 | 6 | 41 | 4 | |
| 17. Conor Sheary, PIT | LW | 25 | $3M | 79 | 18 | 30 | 2 | |
| 18. Milan Lucic, EDM | LW | 29 | $6M | 82 | 10 | 34 | 5 | NMC |
| **19. Max Domi, ARI | C/LW | 23 | $1.36M | 82 | 9 | 45 | RFA | |
| **20. Alex Galchenyuk, MTL | LW | 24 | $4.9M | 82 | 19 | 51 | 2 | |
| 21. Andre Burakovsky, WSH | LW | 23 | $3M | 56 | 12 | 25 | 1 | |
| 22. Chris Tanev, VAN | RD | 28 | $4.5M | 42 | 2 | 11 | 2 | M-NTC |
| 23. Vladislav Namestnikov, NYR | LW | 25 | $1.94M | 81 | 22 | 48 | RFA | |
| 24. Sam Reinhart, BUF | RW | 22 | $894K | 82 | 25 | 50 | RFA | |
| 25. Corey Perry, ANA | RW | 33 | $8.63M | 71 | 17 | 49 | 3 | NMC |
**Traded on Friday, June 15