Eskimos sign QB Reilly to contract extension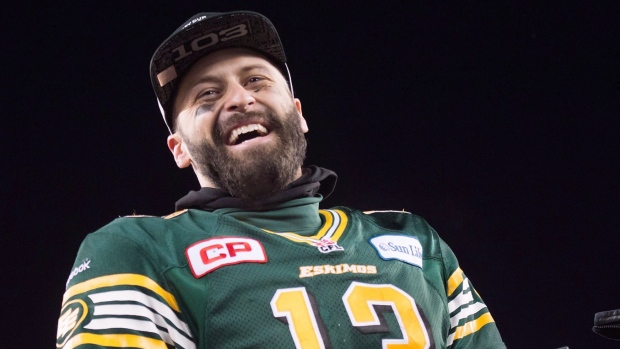 EDMONTON - The Edmonton Eskimos signed quarterback Mike Reilly to a contract extension through the 2018 season Thursday.
Reilly capped the 2015 season leading Edmonton to a 26-20 Grey Cup win over the Ottawa Redblacks in November and was named the game's outstanding player.
TSN Senior Correspondent Gary Lawless notes that the deal will give Reilly a $200,000 bonus and a salary worth more than $500,000 in the second and third years of the deal. This will make Reilly the league's highest-paid pivot.
Lawless spoke to Reilly on Thursday afternoon about the new deal.
"He had this to say about why he stayed in Edmonton: He loves the city, he believes (general manager) Ed Hervey has a plan to win, he has a ton of confidence in Ed Hervey - he kept going back to that.
"And then, the clincher for him, Chris Jones left for Regina, and it's no secret Reilly loved Chris Jones," explains Lawless. "However the new man, head coach Jason Maas, in a very short amount of time, Reilly and Maas have got on the exact same page. Maas is respected as one of the best offensive minds in the Canadian Football League. He has won Reilly over with his plan."
The 6'3", 230-pound Reilly began his CFL career in 2010 with the B.C. Lions and was dealt to Edmonton in January 2013 for the Eskimos' second-round picks in the '13 and '14 CFL drafts.
The 31-year-old suffered a knee injury in Edmonton's season-opening loss to Toronto last year.
Reilly returned for the Eskimos' Labour Day contest versus Calgary before leading the club on a 10-game win streak to end the season, capping it off with the Grey Cup victory.
CFL Quarterback Salaries
| QB | TEAM | 2016 SALARY | 2016 BONUSES | 2017 SALARY | 2017 BONUSES |
| --- | --- | --- | --- | --- | --- |
| Jonathan Jennings | BC | $110,000 | - | $110,000 | - |
| Travis Lulay | BC | $200,000 | - | $200,000 | - |
| Bo Levi Mitchell | CGY | $320,000 | - | $320,000 | - |
| Drew Tate | CGY | $200,000 | $100,000 | - | - |
| Mike Reilly | EDM | $405,000 | $200,000 | $505,000 | - |
| Zach Collaros | HAM | $275,000 | - | $275,000 | - |
| Jonathan Crompton | MTL | $120,000 | - | - | - |
| Kevin Glenn | MTL | $150,000 | $150,000 | - | - |
| Henry Burris | OTT | $300,000 | - | - | - |
| Trevor Harris | OTT | $150,000 | - | $400,000 | - |
| Darian Durant | SSK | $200,000 | $250,000 | - | - |
| Ricky Ray | TOR | $200,000 | $290,000 | $200,000 | $290,000 |
| Drew Willy | WPG | $410,000 | - | $450,000 | - |
- All numbers courtesy of Looniecap