Ex-Senator Kelly on Olympics: 'I never thought this would happen'
Chris Kelly didn't know what to expect this season. Certainly not a trip to the Olympics. Two months ago, Kelly was wondering whether his playing days were over.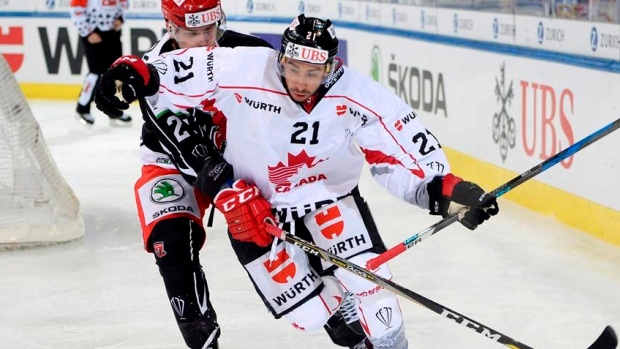 Chris Kelly didn't know what to expect this season. Certainly not a trip to the Olympics.
"It's kind of (been) a weird year in terms of not really knowing what tomorrow is going to bring," said the 37-year-old former Ottawa and Boston centre. "And that's kind of the way it's been for some time now. I've just taken it day by day and when an opportunity has presented itself, it's been great to be able to jump on it.
"I never thought this would happen."
With NHL players watching the Pyeongchang Games from afar, the Winter Olympics are making for more than a few new hockey chapters.
Two months ago, Kelly was wondering whether his playing days were over. After seeing action in just two games for the Sens in last year's playoffs, the veteran of 833 NHL regular-season contests found himself without a contract.
Oilers GM Peter Chiarelli, who won a Stanley Cup with the hard-working Kelly in 2010-11 in Boston, brought him into camp on a tryout but he did not stick.
After coming back from the Oilers in mid-November, Kelly talked his future over with his family and decided to keep training until the end of the month.
"And if nothing kind of presented itself then maybe it was time to stop playing and look at other avenues after hockey," he said.
Enter Randy Lee, Ottawa's assistant GM who is also in charge of the Sens' AHL affiliate in Belleville. Now in his 23rd season with Ottawa, Lee goes way back with Kelly.
"He was a big reason that I got the opportunity to play in the NHL," Kelly said of Lee. "If you ask most guys in the NHL there was someone in their corner pushing for them and encouraging them. Randy definitely was that guy. And he's continued to look out for me right up until now."
Kelly was skating with the Carleton Ravens when Lee, who doubles as GM of the Belleville farm team, offered him a professional tryout contract in the AHL. Kelly, who makes his home in Barrhaven outside of Ottawa, took him up on the offer, which led to an invitation from Hockey Canada to play in the Spengler Cup over Christmas.
With KHL players unavailable for the annual tournament in Davos, it was a chance for more than a few Canadians to audition for Pyeongchang.
Kelly and linemates Mason Raymond and Christian Thomas made the most of the showcase as Canada won the tournament. All three will be in South Korea.
Raymond, 32, played 546 NHL games — with 115 goals and 136 assists — for Vancouver, Toronto, Calgary and Anaheim. The native of Cochrane, Alta., who was the Canucks' second-round pick (51st overall) in 2005, now plays for Bern in the Swiss league.
Thomas, the son of former NHL sniper Steve (Stumpy) Thomas, was a second-round pick (40th overall) of the New York Rangers in 2010. The 25-year-old Toronto native played 27 games for the Rangers, Montreal and Arizona but is now with the AHL Wilkes-Barre/Scranton Penguins.
Kelly, taken by Ottawa in the third round (94th overall) of the 1999 draft, has played on the big international ice surface before but admits that it took some time adjusting.
"I enjoyed it. I think it's a thinking game which I kind of enjoy. You've got to angle and make sure you're in the right position and not get caught."
He also enjoyed the festive atmosphere in the stands at the Spengler Cup, something he expects to see more of in Korea.
"It's more of a soccer-game mentality. The fans are lively. They've got the drums playing. They're very enthusiastic. It's something that we don't get to experience playing in North America but I think for a lot of the European players that was normal to them. The atmosphere was fantastic for every game ... It's fun to be a part of — fun to play (in)."
A survivor, Kelly endured several leg breaks — included a broken femur — and a herniated disc during his NHL career. On the ice, he was known for his work ethic and ability to check and kill penalties.
Kelly, who has 123 goals and 116 assists in the NHL, says he has not thought about his post-Games future. For now he is just focusing on Team Canada.
It's a hockey bonus to savour, from representing his country to taking part in the opening ceremonies.
"I wasn't quite sure where this was going to lead to when I started this year. It's funny how things work out," he said.
His wife will be in South Korea to see the drama unfold. Their three daughters will be back home with family watching on TV.
Canada's first game is Feb. 15 against Switzerland at 7:10 a.m. ET.
---
Follow @NeilMDavidson in Twitter
Note to readers: This is a corrected story. An earlier version reported that Lee played on aline with Raymond and Thomas.