Expectations are up, but Horvat's production is down
Six games into his second National Hockey League season, the Vancouver forward is sitting on one point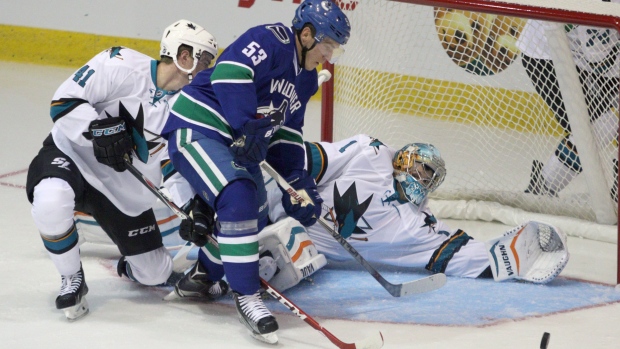 VANCOUVER – Last season, Bo Horvat had the Midas touch. Right now, he has no touch at all.
Six games into his second National Hockey League season, Horvat is sitting on one point – a power-play goal – picked up in the second period of the Vancouver Canucks second game. Since then, Horvat has come up empty.
Last season, a four-game pointless streak and a stretch of six games with just a single point wouldn't have raised eyebrows. The only numbers that mattered then were Horvat's age (19), his ice time and how he fared in the faceoff circle as he faced - and passed - test after test in his first go-round in the best league on the planet.
But based on his impressive play as a rookie, the bar was raised and things have certainly changed for Horvat. Most notably, he has ascended the Canucks depth chart and is now facing expectations to produce. For the first time in his brief NHL career, Horvat, now 20, hasn't delivered.
That's not to say he's played poorly, and it's far too soon to declare it any kind of sophomore slump. He's fifth among Canucks forwards in ice time, has 12 shots on goal, is logging special-teams minutes on a nightly basis and is crushing it in the faceoff circle so far this season.
On many shifts, he looks exactly like the player that thrilled Canucks fans most nights in the second half of last season. The problem, though, is that Bo Horvat is stuck on just one point. He's well aware that more is required of him, especially now that he's been surrounded by offensive-minded players - whether it's Radim Vrbata, Sven Baertschi or even Jake Virtanen.
It could be argued that a lack of consistent linemates from period to period and game to game has been a factor in Horvat's offensive sluggish start.
"I think I've been pretty good," he offered up when asked for a self-assessment. "The St. Louis game I didn't think I was up to par, but I'm still getting tons of chances and just haven't been able to bury it. If I play my game, eventually things are going to turn around. For me, it's just not worrying about it. That's the biggest thing. The more I worry about it, the more it seems to backfire. If I let the game come to me, rather than trying to force things, I think that will benefit me and the team."
Last season, the Canucks could be patient with Horvat because of the way he was deployed. But now they need him. His slow start comes as a surprise because he had an inspired preseason. Horvat gave the impression he would pick up where he left off last spring and looked to be serving notice that he would hit the ground running in 2015-16. But that simply hasn't happened.
"That's the hard part with Bo. He had such a good playoff last year and all of a sudden we start expecting all of these things," head coach Willie Desjardins said. "And that was one of the things we didn't want to do at the start of the season. We wanted him to develop the way he's going to develop. Sometimes you forget Bo is 20 and you think he's 25. And I guess if you think he's 25, then he's doing pretty well with where he's at. The numbers haven't been there pointwise, but I think they'll come."
Desjardins continues to put Horvat in situations to produce, playing him a career-high 19 minutes and 26 seconds in Anaheim a week ago and using him as the centre on the team's second power-play unit. It's clear that the coach believes Horvat is one of his best threats to generate offence, a departure from the way Desjardins sheltered his then-rookie from any and all expectations 12 months ago.
"Last year, people were upset with me because I said I don't expect him to score, but I didn't want to put pressure on him to score at that time," Desjardins explained. "I wanted him to play his game. It wasn't that I didn't think he could score; I just didn't want him to feel that. And this year he's going to feel it more. "
Horvat is a heady player with a solid grasp of what's expected of him, both internally by the hockey club and by a fan base still trying to figure out where the offence is going to come from on many nights this season. Horvat is a candidate to produce and wants to be leaned on in that fashion, but he admits there's a different feeling attached to the role he's being asked to play. Last season he rose above the expectations. This time around, he has to guard against getting dragged down by them.
"Obviously, you're expected to put up numbers in a top-six role," he said. "Last year, I was expected to play well defensively and not get scored on. This year, I have a little more leeway to try different things offensively and so far I've had tons of opportunities and lots of chances. It's just that things aren't going in for me right now but eventually it's going to turn around.
Desjardins doesn't seem concerned with Horvat's early-season scoring struggles and certainly isn't about to ask his young centre to change the way he approaches things.
"He's pretty consistent defensively and that's the best part of his game," the coach said. "And if you play good defensively, then the offence will come. If you're not in your own zone, then eventually you will score."
That's certainly the hope the Canucks are clinging to when it comes to Horvat and his offence. At some point, it's bound to arrive. Unfortunately for Horvat, the waiting game is a painstakingly difficult one to play when the expectations are there but the production is not.