Fantasy Takes: Terrance West's recent hot steak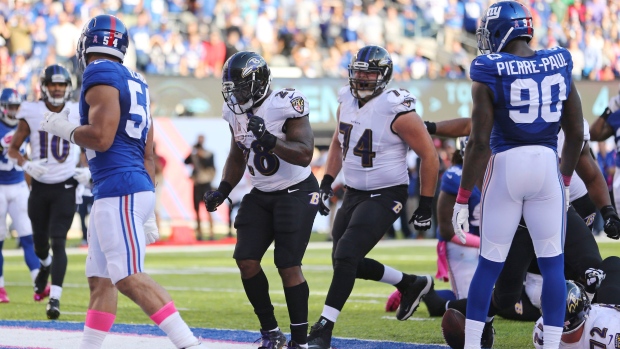 Each week, NFL Editors Ben Fisher and Mike Hetherington discuss three hot fantasy topics.
Is Terrance West a legitimate starting fantasy RB, or is he just on a hot streak?
Fisher: I'm still having a hard time trusting West, despite his recent string of good starts. What West's last three weeks have done is earned him the starting job in Baltimore, and being one of the league's 32 starting running backs has value in and of itself in fantasy. He might not be a starting running back in my books, but he's worth consideration as a flex play.
Hetherington: West has clearly won the starting job for the Ravens and he appears to have a tight grip on the starting job. West was off to a slow start against the Giants but the Ravens stuck with him and he reached paydirt twice. West isn't on the longest leash but the job appears to be his moving forward even with Kenneth Dixon healthy. West is an every-week RB2 start in my books.
Strictly from a fantasy standpoint, does Dak Prescott deserve to keep his starting job if/when Tony Romo returns healthy?
Fisher: If both players are healthy, I think Romo is still the better fantasy quarterback, but just by a bit. Prescott is having an MVP-like season in real football, but still fighting to crack the Top 10 in fantasy football. And that's a group a healthy Romo normally resides in. But I'm taking Prescott for two reasons: health and upside. Romo can't be trusted to last long between injuries and is on the downswing of his career. Prescott meanwhile, should only be getting better in theory.
Hetherington: Prescott owners should certainly be hoping Dak keeps the starting job, otherwise they'll be losing a QB1 off their starting roster. Prescott's the No. 8 fantasy QB so far this season and his ability to run for touchdowns gives him a fantasy advantage over Romo. Plus, who knows what to expect from Romo when he returns, and then there's the risk that he's not a sure thing to finish the games he starts. Dak owners should also be Romo owners just in case. They should also hoping they don't have to swap the two in their lineup.
Which team has the best fantasy WR tandem in the league?
Fisher: One of the biggest surprises in fantasy to start this season was the Raiders' Michael Crabtree. And now that Amari Cooper is performing up to expectations, the Raiders are the early frontrunners for top WR tandem of the year. Yep, the Raiders are winning fantasy awards these days.
Hetherington: This one is clearly not set in stone, but the obvious answer so far this season is the Raiders. Amari Cooper and Michael Crabtree are the only WR1 tandem in the league this season thanks to an the aggressive offence led by Derek Carr. However, Crabtree numbers have been boosted by five touchdowns passes and he's coming off just a 10-yard performance against the Chargers. Emmanuel Sanders and Demaryius Thomas are the only other tandem in the top-20 this season, but their quarterback situation puts their value in question. For now, I'll take the Raiders duo but this is not the year of the fantasy tandems at wide receiver.