FIBA U19 team headlines impressive 2017 for Canadian teams
Team Canada won the FIBA U19 Basketball World Cup in July to mark the first time a Canadian team claimed gold on basketball's world stage.
The win was enough for Canada's U19 team to capture The Canadian Press Team of the Year for 2017 award, voted on by broadcasters and sports editors from across the country.
"From one to 12, what an incredible group of young kids we had, who did an incredible job of representing our country," head coach Roy Rana said.
But Canada's uplifting win in Cairo was only part of a great year for Canadian sports teams. With the new year just around the corner, TSN.ca takes a look back at some of the top Canadian contenders from 2017.
Toronto Argonauts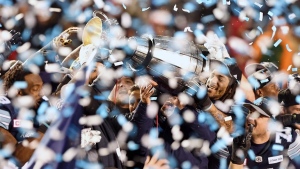 The 2016 season was a difficult one for the Toronto Argonauts. They finished last in the East Division with a record of 5-13 and were tied with the Saskatchewan Roughriders for the worst record in the CFL.
So the Argos decided to shake things up. They brought in head coach Marc Trestman, general manager Jim Popp and gave Ricky Ray a new wideout to work with in S.J. Green.
The regular season was an up and down one for the Argos, but they managed to capture the East's No. 1 seed with a 9-9 record. A narrow victory over the Roughriders in the East Final gave them their shot at immortality in the Grey Cup.
The 13-4-1 Calgary Stampeders had the upper hand late in the game, but that changed on a Kamar Jorden fumble that defensive back Cassius Vaughn returned for a touchdown. Toronto would tie the game after a two-point conversion and later took the lead 27-24 on a Lirim Hajrullahu field goal. Matt Black's interception with less than a minute to go was enough to seal it for the Argos, giving them their CFL-best 17th Grey Cup.
"It's unbelievable." Ray said following the win. "It just caps off an awesome year."
Toronto FC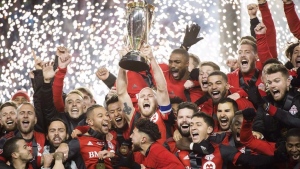 On a cold night in December last year, Toronto FC's push for the MLS Cup came up just short as they were defeated by the Seattle Sounders 5-4 in penalty kicks.
A year later, they had their chance at redemption.
Toronto had a record-breaking 69-point season to power their way into the playoffs. After taking down the Columbus Crew in the Conference Finals, they had a rematch against the Sounders in the final.
Jozy Altidore – playing on an injured ankle – scored to put TFC on top. Victor Vazquez added another just before time expired to send BMO Field into a frenzy and give TFC fans their first championship in franchise history.
"This has been our dream, our obsession from last year," captain Michael Bradley said at the championship parade.
"And to be able to take care of everything that we wanted, to lift that trophy in this city in front of our fans, to give everybody a day like this… this is why every single one of us is here."
Ottawa Senators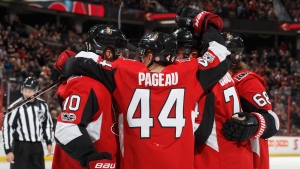 Last season was one to remember in Ottawa.
After entering the playoffs as a No. 6 seed in the Eastern Conference, the Sens hit their stride in the playoffs. Things started off well with a 4-2 series victory over the Boston Bruins to set them up against the New York Rangers in the second round.
In Game 2, Ottawa prevailed 6-5 in a double overtime thriller that saw centre Jean-Gabriel Pageau score four times – including the winner.
The lead gave the Senators a 2-0 lead in the series, which they would go on to win in six games. The only thing standing in their way between the Sens and their first Stanley Cup Final since 2007 was Sidney Crosby and the Pittsburgh Penguins.
With the series tied 3-3, the two teams found themselves in double overtime of Game 7. Pittsburgh forward Chris Kunitz scored on a slap shot from the point to end the Sens' season, but their run through the playoffs will be remembered for years.
"We played our hearts out and gave everything we have and we've got nothing to be ashamed of. We laid it out there and we put it on the line," Ottawa goaltender Craig Anderson said.
Team Homan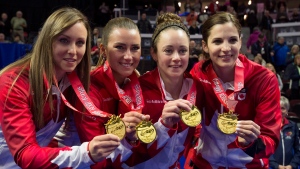 Team Rachel Homan picked up right where they left off in 2017.
Alongside third Emma Miskew, second Joanne Courtney and lead Lisa Weagle, Homan took home the Scotties Tournament of Hearts in February and the World Women's Curling Championships in Beijing after going a perfect 13-0.
But that was just the beginning.
At the Roar of the Rings Olympic qualifiers in Ottawa in early December, Homan defeated Chelsea Carey 6-5 in the final to book a spot to the 2018 PyeongChang Winter Olympics.
"[To win] in our hometown, we couldn't have written a better story," Homan said. "We can't wait to represent Canada in PyeongChang."
Now with six career Grand Slam titles, Team Homan will look to bring gold back to Canada for the second Olympics in a row after Jennifer Jones' rink took home the title in 2014.
Team Gushue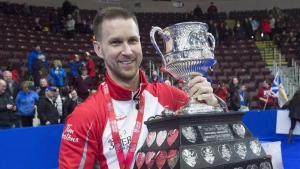 Another year, another string of wins for Team Gushue.
Gushue and his rink of third Mark Nichols, second Brett Gallant and lead Geoff Walker took home the 2017 Tim Horton's Brier in his hometown of St. John's, N.L., with a dramatic 7-6 victory over Kevin Koe.
"I've been close so many times and we as a team have been close," Gushue said. "To finally win it – and win it at home – you couldn't ask for a better story. It's awesome."
Gushue also went a perfect 13-0 to capture the Men's Curling World Championships in February.
While Gushue fell in the semi-finals of Roar of the Rings, he will get another chance to represent Canada at next year's Winter Olympics. He is paired with Val Sweeting in the mixed doubles Olympics trials set to begin on Jan. 2 from Portage la Prairie, Man.
Gushue won Olympic gold in 2006 in Turin.