Finland downs Russia in OT to win World Juniors
Presented by:

Kasperi Kapanen scored a wraparound goal in overtime as Finland rallied past Russia 4-3 on Tuesday to win the world junior hockey championship.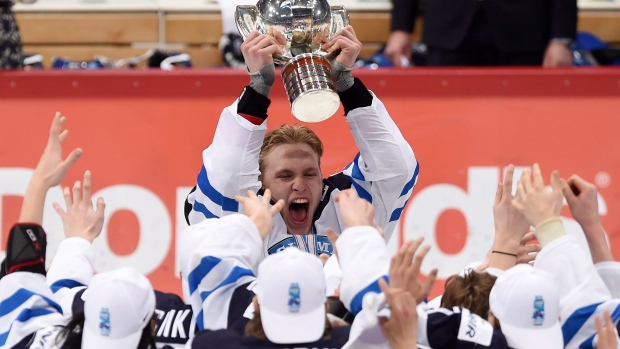 HELSINKI - It's every hockey player's childhood fantasy. Major championship on the line. Overtime. Home ice. Childhood heroes arriving to congratulate you.
Kasperi Kapanen scored a wraparound goal in overtime as Finland rallied past Russia 4-3 on Tuesday to win the world junior hockey championship in a fairy tale ending for the host country.
Kapanen deked around two defenders, skated around the back of Russia's goal and threw the puck into a wide-open net as Russian goaltender Alexander Georgiev failed to dive back into position. The largely Finnish crowd at Hartwall Arena exploded with chants of "Suomi!" — Finland's name in its native tongue — and later "Kiitos!" — the Finnish word for thanks.
"That's one of those goals that you always dream of," said the 19-year-old Kapanen, who had the white and blue Finnish flag draped over his shoulders with a sideways baseball cap commemorating the victory on his head. "I guess dreams do come true."
Patrik Laine, Sebastian Aho and captain Mikko Rantanen all scored in the third period as Finland staged a late comeback. Kaapo Kahkonen made 22 saves for the win.
"There's not a lot of words (for) how to describe the feeling," said Rantanen. "Very happy. Happy for the team, for the whole of Finland. We had an absolutely unbelievable crowd there and everyone was watching at home on TV."
It was Finland's fourth world junior title and second in the past three years. Finland beat rival Sweden for the championship in 2014. Before that, it was 1998 when Helsinki and Hameenlinna, Finland hosted.
"Everything's so blurry," said Kapanen when asked to describe the goal. "So excited and in shock at the same time."
After the game former NHLers Saku Koivu and Teemu Selanne — who had his No. 8 retired from international competition by Finland earlier in the tournament — came down to the Finnish locker-room, giving out hugs and fist bumps to the excited teenagers.
Finland set a European attendance record for the world junior championships with 215,225 fans coming to the games and an average of 7,174.
Kapanen is a Toronto Maple Leafs prospect who is currently with the American Hockey League's Toronto Marlies. Earlier Tuesday, Mark Hunter, the Maple Leafs director of player personnel, spoke about how well Kapanen played at the world juniors and said he was integral to Finland's success.
Andrei Svetlakov scored twice for Russia and Vladislav Kamenev had the other goal. Georgiev stopped 25 shots.
Georgiev's start in net was a surprise after Ilya Samsonov's solid 26-save performance in Russia's 2-1 semifinal win over the United States. Earlier in the day, Anders Bjork, Matthew Tkachuk and Ryan Donato each scored two goals as the Americans won bronze with an 8-3 win over Sweden.
Kamenev gave Russia a 1-0 lead nearly five minutes into the game. The Russians played conservatively after Kamenev's goal, forcing Finland to work for any scoring opportunities in the first two periods.
Laine tied the game just 24 seconds into the third period. He took a drop pass from Aho before snapping a wrist shot past Georgiev to put Finland on the board.
Svetlakov responded nearly a minute and a half later to give Russia the lead again. He broke down the left wing before throwing a fake and beating Kahkonen.
Aho tied it 2-2 midway through the period. He was unmarked to the left of Russia's crease when linemate Jesse Puljujarvi sent a pass his way. Aho slapped the puck past a helpless Georgiev to the delight of the hometown crowd.
Rantanen's goal came on the power play as Russia started to unravel. He tipped in a point shot from Vili Saarijarvi, bringing the crowd to its feet.
Kamenev received a 10-minute major and a game misconduct for unsportsmanlike conduct after the goal as he berated officials for giving Russian teammate Dmitri Sergeyev the tripping penalty that led to the power play. Svetlakov's second goal of the night came with just six seconds left to play in the third after Georgiev was pulled for an extra attacker.
"He asked the referee to be more attentive," said Kamenev through a translator.
"Open your eyes," said Kamenev loudly after his interpreter finished speaking.
Svetlakov pushed a rebound past Kahkonen as two other Russians crowded the crease to force overtime and set up Kapanen's heroics.
Although the fans at Hartwall Arena — home of the Kontinental Hockey League's Jokerit club — were mainly Finnish, there were supporters from many of the participating nations in attendance. Many Canadians in attendance supported the host side even though the Finns eliminated Canada in the quarter-finals.
Red-clad fans could be seen waving Canadian flags and dancing in the stands along with Finnish supporters chanting "Suomi!" for all of the host side's goals.
___
Follow @jchidleyhill on Twitter