​First-round pick in play as Jets consider big-game hunting
Winnipeg's first-round pick is the latest asset to join the TSN Trade Bait board, TSN Senior Hockey Reporter Frank Seravalli writes.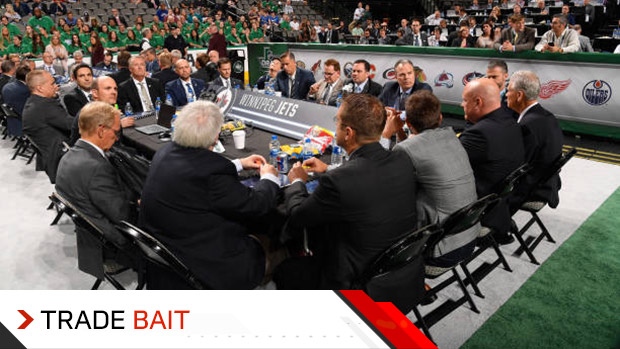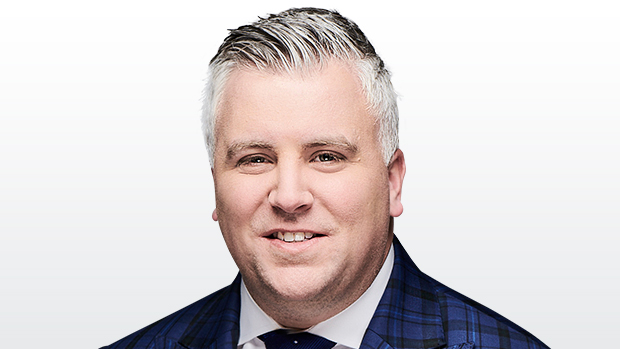 One year ago, the Winnipeg Jets traded their first-round pick – the same currency Kevin Cheveldayoff used to build Jets 2.0 from the ground up – for the most impactful acquisition of the deadline period in Paul Stastny.
It was one of seven first-round picks dealt last season, the most at any deadline in a decade.
Stastny helped get the Jets within three wins of the Stanley Cup Final.
The Jets' first-round pick is indeed in play one year later, the latest asset to join the TSN Trade Bait board on Monday.
How valuable have those picks been to Winnipeg? Look at their roster: Mark Scheifele (2011), Jacob Trouba (2012), Josh Morrissey (2013), Nikolaj Ehlers (2014), Kyle Connor and Jack Roslovic (2015), Patrik Laine (2016) and Kristian Vesalainen (2017).
But the time is now for Winnipeg to make a run at a Stanley Cup. The Jets' window to win is wide open. Plus, if you're Cheveldayoff, you never know how many kicks at Lord Stanley's mug you'll get, considering the pending cap crunch in trying to re-sign Laine, Connor, Trouba and maybe even Tyler Myers this summer.
The Maple Leafs were the first team to move their first rounder this season, which they used to acquire defenceman Jake Muzzin from Los Angeles on Jan. 28. Cheveldayoff and the Jets are believed to be big-game hunting, doing their due diligence on a number of marquee names, including Mark Stone, Matt Duchene, Wayne Simmonds and Micheal Ferland, among others.
The Jets' No. 1 priority is a second-line centre, the same role Stastny played last year on their run.
Last year, nearly a quarter of the first-round picks traded hands just at the deadline, in deals for Ryan McDonagh (Tampa Bay), Evander Kane (San Jose), Tomas Tatar (Detroit), Ryan Hartman (Nashville), Rick Nash (Boston), Derick Brassard (Pittsburgh) and Stastny.
The Jets are one of a handful of teams with potential top picks in play, including Central Division rival Nashville, Tampa Bay, Calgary, Boston and Pittsburgh.
Here is the latest TSN Trade Bait board, which always seeks to blend a player's prominence with his likelihood of being traded:
The Top 50
| Trend | Player | Pos | Age | GP | G | PTS | Cap Hit | Years |
| --- | --- | --- | --- | --- | --- | --- | --- | --- |
| | 1. Artemi Panarin, CBJ | LW | 27 | 49 | 20 | 59 | $6M | UFA |
| | 2. Matt Duchene, OTT | C | 28 | 43 | 21 | 48 | $6M | UFA |
| | 3. Wayne Simmonds, PHI | RW | 30 | 52 | 16 | 24 | $3.98M | UFA |
| | 4. Micheal Ferland, CAR | LW | 26 | 43 | 13 | 27 | $1.75M | UFA |
| | 5. Jets' 1st Round Pick | | | | | | | |
| | 6. Mats Zuccarello, NYR | RW | 31 | 37 | 9 | 28 | $4.5M | UFA |
| | 7. Mark Stone, OTT | RW | 26 | 52 | 22 | 51 | $7.35M | UFA |
| | 8. Dougie Hamilton, CAR | RD | 25 | 52 | 9 | 21 | $5.75M | 2 |
| | 9. Gustav Nyquist, DET | RW | 29 | 53 | 12 | 45 | $4.75M | UFA |
| | 10. Sergei Bobrovsky, CBJ | G | 30 | 36 | 3.01 | .901 | $7.43M | UFA |
| | 11. Brian Boyle, NJD | C | 34 | 46 | 13 | 19 | $2.55M | UFA |
| | 12. Cam Talbot, EDM | G | 31 | 28 | 3.34 | .893 | $4.17M | UFA |
| | 13. Jimmy Howard, DET | G | 34 | 35 | 2.73 | .916 | $5.3M | UFA |
| | 14. Kevin Hayes, NYR | C | 26 | 42 | 11 | 36 | $5.18M | UFA |
| | 15. Alec Martinez, LAK | RD | 31 | 37 | 3 | 11 | $4M | 2 |
| | 16. Charlie Coyle, MIN | C | 26 | 52 | 9 | 26 | $3.2M | 1 |
| | 17. Brayden Schenn, STL | C | 27 | 46 | 9 | 30 | $5.13M | 1 |
| | 18. Jeff Carter, LAK | C | 33 | 50 | 10 | 25 | $5.27M | 3 |
| | 19. Brett Pesce, CAR | RD | 23 | 43 | 4 | 12 | $4.03M | 5 |
| | 20. Jack Roslovic, WPG | RW/C | 22 | 51 | 7 | 16 | $894K | 1 |
| | 21. Derick Brassard, FLA | C | 31 | 41 | 9 | 16 | $5M | UFA |
| | 22. Cody Ceci, OTT | RD | 24 | 48 | 5 | 15 | $4.3M | RFA |
| | 23. Jakub Silfverberg, ANA | RW | 28 | 43 | 12 | 20 | $3.75M | UFA |
| | 24. Andre Burakovsky, WSH | LW | 23 | 46 | 6 | 12 | $3M | RFA |
| | 25. Marcus Johansson, NJD | LW | 28 | 39 | 8 | 20 | $4.58M | UFA |
| | 26. Chris Kreider, NYR | LW | 27 | 51 | 23 | 39 | $4.63M | 1 |
| | 27. Colton Parayko, STL | RD | 25 | 50 | 8 | 13 | $5.5M | 3 |
| | 28. Justin Faulk, CAR | RD | 26 | 52 | 4 | 19 | $4.83M | 1 |
| | 29. Alex Steen, STL | LW | 34 | 36 | 6 | 15 | $5.75M | 2 |
| | 30. Alex Edler, VAN | LD | 32 | 37 | 5 | 20 | $5M | UFA |
| | 31. Jay Bouwmeester, STL | LD | 35 | 46 | 2 | 10 | $5.4M | UFA |
| | 32. Andreas Johnsson, TOR | LW | 24 | 45 | 10 | 22 | $788K | RFA |
| | 33. Ryan Dzingel, OTT | LW | 26 | 50 | 20 | 39 | $1.8M | UFA |
| | 34. Patrick Maroon, STL | LW | 30 | 42 | 4 | 14 | $1.75M | UFA |
| | 35. Jesse Puljujarvi, EDM | RW | 20 | 41 | 4 | 9 | $925K | RFA |
| | 36. Adam McQuaid, NYR | RD | 32 | 27 | 0 | 3 | $2.75M | UFA |
| | 37. Ben Lovejoy, NJD | RD | 34 | 43 | 1 | 6 | $2.67M | UFA |
| | 38. Jamie McGinn, FLA | LW | 30 | 0 | 0 | 0 | $3.33M | UFA |
| | 39. Chris Tanev, VAN | RD | 29 | 47 | 2 | 10 | $4.45M | 1 |
| | 40. Vlad Namestnikov, NYR | LW | 25 | 47 | 4 | 16 | $4M | 1 |
| | 41. Nikolay Goldobin, VAN | LW | 23 | 45 | 6 | 24 | $863K | RFA |
| | 42. Luke Glendening, DET | C | 29 | 53 | 8 | 18 | $1.8M | 2 |
| | 43. Carl Hagelin, LAK | LW | 30 | 30 | 2 | 6 | $4M | UFA |
| | 44. Nathan Beaulieu, BUF | LD | 26 | 27 | 3 | 7 | $2.4M | RFA |
| | 45. Mikkel Boedker, OTT | LW | 29 | 51 | 6 | 28 | $4M | 1 |
| | 46. Tobias Rieder, EDM | LW | 26 | 38 | 0 | 9 | $2M | RFA |
| | 47. Bogdan Kiselvich, FLA | LD | 28 | 31 | 0 | 8 | $925K | UFA |
| | 48. Dale Weise, PHI | RW | 30 | 42 | 5 | 11 | $2.35M | 1 |
| | 49. Kasperi Kapanen, TOR | RW | 22 | 51 | 15 | 30 | $863K | RFA |
| | 50. Jeff Skinner, BUF | LW | 26 | 51 | 31 | 47 | $5.73M | UFA |
TRADED:
No. 5: Maple Leafs' first-round pick - Toronto to Los Angeles on Jan. 28
No. 8: Derick Brassard - Pittsburgh to Florida on Feb. 1
No. 13: Chris Wideman - Ottawa to Edmonton on Nov. 22
No. 14: Tanner Pearson - Los Angeles to Pittsburgh on Nov. 14
No. 17: Jake Muzzin - Los Angeles to Toronto on Jan. 28
No. 27: Alex Petrovic - Florida to Edmonton on Dec. 29
No. 27: Nino Niederreiter - Minnesota to Carolina on Jan. 17
No. 28: Nick Bjugstad - Florida to Pittsburgh on Feb. 1
No. 28: Brandon Manning - Chicago to Edmonton on Dec. 29
No. 35: Michael Del Zotto - Vancouver to Anaheim on Jan. 16
No. 35: Jamie Oleksiak - Pittsburgh to Dallas on Jan. 29
No. 36: Luke Schenn - Anaheim to Vancouver on Jan. 16