Five critical matchups for Game 7 clash
TSN Senior Hockey Reporter Frank Seravalli takes a look at the key battles that could decide the second-round Central Division heavyweight title fight.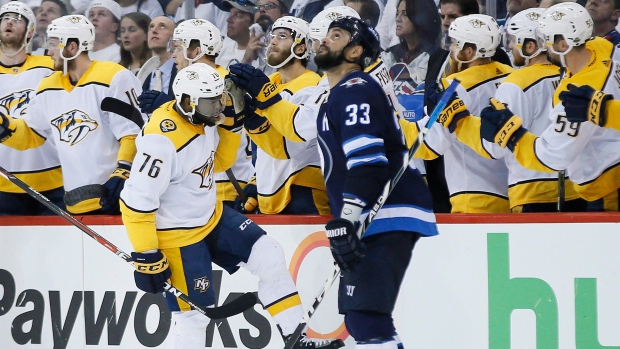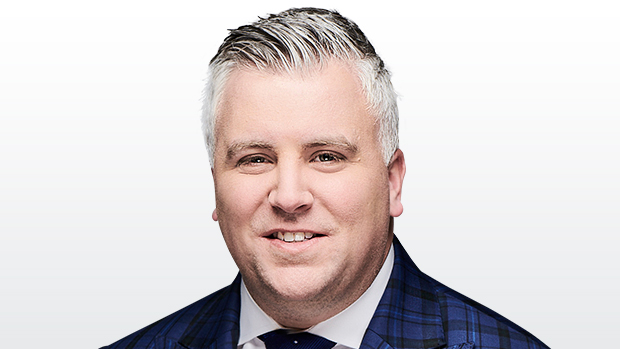 NASHVILLE, Tenn. - Paul Maurice likened Game 7 to Christmas, that feeling you get as a kid when you can't sleep before the big day.
"Being in this line of work, it's probably the best part of the job," Maurice said. "You don't always enjoy it. But that, I guess pressure is the right word, for me it's always been the juice you get out of it. It's that feeling you get.
"There's lots of emotion, lots of excitement. But there's definitely a calmness to it. There's a finality coming. It brings out the best, I think."
This Winnipeg Jets and Nashville Predators second-round Central Division heavyweight title fight has been epic for a load of reasons, including the fact that it's the one series where the intricate matchup game has been thrown out the window.
But as Maurice said, "Game 7 is a different animal."
Any little detail can decide who is booking tee times next week.
Some matchups are obvious – like Connor Hellebuyck going up against fellow Vezina finalist Pekka Rinne, or Ryan Johansen's head-to-head battle with Mark Scheifele. Thanks, tips!
But here are five other key battles to keep an eye on ahead of Thursday night's winner-take-all prize fight:
1. PREDATORS vs. BRIDGESTONE ARENA: Heading in, it appeared home-ice advantage may be the one edge in an incredibly tight series. It may still be, but both teams are 1-2 at home this round. The Jets have had the clear edge in Nashville, trailing for just 13 per cent of the 205:37 played there. They have led 52.3 per cent of the series in the Music City. Swaths of empty blue seats filled the lower bowl in the third period of Game 5 as the Jets rolled to a 6-2 victory. There is no doubt the pressure is on for the Presidents' Trophy winners, as anything less than a return to the Stanley Cup final will be seen as a tremendous disappointment.
2. JOSH MORRISSEY vs. PREDS' TOP LINE: Nashville's heavyweights (Viktor Arvidsson, Ryan Johansen and Filip Forsberg) did the heavy lifting in Game 6, accounting for all four goals scored. They've been on the ice to produce 12 of the 18 goals scored by the Preds this series. Jets defenceman Josh Morrissey, the team's shutdown defenceman, has been on the ice with Jacob Trouba for just about half (61) of the 127 minutes against them in all situations, according to NaturalStatTrick.com, significantly more than any other Jets pairing. They've been on the ice for six of the 12 goals produced by the Arvidsson, Johansen and Forsberg trio. The possession metrics (shot attempts) have been just about even with Morrissey's pair on the ice. If they can keep that line off the scoresheet, like they did in Game 1, Winnipeg's probability for success will increase substantially.
3. BATTLE OF THE SECOND LINES: Paul Stastny's six-game point streak was snapped in Game 6 as the Jets were shut out at home for the first time this season. Nonetheless, his line – with Nikolaj Ehlers and Patrik Laine – has outscored Kevin Fiala, Kyle Turris and Craig Smith by a 4-2 margin at even strength this series. That's with Ehlers, who does not have a goal in these playoffs after scoring 29 in the regular season, contributing just two assists. He was back on the Stastny line for practice on Wednesday after a demotion to the fourth line for the bulk of Games 5 and 6. Fiala was the double overtime hero in Game 2, but he was also a healthy scratch in Game 4. Turris' line has been perhaps the most vulnerable of Nashville's attack, a far cry from how he played in last year's playoffs. There is ground to be made up there.
4. BIG BUFF VS. EVERYONE: The Winnipeg Jets seem to go as Dustin Byfuglien does in this series. When he is on, there seemingly isn't anyone who can stop him. Problem is, there have been a couple games in this series that he was less noticeable – not poor, but his performance just pales comparison to the games he has taken over. Part of that is due to the Predators' game plan to significantly limit his time and space. Byfuglien, 33, has averaged 27:17 in this series and skated nearly 20 minutes more than the next closest Jet. He has four goals and three assists and flung off at least than many Predators in after-the-whistle scrums. This will be his first career Game 7 and the Jets will need him to make the most of it.
5. PAUL MAURICE VS. PETER LAVIOLETTE. It's the chess match between two TSN Hockey panel alums. Laviolette blinked first in this series, dialling back Nashville's aggressive attack in Game 4 after earning a lead. It proved to be the smart move, one the Jets haven't been able to solve in their last two losses. He's also had the golden touch with Scott Hartnell. Maurice has been more conservative, steadfast in the Jets' motto of playing to their identity. Is he comfortable with potentially going down so long as the Jets skate within the lanes of their identity? There's no tell-all like a Game 7. Either way, Maurice is looking forward to the challenge.
"It's all on me, it's tremendous," Maurice said sarcastically Tuesday. "I'm looking forward to it … The regular season is 82 [games], there's a big picture to it. Game 7 is a different animal…you're not thinking about tomorrow, you're not thinking about, 'Am I benching that guy?' You're like, 'Let's see what we got.'"
Game on.
Contact Frank Seravalli on Twitter: @frank_seravalli