Five goalies the Maple Leafs might pursue
The Toronto Maple Leafs are in the market for an experienced pro to play behind number one goaltender Frederik Andersen. TSN's Kristen Shilton explores five potential candidates.
Kristen Shilton, TSN.ca Toronto Maple Leafs Reporter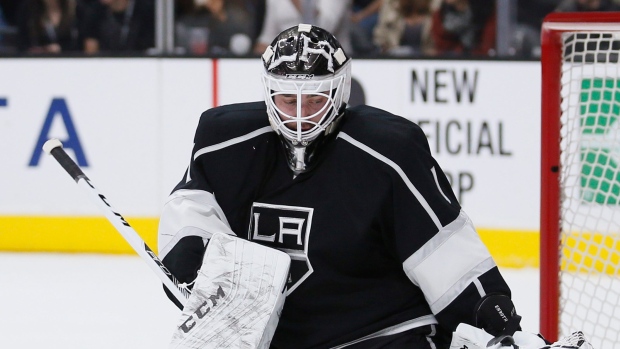 After trading Jonathan Bernier to the Anaheim Ducks last week, the Toronto Maple Leafs are in the market for an experienced pro to play 20-plus games next season behind number one goaltender Frederik Andersen.
"Acquiring [Andersen] was a big deal for our team," head coach Mike Babcock said. "We think it gives us a top-flight goaltender and gives us a starter and now we have to find a good pro to come in and support him and we'll do that."
General manager Lou Lamoriello similarly said the team would pursue a veteran for the backup position, meaning the three goaltenders in their system — Garret Sparks, Antoine Bibeau and Kasimir Kaskisuo — aren't likely to make the jump
Here are five players who could fit Toronto's need:
Jhonas Enroth (UFA)
Enroth has spent the last two seasons as a backup in Dallas and Los Angeles. Last season he started 13 games, finishing 7-5-1 with 2.17 goals-against average and a .922 save percentage. Those are good numbers in a small sample size, but the issue with Enroth, 28, is what he did before he replaced Martin Jones in L.A. Playing behind a Drew Doughty-led defence bolstered his stats compared to 2014-15 in Dallas (2.38 goals-against average, .906 save percentage in nine starts) and 2013-14 in Buffalo (3.27 goals-against average, .903 save percentage). The Maple Leafs finished 27th in the league in goals-against last season, and while the addition of Nikita Zaitsev may help, that blueline group is still a work in progress.

Karri Ramo (UFA)
Once the Calgary Flames acquired Brian Elliott during last month's draft, it was clear Ramo, 29, would have to find a new address. He had a strange up-and-down season in 2015-16. A rough start to October (0-3, 4.37 goals-against average, .879 save percentage) got him put on waivers, which he cleared, and was assigned to the Flames' AHL affiliate in Stockton. He returned to Calgary by Halloween. When his season ended with a torn ACL in mid-February, Ramo had a 17-18-1 record with 2.63 goals-against average and .909 save percentage. He was strong during the Flames 2014-15 playoff run and showed flashes of great play last season. His inconsistencies and injury problems make him best suited to be a backup.

Keith Kinkaid (New Jersey Devils)
Lamoriello signed the 27 year old as a free agent out of Union College back in 2012 and he's spent part of the last two seasons playing behind Cory Schneider. He appeared in 23 games last season, finishing 9-9-0 with 2.81 goals-against average and .904 save percentage. At 6-foot-3, Kinkaid has good agility and is known as a strong puck handler. He has a $725,000 cap hit next season before becoming a UFA.

Reto Berra (Florida Panthers)
Traded by the Colorado Avalanche in June, Berra, 29, put up solid numbers last season in the NHL. He appeared in 14 games for the Avalanche, posting a 7-7-0 record with 2.41 goals-against average and .922 save percentage. Berra was Florida's insurance against Roberto Luongo's recovery from a hip injury, but general manager Tim Rowe expects his starter to be ready to go for the start of the season, and the Panthers inked James Reimer to a five-year deal on July 1. Berra carries a $1.45 million cap hit for one season before he's a UFA.

Thomas Greiss (New York Islanders)
The Islanders have an interesting goaltending situation: Jaroslav Halak should be back healthy, Greiss is owed $2 million in the last year of his contract and Jean-Francois Berube is inked for one more season at $675,000. Berube has been kept off waivers because the Islanders don't want to lose him, which could indicate Greiss is available to be traded. The 30-year-old had a good season in 2015-16, going 23-11-4 with 2.36 goals-against average and a .925 save percentage. He's an expensive option, but fits the pro type Toronto is after.