Five Jays' storylines coming out of the Winter Meetings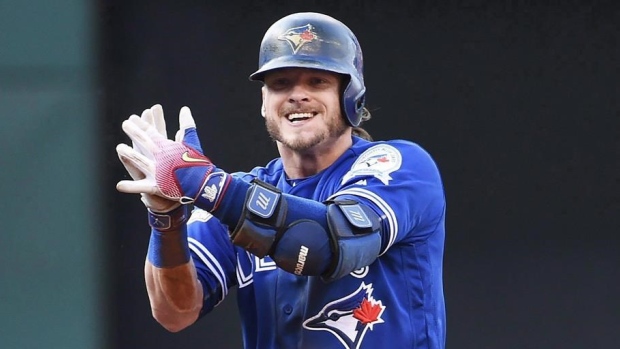 LAKE BUENA VISTA, Fla. — Ross Atkins and the rest of the Toronto Blue Jays' front office contingent flew out of Orlando on Thursday afternoon looking at the same roster holes they jetted in with.
But the Jays' general manager was happy with the irons he stuck in the slow-moving fire that is the 2017 MLB off-season at the Winter Meetings.
"This is not a deadline," Atkins said of the annual gathering of the baseball world in December. "This is an opportunity to learn and sometimes deals happen here and sometimes they don't."
He surmised the next week or so will be busy, not just for the Blue Jays but for all 30 teams around baseball.
Thus far, only the relief market has seen action, as pretty much all of the top free-agent bats and starting pitchers have yet to sign.
However, Atkins cautioned Thursday before leaving the Walt Disney World Swan and Dolphin resort that if things don't come together in that specific timeframe it doesn't mean something went wrong.
"It's not about the next seven-to-10 days, it just feels like there's momentum," Atkins said. "That might turn into two weeks or three weeks. It just feels like there's momentum and as things happen for other teams more pressure hits the other 29 as one team moves. Slowly, alternatives and options are coming off the board and that will continue to occur. There's more than one opportunity for the Blue Jays."
With the many "opportunities and alternatives" in mind, let's take a look at five Blue Jays storylines coming out of the Winter Meetings:
A Josh Donaldson trade is probably not happening
It has been reported over and over that the St. Louis Cardinals have interest in the Jays' star third baseman.
That's fine, and it makes sense.
Cards GM Mike Girsch can call all he wants, and Atkins and Mark Shapiro will likely continue to listen because it doesn't hurt.
But the Jays have shown zero motivation to move their franchise player, despite the fact he's heading into the final year of team control.
They haven't engaged in talks on a long-term contract yet, either, but the Jays are taking their plan to contend in 2018 very seriously and Donaldson is a huge part of that.
Maybe an offer eventually comes in that they can't refuse or maybe their off-season roster retooling plan doesn't go the way they want and they pivot at the last minute, but the odds of that happening aren't good.
Atkins is bargain hunting
Unless someone's market craters in an unexpected way and there's suddenly a bargain to be had on one of the top free agents, the Blue Jays are out on the big names.
No Jake Arrieta. No Yu Darvish. No J.D. Martinez.
Well-rounded outfielder Lorenzo Cain is an interesting possibility because he fits their needs so well, but he seems like a target that will end up being too expensive, as well.
With approximately $20-$30 million to spend in order to land the payroll in the $165-$170 million range, Atkins seems to prefer spreading those resources around the roster.
A good chunk on an outfielder, some on another versatile middle infielder who can also play the outfield, maybe a starter, and then likely a few million on a veteran bullpen arm or two to provide depth, like the terrific Joe Smith signing from a year ago for just $3 million.
Opportunities and alternatives
When asked what's slowing him down from pouncing on a free agent, Atkins' answer was: "Opportunities and alternatives."
It became his Winter Meetings catchphrase.
That fits with the point above, that the Blue Jays are waiting for the top guys to set the market and for teams to fill their holes, which will force other free agents in the mid-tier market to consider their options and potentially also evaluate their asking price.
There's also the trade market to consider, and that seems like an option that's realistic if the right fit can be found, especially if it's a middle infield or outfield option with contract control.
On that front, 26-year-old Chicago White Sox outfielder Avisail Garcia is the latest target Atkins is rumoured to have checked in on.
Right now, it's a game of musical chairs and the scary part of that is that there are only so many options and a team might get squeezed out.
Blue Jays fans are hoping it's not Atkins, especially after it happened last winter and Kendrys Morales, Steve Pearce and a return of Jose Bautista were the ones sitting in Toronto's chairs.
Sanchez is the key
If you ask baseball executives what the key to the Blue Jays' 2018 hopes is, most say Aaron Sanchez without hesitation.
You have to agree.
The health of Devon Travis, Troy Tulowitzki, Russell Martin and every other key figure will play a role, but if Sanchez doesn't return to 2016 form and get past his blister issues, it may not be enough.
A dominant one-two punch of Sanchez and Marcus Stroman ahead of J.A. Happ and Marco Estrada, who both need to pitch well in contract years, would help mask flaws in other areas, in particular the offence.
There's no Rule 5 Joe Biagini project this year
In 2015, the Jays took a swing at Joe Biagini in the Rule 5 Draft – an event that goes down on the final morning of the Winter Meetings each year – and came up with a home run.
Last year, a hack at another right-handed arm, Glenn Sparkman, was a miss.
This year, Atkins just stood in the box and decided not to swing when their turn to pick came Thursday morning.
Atkins said there were a few players considered, but there was no need to commit a valuable spot on the 40-man roster to a project that, per rules, they'd have to keep on the major-league roster all season.
The Jays' roster currently has 38 players on it.
The biggest sigh of relief came when the names of 2014 first-round pick Max Pentecost, a catcher who has battled shoulder problems, and right-hander Jordan Romano, a Markham, Ont., product, were not called by other teams.