Five Jays trade chips to monitor
Exactly two weeks out from the July 31 MLB trade deadline, TSN's Scott Mitchell looks at five Blue Jays who could be on the move.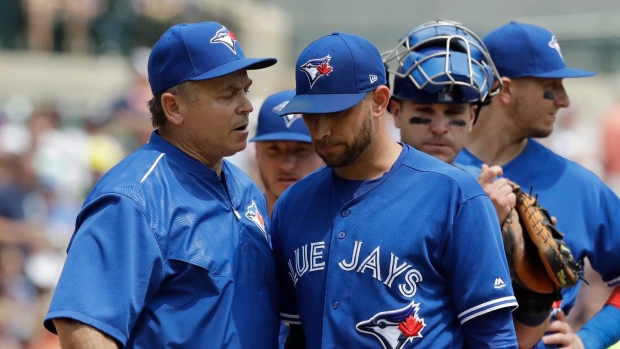 Exactly two weeks remain between now and the July 31 trade deadline.
If you believe Toronto Blue Jays president/CEO Mark Shapiro and general manager Ross Atkins, they won't be tearing it down and starting anew.
That means names like Josh Donaldson, Marcus Stroman and Roberto Osuna will be staying put – teams will still be calling about the Jays' stars, so don't be surprised if you hear rumours – in an effort to get back into the wild-card hunt in 2018.
It's not a crazy plan.
The building blocks are there to – with a little luck – right the ship and get back to the 87-90 win range next summer.
So what do the Blue Jays do over the next two weeks?
That's the million-dollar question simply because there's no easy course to chart for this game plan.
Shapiro has talked about being both a buyer and a seller, acquiring controllable talent with both the second half and down the road into next season and beyond in mind.
Assuming most of the top talent currently on the roster isn't on the market, here are five Blue Jays trade chips to monitor over the next 14 days.
--
SP J.A. HAPP
Thanks to Marco Estrada's extreme struggles, Happ is the most intriguing and realistically tradable asset the Blue Jays possess.
Happ is signed for 2018, his age-35 season, at a very reasonable $13 million, which should have numerous teams interested in the lefty who won 20 games in 2017.
With a DL stint due to left elbow inflammation now in the rear-view, Happ has been producing similar results to his career year last season, pitching to a 3.54 ERA while striking out 8.9 hitters per nine innings and walking just 2.1.
Fox Sports' Ken Rosenthal has already reported the Milwaukee Brewers have called about Happ, but the Jays are "highly unlikely" to deal him.
That could change if the offers are too good to pass up as the deadline approaches.
RP JOE SMITH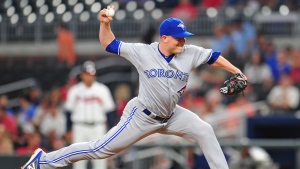 An off-season value signing for one year at $3 million, Smith pitched well in a setup role before landing on the DL with shoulder inflammation on June 19.
Smith is currently on a rehab assignment at Triple-A Buffalo, and should be able to work his way back and prove his health well in advance of July 31.
Bullpen help is always in high demand, and Smith was actually traded from the Los Angeles Angels to the Chicago Cubs in exchange for righty Jesus Castillo at last year's deadline.
Before going down, Smith was striking out a career-high 13.4 batters per nine and carrying a 2.26 FIP in 34 appearances.
SP MARCO ESTRADA
Oh, Marco.
A couple of months ago, this would've been the chip the Jays would've pushed to the centre of the trade table in hopes of creating a bidding war for the mid-rotation starter with a history of playoff success.
Over the past two playoff runs, Estrada has given the Blue Jays six strong starts – he was brilliant in three postseason starts last year, going eight or more innings twice – but it might be hard for teams to recall those good times due to his lack of success recently.
Over his past eight starts, the 34-year-old is carrying an ugly 9.50 ERA and there haven't been many positive signs of a turnaround.
In 36 innings since the start of June, Estrada has given up 52 hits and walked 26 batters, problems that were on display again Sunday against the Detroit Tigers in a game where his velocity also dipped.
The free-agent-to-be is making $14 million this season.
SP FRANCISCO LIRIANO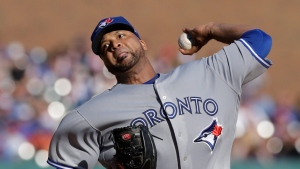 Similar to Estrada, this free-agent-to-be has struggled with both his stuff on the mound and his health this season.
Unfortunately, the health aspect failed him again over the weekend as he was forced out of his Saturday start in the third inning with a sore neck.
The injury wasn't serious enough to require an MRI, but when you combine his second health issue of the season – Liriano hit the DL in May with left shoulder inflammation – with his 6.04 ERA, serious suitors may be few and far between for the lefty, who is making $13 million in the final year of his deal.
RF JOSE BAUTISTA
This one is interesting.
Not only is the 36-year-old making $18 million this year on what essentially amounts to a one-year deal – there's a $17-million mutual option for 2018 that includes a $500,000 buyout – but Bautista has 10/5 rights, which means he has to approve any potential trade.
While Bautista is clearly past his prime – he's posting his lowest power numbers since 2009 with a .179 isolated slugging, a mark that sits at .235 in his career – his 105 Weighted Runs Created Plus (wRC+) shows he's still slightly better than average with the bat in his hands.
Assuming Bautista would agree to a deal to join a contender, the Blue Jays may be able to find a taker, especially if the team in need could employ him as a designated hitter.