Five minutes with Bob McKenzie
TSN's tireless Hockey Insider reflects on his storied career ahead of receiving the Elmer Ferguson Memorial Award at the Hockey Hall of Fame.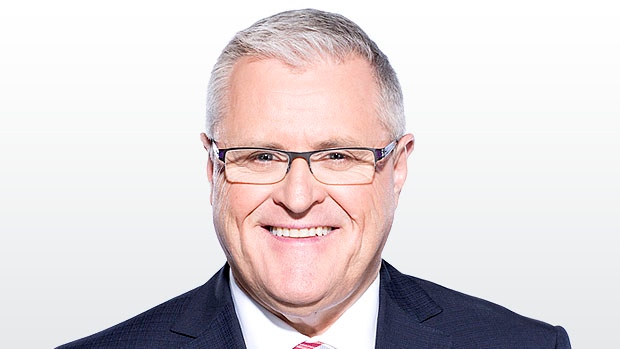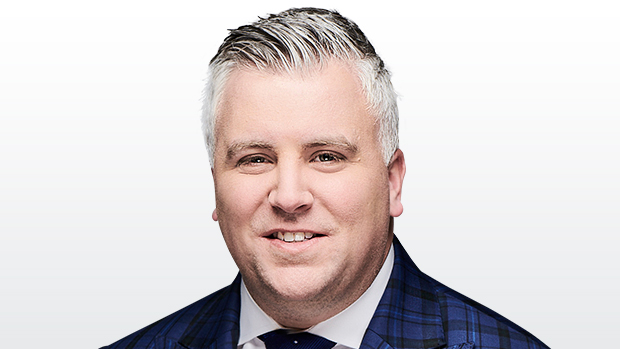 Out of all the scoops and signings over the years, there is one breaking trade that still makes TSN Insider Bob McKenzie smile.
It was two days prior to the 2006 NHL Draft in Vancouver.
After turning down massive contract offers from Florida, goaltender Roberto Luongo appeared to be on the move. Darren Dreger, employed by the competition at the time, was on the case.
Dreger had been working Panthers general manager Mike Keenan for weeks. Another key source, Dave Nonis, was the Canucks' general manager. Dreger was close to sniffing out the deal.
"I figured if the trade was going to go down between those two teams, there was no way I wasn't going to break the news," Dreger said. "I thought I had it dead to rights."
Dreger just didn't count on McKenzie getting to the news first - almost by pure accident.
McKenzie happened to be sitting in a Vancouver hotel lobby on June 22, 2006, when he saw the Canucks' brass hurriedly walking past, looking like they didn't want to be seen.
McKenzie's spidey senses tingled. He stopped them, made some small talk. He badgered them for a little information, connected the dots, and fleshed out the deal using other sources. Boom.
Luongo, Lukas Krajicek and a sixth-round pick to Vancouver in exchange for Todd Bertuzzi, Bryan Allen and Alex Auld. It was an enormous trade at the time - an end to Vancouver's "goalie graveyard."
The Canucks were hoping to wait and break the deal two days later on draft night in front of their home fans. Their plot was foiled - and so was Dreger.
"That one stung. He still gets a chuckle out of that," Dreger said. "I guess that was a case of the old, wily veteran being in the right place at the right time. Here I am, the new kid on the block, and I think I have something. Bob clobbered me right between the eyes on that one."
Almost exactly three weeks later, Dreger joined TSN.
This weekend, McKenzie will be recognized by the Hockey Hall of Fame as the 2015 Elmer Ferguson Memorial Award recipient, the highest honour in hockey journalism. The award is given "in recognition of distinguished members of the newspaper profession whose words have brought honour to journalism and to hockey."
McKenzie, 59, is one of the most respected reporters to ever cover the NHL. His 37-year road to hockey's hallowed Hall was paved by tireless work, hall-of-fame reporting instincts and sometimes, just being in the right place at the right time.
It has not been without its bumps - a career that almost never got off the ground.
Here are five minutes with McKenzie, Canada's most trusted hockey reporter and the man with more Twitter followers than the Prime Minister:
TSN: A certain generation knows you only as a television personality on TSN. Do you still see yourself, first, as a hockey writer deep down?
McKenzie: "I've always thought of myself as a hockey writer. See, hockey writers used to be narrowly defined as a person who covered a beat at a major newspaper. In fact, if you look at the history of the Professional Hockey Writers Association, that was it. If you covered a team in the National Hockey League, you were a hockey writer.
"I wanted to be a hockey writer, but I couldn't get a job as a hockey writer. My first newspaper job was at the Sault Ste. Marie Star (in 1979). I covered the junior team, the Greyhounds there. I turned that into like a full-time beat job when I was still supposed to cover stock car racing and golf and all this other stuff. It was like a full-time hockey beat.
"But I couldn't get a job at one of the Toronto newspapers. I wanted to get a job at the Toronto Star or the Sun or the Globe and Mail.
"My career was going nowhere. So I took a job at The Hockey News as editor-in-chief. And while I wrote about hockey a lot, I was responsible for the staff, production, business side of things and everything else. I was never a conventional hockey writer in that sense until I got to the Star in 1991. Then I was a hockey columnist. That was really the first time that I was really the narrow definition of what a hockey writer was. But I always thought of myself as a hockey writer. I always thought of myself as having reporter sensibilities."
TSN: At some point during that path, you almost quit to become a police officer. Were you seriously considering giving up your dream?
McKenzie: "If I didn't get the job at The Hockey News in June of 1982, my plan was to apply to be a cop. I figured I'd done my time in the Soo outpost. My family and my wife's family were from Toronto. We wanted to be home. I recognized I was trying to get a hockey writer's job and that wasn't going to be easy, but I thought - I'm either going to get one or I'm not. I didn't have many other options in terms of that market, so I said if I didn't get that job, I'd be a cop."
TSN: How close did you come to apply to be a cop?
McKenzie: "I'm not sure, because I got the job. I'm not sure if I ever would've made good on that or not. It's one of the unknowns, I guess."
TSN: When you did get that job at The Hockey News, could you ever have imagined 33 years later receiving the honour of the Elmer Ferguson Award?
McKenzie: "When I was younger, I certainly didn't have any grand designs with what I was going to do with my life. Like most other young guys, I was just trying to get ahead, trying to do well, trying to get a job. I can't honestly say that I said 'Oh, I'm going to try to be really great at this.' Or, 'Oh, I'm really gonna make my mark on the world.' I never, ever, talked like that. I just thought I'm going to get this job, make money, work hard and do a good job at it. That was it. I don't think I ever had that envisioning that I was destined or determined to do great things."
TSN: One of the things at The Hockey News that you were able to do was get access to information that others could not. The NHL's Central Scouting draft rankings were not released publicly, they strictly distributed to teams on a confidential basis. How did you decide on that niche and how did you get the information out there?
McKenzie: "For all reporters, when someone tells you that you can't have something, you want it. For some reason, the NHL decided to make Central Scouting rankings this big secretive thing. Even before I got to The Hockey News, John Herbert was the top dog at the London Free Press, someone we all aspired to be. He would often get the Central Scouting lists and it was kind of a big deal in the hockey community. It was this sort of forbidden fruit. Somehow, he was able to get it.
"I decided if John Herbert is getting that, I should be getting it. And I should be trying to get it before John Herbert gets it to beat him and be competitive. That's kind of where it started.
"The NHL went to ridiculous lengths to try and protect the sanctity of the NHL Central Scouting lists. They started putting out fake lists of the rankings, with each team having a list unique to them, where one number would be altered or changed, so that if that list got published, the NHL would know the leak. So what I did, to cover our tracks, we would switch somebody else up so no one could figure out what we did or didn't have. It's pretty ridiculous.
"There's no question, though, once I got to The Hockey News - because I covered junior hockey - that I was always really drawn to the draft. I didn't think there was substantial draft coverage in mainstream newspapers, so I decided that was an area that we could really be a difference maker and have a point of difference, to have the best draft coverage."
TSN: What's the secret to gaining that trust from sources, to get that information that you're not supposed to be getting?
McKenzie: "There's no secret, really. Anyone who is a reporter knows the importance of building relationships with people. The longer you're around, then the more people tend to trust you. I feel like in some situations, people will tell you something and say, 'But I don't want that out there.' And if you don't put it out there, they will begin to trust you.
"Now, some newspaper people would argue that you've always got to put it out there. I would argue you've got to sacrifice small fish for big fish, so you can prove that you're trustworthy. Down the road, you're going to understand more and get more.
"But I think it's mostly a function of just being around for a long time and growing up in the business with people. A lot of people who became executives or general managers in the NHL are guys who we all grew up together in the game - scouts, ex-players and whatever else.
"The other thing is, it runs in fits and starts, that people like to talk hockey. They like to gossip, they like to see what's going on. It's human nature to say, 'Hey, this is going on here, or that's going on there,' and take it from there."
TSN: Are there any particular gaffes or errors in your reporting career that, years later, have lingered with you? One time, you labeled the Kings' Dean Kennedy with the dubious title of being the NHL's "most average defenceman" and then put a photo of Ken Hammond on the cover.
McKenzie: "(grunts) Yeah. We got the wrong guy. Ultimately, I'll take responsibility for that one. But there are lots. The more days you work in this business, the more days you screw up.
"I wrote a column at The Hockey News once on a Friday. We put the paper to bed (print), but it wasn't coming out until Monday. It was after the 1987 'Punch-up in Piestany' during the World Junior Championship. We were coming up on the next tournament and a lot of the guys involved were still suspended by the IIHF.
"So, Murray Costello - who president of the Canadian Amateur Hockey Association at the time - was trying to get everyone reinstated. I wrote a column that Friday saying 'Murray Costello is too nice a guy. This is not a situation that calls for diplomacy. This is the time for the Canadian Amateur Hockey Association to not be so Canadian, to jack diplomacy and go in and smarten up the IIHF.'
"I thought it was really good. I wrote it. We printed it. It was gone.
"Two hours later, I was driving home listening to the radio and they announced that all of the players had been reinstated and the IIHF said how wonderful it was to work with a gentleman like Murray Costello, who did a fantastic job.
"I was like, 'Oh, man.' There was nothing I could do. It was gone. Next time, before you spout off an opinion, you might want to do some research.
"But I'm constantly making mistakes. I still am."
TSN: Do you think through the years that you've mellowed at all?
McKenzie: "Definitely. Absolutely. There's no question about that. Just aside from everything else, when I was editor-in-chief of The Hockey News and I was in charge of a whole host of things, I was really the 'Type A,' kick-the-garbage-can type personality.
"And now, that's not good for your health. I learned a long time ago that you've got to be a lot smarter than that. You definitely get a lot smarter with age."
TSN: One of the running jokes is a nickname for you - 'Two Job Bob' - because you've always juggled a few jobs at once. Now, it's TSN and NBC. You've always had your hand in a lot of things at once. When do you find time to sleep?
McKenzie: "Even now, I still struggle with it sometimes. Time management. What I've learned as I get older is that I have to have my sleep. If I don't get my sleep, then everything else slips down; job, personal life, health, everything. It doesn't always work that way, but I try really hard to make sure I get seven hours if I can. But I often fail. It's one of the things I've been kind of maniacal about.
"But I've always took on too much. I was just kind of driven. I always looked at things as opportunities - opportunities professionally, opportunities financially. Hey, I like working and doing everything else, but you always want to make money for your family and have nice things and take care of your family.
"So whatever opportunities arose, I probably took on too many at times. But you figure out what works and what doesn't work.
"From 1990 to 2000, I had two full-time jobs. Like, literally two full-time jobs. From the time I graduated journalism school in 1979 to 2000, I always had a newspaper job. From 1990 to 2000, I was working full-time hours at TSN in one way or another.
"I was doing color commentary on junior games where you don't know any of the players. I would do a Western league game with 30 strangers you've got to know about over the course of the week. I would work Monday to Friday at The Hockey News, putting in huge hours, fly to Lethbridge or Seattle or wherever on Saturday, do the games, take the red eye home on Sunday to then put the paper out on Monday.
"For 10 years, I was literally working two full-time jobs and I had to pick one or the other. That's kind of when I picked the TV thing full-time."
TSN: So, you're saying your wife really loves having you around?
McKenzie: (laughs) "Yeah, that's where the sacrifices come in. That time frame, 1990 to 2000, well … my son Mike was born in 1986. My son Shawn was born in 1989. It gives you the idea that from the time they were young until the time they were almost teenagers, I was not around very much. It's a testament to my wife, Cindy.
"Now, the kids got some good trips out of the deal. I don't think Mike [now an assistant coach and assistant GM for the OHL's Kitchener Rangers] and Shawn [now a sports broadcaster] missed too many World Juniors or All-Star games. We did our best to get to as many events as possible."
TSN: You mentioned a lot of the sacrifices along the way. How much of your work ethic, your push to break through and the two jobs, came from your parents, Bob and Maureen?
McKenzie: "All of it. My dad worked two jobs his whole life. He worked at de Havilland Aircraft. They were constantly going on strike and strikes were often five months, 10 months, and he would find other work. He always had two jobs. He'd work Monday to Friday at an aircraft factory and then work every night at a car rental company at a dealership. He'd do his regular job until 5 o'clock, then do his other job until 8 or 9 and sometimes on Saturdays. He'd just work, work, work.
"We were a sort of lower-middle class, working-class family in Scarborough, Ontario. That's what he would do to make money for his family.
"My mom always worked, but had really bad rheumatoid arthritis and ended up in a wheelchair and died fairly young. But they were fanatical about work ethic. That was an absolute."
TSN: Finally, what keeps you going, what still pushes you to continue working as hard as you do?
McKenzie: "The really honest answer, and it will sound bad, is July 2. Vacation. Nine weeks off in the summer, at the cottage. I really, really, really love that.
"But, I also get excited to come back to work. And I always, always, always smile during the national anthem of Game 1 at the Stanley Cup final. I call it my 'Hockey Thanks.' Canadians celebrate Thanksgiving in October; Americans celebrate Thanksgiving in November; I celebrate it the drop of the puck at Game 1 of the Stanley Cup final. For a kid who grew up in Scarborough, Ontario, everything was about winning the Stanley Cup. That was the dream and the aspiration for every kid. For me, to be at every Stanley Cup final since the first one I covered in 1983 - that's where I take stock, remind myself how cool of a job I've got and how lucky I've been to have a career that I've got."
From everyone at TSN: Congratulations, Bob.
Frank Seravalli can be reached at frank.seravalli@bellmedia.ca.