Five NHL water-cooler questions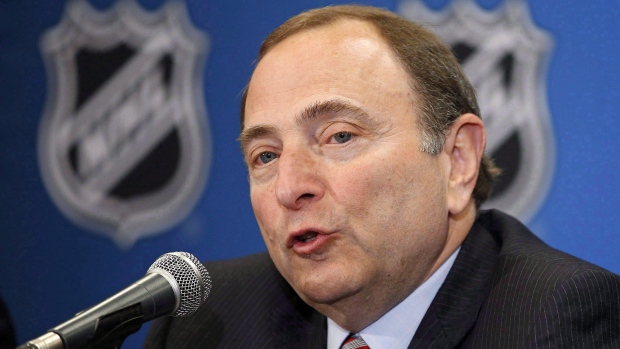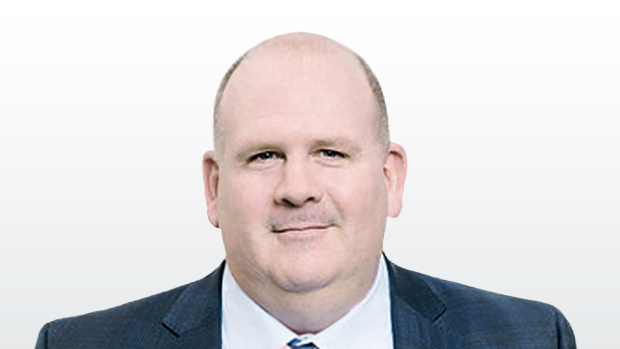 Five water-cooler questions NHL fans, media, players and management are throwing around this week:
1. Did NHL commissioner Gary Bettman get it right on the Dennis Wideman appeal?
Absolutely. Wideman's appeal was based on his assertion he didn't know what he was doing as a result of being concussed. Bettman tore that contention apart in his judgment.
‪
Bettman followed the principles of procedural fairness insomuch as a second hearing was conducted allowing him to hear, assess and weigh evidence, including that of two expert medical witnesses, who testified for the NHLPA.
The doctors the NHLPA used to substantiate the "Wideman was woozy," theory based their conclusions entirely on what Wideman told them days after the fact and when Wideman knew he was potentially facing suspension. They neglected to speak to the Flames medical staff.
Bettman concluded their testimony was "speculative, at times contradictory, lacked support and was wholly insufficient to rebut the clear and convincing evidence provided by the video footage of the incident."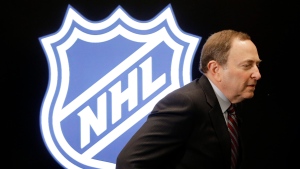 Bettman's analysis of the contradictory evidence, especially that of the video, is both thorough and convincing.
The appeal was based on Wideman having lost "impulse control," as a result of the hit he took in the corner. Wideman argues, despite there being no evidence which suggests this, that he attempted to avoid the linesman.
As has been argued before in this space, this judgment wasn't wholly about Wideman and this incident. It was also about precedent.
From Bettman's summary:
"Moreover, to find on a record such as this one that the Player was not responsible for the consequences of his actions would set a precedent that could be easily manipulated in the future in a way that would make the game more dangerous for all participants, including players," wrote the Commissioner.
Wideman is paying a steep price and not because of "the stupid refs and stupid media," as he wrote in a text message which was produced at appeal, but because players are responsible for their actions on the ice.
Bettman was right to uphold this criticial concept and the suspension.
2. Did you believe Evander Kane's apology?
Gawd, no. Kane's apology was a scene right out of The Young and the Restless: heavy on the script, thin on the acting (Evander may be a model but he's no thespian) and light on the contrition. Were you on the edge of your seat, waiting to see if a single tear would roll down his cheek?
C'mon. This isn't a kid we're talking about anymore. Kane is 24 and in his seventh NHL season. He's a veteran now. He's supposed to be a leader. He's been run out of one NHL dressing room and remains the subject of a criminal investigation in Buffalo.
Did Kane suddenly realize missing an NHL practice when an organization is paying him $6 million for his services is a no-no? He understands there are consequences to his actions.
Playing in the NHL is an immense privilege that comes with a lot of responsibility. There are rules. Kane just doesn't want to live within them. His teammates in Winnipeg said as much. Now Kane's actions in Buffalo say the same.
3. Who tops your Trade Bait List?
TSN's Trade Bait List has Loui Eriksson, Andrew Ladd and Mikkel Boedker as the top three players potentially available on the trade market.
Let's narrow down the criteria. All three of these players are eligible to be UFAs on July 1, so they are rentals. For arguments sake, let's say the buyers are teams hoping to make a run at the Stanley Cup. This deal is for immediate impact and the length of the marriage is a couple of months. This is a trade to help you down the stretch and into the postseason — nothing more.
So, if you were a GM, which guy would you want?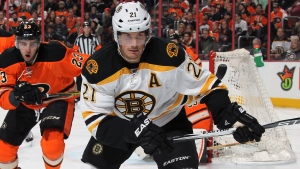 It comes down to Eriksson and Ladd. Eriksson is the best player of the three right now, while Ladd has two Stanley Cups on his resume.
Boedker is 26 and a better bet for a longer run. He's not in the same class as the other two in terms of what he can bring to a team this spring.
Eriksson brings versatility. As good on the penalty kill as he is on the power play, Eriksson is a consistent 5-on-5 producer. Based on numbers, he's the guy. However, there's more to this than just a stats line.
Ladd has proven he can play and produce on a top line. He contributed to two championships as a bottom-six player. When he's on his game, he adds a physical presence. He also appears to be getting healthy at just the right time. Ladd has got something to prove right now and he's a known playoff commodity.
Eriksson has been around long enough with only a small taste of the playoffs to have a serious hunger. In the end, his skill is just too hard to ignore. I'm taking Eriksson.
4. Why all the fuss over Stamkos?
The whole Steven Stamkos thing would make a lot more sense if this was four years ago and he was coming off a 97-point campaign, not in the midst of what for him is going to be a second-straight statistically tepid campaign.
Stamkos has 42 points to date, good for 41st in NHL scoring. Last year he finished the season with 72 points, 15th best in the NHL.
There was a time, prior to a devastating leg injury and with Marty St. Louis feeding him pucks, where Stamkos was arguably the most dangerous offensive player in the world. He was certainly something to fuss about then. Now? This is more about hype and market forces than the reality of the player.
No question, Stamkos is still a special NHL player. But he wants elite-level cash and the entire package (points, resume, two-way game) just don't support it. The Lightning reportedly offered him an eight-year deal with an AAV of $8.5 million. Looking at the numbers, that offer seems about right. Not many 70-point players get paid $10 million a year.
General manager Steve Yzerman has a roster full of talented players that, if he can manage the salary cap, could make the Lightning contenders for years. Over spending on Stamkos doesn't make sense today and even less so down the road.
5. Why would Patrice Bergeron ever get in a fight?
Bergeron tangled with Jets winger Blake Wheeler last week and Bruins GM Don Sweeney is still a few shades paler than usual. The collective, "No!" and "Stay Down!" emanating from the Boston executives box could be heard from Manitoba to Massachusetts.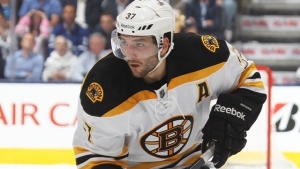 Bergeron is Boston's most important player and has a history of concussion issues. He also gives up at least five inches and 15 pounds to Wheeler.
Wheeler, fortunately for Bergeron, is more of a willing fighter than a capable one. He's big and he'll throw, but he's not a polished puncher. Still, one wild hook lands and …. Hey, I won't even write it, which makes one wonder why Bergeron would get mixed up in it.