Five questions heading into the Raptors' most anticipated season ever
Fans aren't the only ones anxious to see what the Toronto Raptors will look like, Josh Lewenberg writes. The team and its players are eager to open the most anticipated season in the franchise's 24-year history.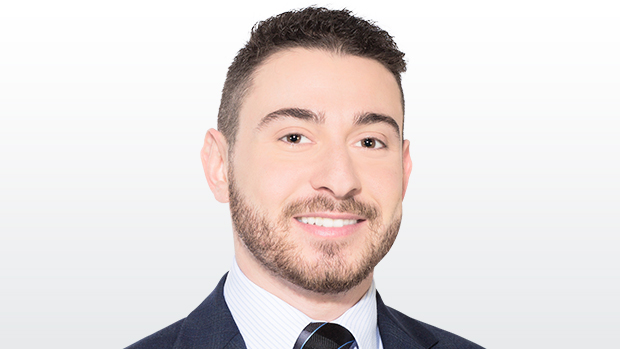 For most Toronto Raptors fans this past summer probably felt like a roller coaster – with ups and downs, twists and turns. It certainly wasn't a boring off-season.
To sum up: Dwane Casey was fired, then replaced by his long-time assistant Nick Nurse, then somewhat awkwardly won NBA Coach of the Year. DeMar DeRozan was traded, and wasn't happy about it, and neither was his best friend Kyle Lowry, who acted as though he was the one that got traded. Kawhi Leonard was acquired, which led to months of speculation over whether he wanted to be in Toronto, if he would stay, and how healthy he would be when and if he showed up. Also, Fred VanVleet's bet paid off, Pascal Siakam became a YouTube mixtape sensation, and Serge Ibaka made a bunch of dudes eat lamb brain.
Other than that, it was pretty quiet.
On Wednesday the Raptors will play meaningful basketball for the first time in five months, and fans aren't the only ones anxious to see what that will look like. Three weeks after coming together for the start of training camp, the team and its players are eager to open the most anticipated season in the franchise's 24-year history.
How good can they be? Like the rest of us, they're curious to finally figure that out.
"We'll see," Lowry said following Monday's practice. "We've got a chance to be really good. We've got some real good talent. We're really deep. Now we've just got to go out and compete."
"I think it's a really good team and I'm excited to see what they can become," said Nurse, asked if his team looks better than he imagined it would a month ago. "I thought we were going to be good [before camp], so I don't know if that is different or worse or whatever, but I think there is some really great potential there."
What follows are five questions that should go a long way in determining how good the 2018-19 Toronto Raptors will be.
How will Kawhi make up for lost time?
Leonard hasn't played a meaningful game of basketball since January 13, more than nine months ago. A mysterious quad injury limited him to just nine contests during his final season with San Antonio.
We didn't see a ton of him during the preseason – he played just 68 minutes over three exhibition games – but he's shown and said enough to ease some nerves. He's here, he says he's happy to be here and he's ready to get back on the court, which is a promising first step towards getting back to his pre-injury form.
Next, he's looked healthy and hasn't reported any lingering effects of the leg issue – another important indicator that things are trending in the right direction. Finally, his teammates seem pleasantly surprised by the leadership qualities he's displayed during his first three weeks as a Raptor, including Danny Green, who says Leonard has been more vocal than he ever was in seven seasons with the Spurs.
When people around the league talk about Leonard they call him a top-3 NBA player, but they'll almost always follow up with an important caveat: when he's healthy. Nobody doubts what Leonard is capable of at full strength and at 27 – just entering his prime – there's still room for growth, which is the scary thing.
With all due respect to Vince Carter, Chris Bosh, DeRozan and Lowry – each of them great – Leonard will be the best player to suit up for the Raptors the moment he puts on that jersey and steps onto the court on Wednesday. Then what?
During his last full season, Leonard averaged a career-high of 25.5 points, earning first team All-NBA honours and finishing third in MVP voting. He's already won Finals MVP and back-to-back Defensive Player of the Year awards.
Assuming good health, and if the Raptors are able to meet their lofty expectations as a team – competing with Boston for the Eastern Conference crown – Leonard should have a strong case for MVP, and wouldn't that be something? No Raptor has ever finished higher than seventh in MVP voting (Bosh in 2006-07).
Of course, that is the dream scenario for the Raptors. They'll have to make a sales pitch to Kawhi in July, and that pitch would be a whole lot more compelling if both the team and the player are coming off of successful seasons.
"He just wants to win," Lowry said of his new teammate. "I think that's why he's gonna help us. He wants to win at a high level and I think that's the one thing that makes it easier for everyone to come together. He wants to win and we all want to win too."
We know Lowry will do his job… but will he do more?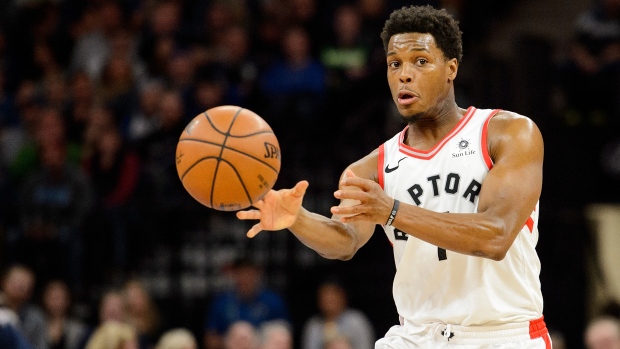 That brings us to Lowry, who we haven't heard much from since the start of camp.
It's no secret that he wasn't thrilled with the trade of DeRozan. The team wasn't surprised by his reaction, but they also didn't seem especially concerned. Even as Lowry dodged phone calls from team brass and mostly kept to himself over the summer, as he often does, they maintained confidence that once camp started he would show up ready to work.
By all accounts, that appears to be the case.
"He has been really good," Nurse said on Monday. "Really been locked in from the learning standpoint and the competing standpoint. I really admire the way he competes. He has been a good source of information as far as, 'When are we going to get to this?' or 'When are we going to get to that?'"
Still, there are red flags. While he's never been the rah-rah type, Lowry hasn't exactly been exuding team spirit in camp. His saltiness with the media is at an all-time high, he's chosen not to attend a few team functions and he picked up three technical fouls in three preseason games, including last Wednesday's ejection in Montreal.
He's made it clear he intends to compete as hard as he ever has, and there's no reason to doubt that. He wants to win, and as long as the Raptors are winning we can probably expect Lowry to continue doing his part, at least on the court. The question is: What happens if and when adversity hits, particularly off the court? As the Globe and Mail's Cathal Kelly put it, will he play angry or just be angry?
That we're talking about this at all should speak to how important Lowry is to this team. Sure, an MVP-calibre season from Leonard would go a long way, but the Raptors don't get anywhere close to their ceiling without Lowry buying in, playing his usual brand of all-star basketball and leading them, both on and off the court.
Will Nurse find the desired balance between familiarity and change?
There will be four first-time head coaches in the NBA this season. Three of them are coaching teams that missed the playoffs last year and are projected to miss them again this year. As Nurse proudly points out, he's got a rare opportunity, stepping right into a winning situation with the Raptors.
He also acknowledges the pressure that comes with, although he prefers not to look at it that way. He's got big shoes to fill and the bar couldn't be set much higher.
There were a bunch of qualities that made him stand out in the interview process, including his creativity, adaptability and preparation. But one of the things Masai Ujiri liked about Nurse was that he had been around the program long enough to bring a certain amount of familiarity, but was fundamentally different enough from his predecessor to bring a certain amount of change.
Among Nurse's many challenges this season will be striking a balance between the new and the old. It would be silly to simply scrap everything they've been doing over the last half-decade – they had plenty of success over that span and still have most of the same personal. However, you can be sure the 51-year-old Iowan will continue to put his stamp on the things.
"He's confident, knows what he wants to do," Lowry said of Nurse, who joined the Raptors as an assistant during his second year in Toronto. "That's the word: confidence."
"I like his energy, love his energy," said Green, who's spent most of his career playing for legendary coach Gregg Popovich. "His philosophy is you're giving it or you're taking it. Most of us, every day, we try to come in and give. That's where it starts: his approach. Obviously he's great with X's and O's, coaching, encouraging, getting us into what we're doing. His energy is what stands out most to me and how he handles us."
"One of the other things I love about him is he's open to learning, open to trying to get stuff from different coaches, different people and trying to get our insight, our opinions and open to taking what we have to say. That helps us all get on the same page, hopefully, by the end of the year."
Can they reach their ceiling on the defensive end?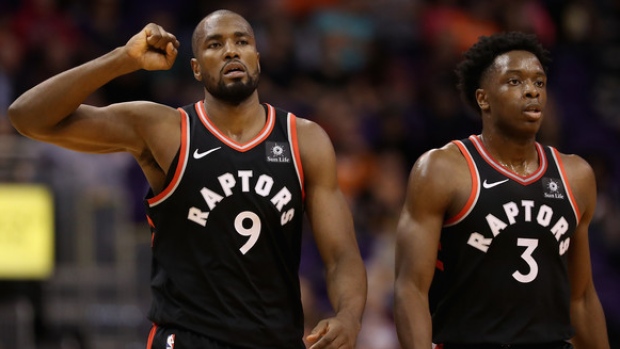 The last two players in the gym following Monday's practice were a pair of forwards, who – despite the age gap – share a few notable characteristics. Leonard and OG Anunoby are both men of few words, guys who let their games do the talking. And while Leonard's offensive repertoire has expanded since breaking into the league, both of their games are predicated on defence.
On this afternoon they stayed late to work on their jumpers, taking passes from assistant coach Phil Handy and launching threes at the top of the arc. A video of them working out together amassed a quick 23,000 views on Twitter. They're a tantalizing pairing, mostly because of what they offer on the defensive end.
Despite the late-season drop off that ultimately bled into the playoffs, the Raptors ranked fifth in defence last year. Now, they've subtracted DeRozan, a player that for all of his strengths was often a liability on defence, and added Leonard and Green to a group that already included Anunoby, Siakam and Delon Wright, among other strong defenders.
These Raptors are blessed with a unique mix of long and versatile stoppers that can defend or switch onto multiple positions, which should give Nurse a ton of intriguing lineup combinations to work with.
It's hard to take much from preseason, with so many of the regulars in and out of the lineup, but every once and a while you could catch a glimpse of what this team is capable of on that end. Specifically, Toronto held Utah to 18 points in the second quarter earlier this month and allowed just 11 points in the third quarter against Brooklyn last week. Leonard played all but five minutes of those two quarters.
"I think that's kind of our potential, the things that we can do," VanVleet said after the Nets game in Montreal. "The sky's the limit, on both ends of the floor. We know what we do offensively, that's kind of our natural thing, but defensively when guys focus and lock in the way we have in a few quarters this pre-season you can see how special we can be."
Do they believe they're a different team?
For so many years it's been a similar story: The Raptors make some small tweak, either in personnel, style or approach, and spend most of the regular season telling us (and probably themselves) that things will turn out differently. But then the playoffs roll around and the result is more or less the same.
Three sweeps in four years. Three consecutive years of being eliminated by LeBron James and the Cavs, including two straight second-round sweeps. The roadblock was very real, they certainly weren't the only team that couldn't get past James, but there always seemed to be more to it. They had always refuted the suggestion that LeBron, Cleveland and all their past postseason failures were in their heads, that is until after the Game 4 loss last spring, when a few of the players admitted that, yeah, maybe it was in their head.
These new-look Raptors haven't even played a real game yet, but there's something different about the way they're carrying themselves. For years this was a team that had tempered expectations, at least publically. They would talk about the growth process and getting better each year, avoiding specific targets and certainly staying clear of a word that, up until recently, they've had no business using anyways.
Ask any player what the goal is now and they'll tell you it's a championship. The word was used more in a two-hour span on media day than during entire seasons that came before it. Whether their newfound confidence is a product of James moving west, or their own off-season shakeup, or – more likely – both isn't important. What's important is that they believe they're good enough to finally put the past behind them and take that next step. Having players like Leonard and Green around, guys that have been part of a championship-winning program in San Antonio, can only help.
A lot is expected of them as a team, more than ever before, but they're not shying away from it.
"Honestly, when you expect more from yourself than anybody else [external expectations] don't really matter," VanVleet said last week. "Every guy in this room expects to win the championship. We expect to win every game, so it can't be more than that. You can't expect any more than what we expect from ourselves. So it doesn't faze us."
"We're going to go out and try to win a championship," Lowry said. "Gold ball trophy, all that stuff, you know? So that's it."
Now they've got to go out and prove it.