Five Takeaways: Canucks vs Ducks
The Canucks fell to the Ducks at home by a score of 5 to 1. Whether you caught the game or not, Jeff Paterson has you covered with his takeaways from the rink.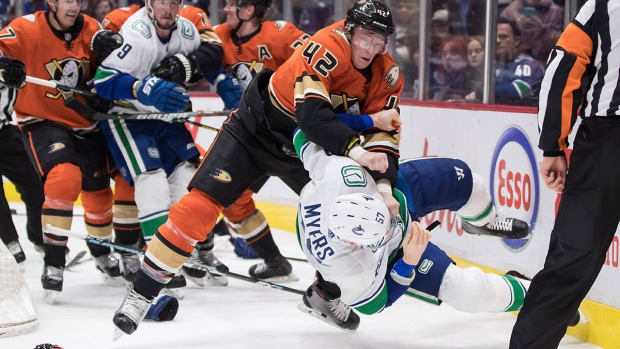 Canucks got drilled 5-1 by the Ducks on Sunday
G: Pettersson (24)
Thatcher Demko allowed five goals on 28 shots
TAKEAWAYS
1) Thanks to Jacob Markstrom's 49-save heroics, the Vancouver Canucks got away with a 3-0 win over Chicago on Wednesday night. On Sunday afternoon, the Canucks got what they deserved in the form of a 5-1 loss to Anaheim that put a damper on Sedin Week after a pair of earlier victories. The Canucks were slow to start and spotted the visitors a 3-0 lead. Two of those goals came on Anaheim power plays. And while the Canucks were hoping that an Elias Pettersson one-timer would give them some life when he made the score 3-1 midway through the second that was it for the Vancouver offense. The Canucks hit a couple of posts in the second period that would have aided the comeback effort had those found their way in, but give John Gibson credit doing his part to keep the Canucks at bay in a 20-shot middle frame. Still, this was an Anaheim team that got bleached 6-0 at home by Calgary in its last outing and one that entered play 27th in the overall standings. There are no freebies in the NHL, but the Canucks are now 0-1-1 with just two goals scored in two tries against Anaheim with two head to head match-ups still remaining. Those are points that most other teams are picking up. The Canucks can't afford to let that happen again.
2) The Canucks penalty kill is in a sinkhole these days. The Ducks scored on both of their power play chances on the afternoon -- one on a Troy Stecher unsporstmanlike conduct penalty and one after Chris Tanev scooped a puck over the glass. This was the league's worst power play to start the day (14% overall and 13.3% on the road). Anaheim hadn't scored a pair of power play goals in a game since January 5th against Nashville and left Rogers Arena a perfect two for two on Sunday. Over their past six games, the Canucks have been torched for seven power play goals on 24 attempts. They gave up one power play goal in Boston, two in Minnesota, one at home against Calgary, one to Nashville, blanked Chicago and allowed two on Sunday to the Ducks. That's a 70.8% success rate which won't cut it at any point of the season, but especially in the stretch run when special teams can swing the outcome of games and so many contests are decided by a single goal. With Sunday's outing, the Canucks have now dropped into the bottom half of the NHL on the penalty kill at 80.2% for the season.
3) The porous penalty kill has been a significant factor in the Canucks allowing 24 goals during a seven game stretch in which they are 2-4-1. They're going to struggle to win games when giving up 3.43 goals per game as they have over this rough patch. It's been said before, but it's worth repeating that sensational goaltending has allowed the Canucks to win on many nights this season. On those occasions when the goaltending is unable to bail out the group in front it, the Canucks will struggle. That's been the case over the past couple of weeks. With Sunday's loss and Edmonton's overtime victory in Carolina, the Canucks fell from their perch atop the Pacific Division. The priority for the hockey club remains simply qualifying for the post-season and in that regard they still have some wriggle room. But with just one game between now and next Saturday, they can't expect to maintain their spot in the standings without adding to their total. There is now a premium on Wednesday's game against Minnesota because after that it's a visit from red-hot Boston and then out on the road for four straight.
4) While Brock Boeser hasn't been scoring recently, his absence from the line-up was certainly felt on Sunday. With the Canucks down 3-0 and searching for offense, Travis Green's options were limited as he pulled out his line blender. On right wing Sunday, the Canucks had Jake Virtanen and his 16 goals, but after that it was Brandon Sutter with eight, Loui Eriksson with five and Zack MacEwen with two. Those other three combined come up one goal short of Virtanen's total for the season. In an effort to find any kind of spark, Green promoted MacEwen from the fourth line to play with Bo Horvat and Tanner Pearson midway through the game and the rugged winger did what he could to help the cause. But MacEwen isn't a top six forward in the NHL and shouldn't be looked to as any kind of scoring saviour for the hockey club. With no update on Boeser from the coach prior to Sunday's face-off, the extent of his injury remains a mystery. And with just two games left before next Monday's NHL trade deadline, if there is an area the Canucks need to address it would seem like a scoring winger would be at the top of the team's wish list. Of course, those come at a hefty price.
5) One area where MacEwen set himself apart on Sunday was in the hit department. And while hits won't win hockey games, they can be a measure of who's engaged physically. MacEwen led the team and had five of the club's 11 hits on the afternoon. This was a game that had some heat and yet the Canucks didn't seem able to raise their battle level or at least not enough Canucks wanted to initiate. To his credit, Tyler Myers stepped in and came to the defense of Elias Pettersson late in the second period after Pettersson had been belted by Ducks forward Max Jones. Aside from MacEwen, Pettersson was the only other Canuck to register multiple hits on the day. The list of Canucks who didn't record a hit was long and notable: JT Miller, Jake Virtanen, Antoine Roussel, Tanner Pearson, Jordie Benn and Tim Schaller -- who had been a healthy scratch the past two games and replaced by American League call-ups. With a lot of talk about team toughness lately and with the temperature of games rising down the stretch, the Canucks can't have many more nights where they're as passive as they were Sunday. Nick Ritchie took a pretty good run at Troy Stecher. Ryan Getzlaf flattened Antoine Roussel at one point. And Jones got a piece of Pettersson. It's hard to recall an instance where a Canuck was the hammer and not the nail on Sunday.