Five Takeaways: Canucks vs Flames
The Canucks fall to the Flames 4-3 in Victoria. Whether you caught the game or not, Jeff Paterson has you covered with his takeaways from the rink.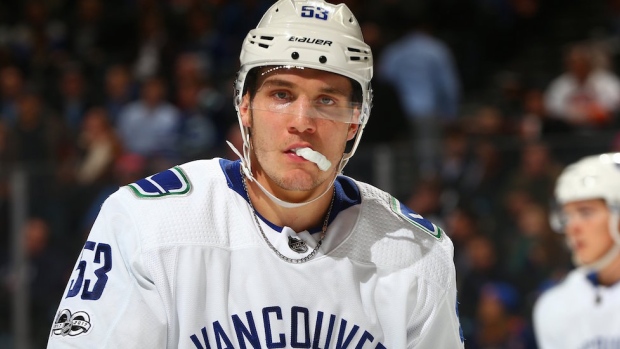 Canucks fell 4-3 in Victoria on Monday night
G: Eriksson, Horvat, Teves
DiPietro stopped 24 of 27 while Zane McIntyre stopped 13 of 14 over final 20 minutes
TAKEAWAYS
1) Despite icing a better line-up than the visiting Flames, the Canucks were outplayed for the first 40 minutes getting outscored 3-0 and outshot 27-19. But the Canucks found their legs in the third period when they scored three unanswered goals including two in the final 2:09 to get within a goal. They pressed for the equalizer in the dying seconds, but ultimately came up a goal short. The game was sloppy as expected given the mix of youth and veteran players and the fact it was the first preseason action for all of the players involved. Calgary finished the night with a 41-34 edge in shots on goal.
2) Since the day he was acquired at June's draft, JT Miller was pencilled in on Bo Horvat's wing. If first impressions matter, then there appears to be some chemistry between the two. Miller found Horvat with a nifty pass through traffic with the Canucks goaltender pulled for an extra attacker. Horvat pulled the trigger from the slot making it a 4-3 game with 55 seconds remaining. Early in the second period, with the Canucks down 2-0 and looking for a little traction, it was the Horvat line with Miller and Nikolay Goldobin that applied pressure in the Calgary zone. They didn't score, but created some momentum for a solid follow-up shift by Adam Gaudette with Loui Eriksson and Josh Leivo. Miller and Horvat also teamed up to kill a penalty in the second period and it'll be worth monitoring to see if that continues through the preseason and into the games that count.
3) Rookie defenseman Josh Teves had a decent camp weekend in Victoria and that carried over into Monday's preseason opener. Teves stepped out from behind the Flames net and roofed a puck on netminder Tyler Parsons with just under two minutes remaining. Teves and partner Brogan Rafferty were also out in the final minute of the game as the Canucks pressed for the equalizer. That was a nod from head coach Travis Green for their play which improved as the night went along. Like many of the Canucks, it was a struggle early at times for the rookie defense tandem. Although it should be noted that Rafferty made a terrific defensive play breaking up a Flames 2-on-1 while the Canucks enjoyed a first period man-advantage.
4) Josh Leivo looked dangerous on a number of occasions with his best chance coming moments before Loui Eriksson got the Canucks on the scoreboard. The big winger was stopped on a solid scoring chance in the slot, but stayed with the puck and it eventually wound up on Eriksson's stick in front of the Calgary net. Leivo is one of the forwards on the Canuck roster that is likely to find himself playing lower in the line-up than he did last season. But that could work to his benefit as a scorer facing third defense pairings. That may present opportunities for Leivo to use his size down low to create space for himself or his linemates. The potential exists for Leivo to have a breakout goal-scoring season and Monday's preseason opener was a positive step in terms of his engagement in the offensive zone.
5) Travis Green didn't tip his hand on what his line-up might look like for Tuesday's game against Edmonton at Rogers Arena. Elias Pettersson, Quinn Hughes, Tyler Myers and Micheal Ferland were all kept out of game action on Monday. There's no guarantee that they will all suit up on Tuesday, but expect to see many familiar faces in the line-up. But it will also be interesting to see which players are asked to play on consecutive nights. The NHL is a tough league and part of the challenge is being able to find your game with consistency. It's also a big part of the evaluation process at this time of year to see players put in different roles and with different linemates to see how they adjust. I'm a firm believer that it's better for prospects to be in the line-up than to sit in the press box in the preseason. It's impossible to prove your worth while eating press box popcorn. Players that hit the ice are in control of their own destiny.