Five Takeaways: Canucks vs. Leafs
Jeff Paterson recaps the Canucks' 5-0 shutout loss in Toronto.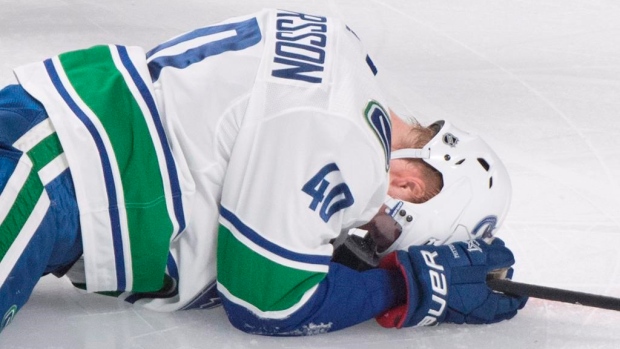 1) Even with Elias Pettersson, the Canucks would have been in tough against the Toronto Maple Leafs on Saturday. The Buds had dropped back to back games and hadn't lost three in a row all season. It was one of the main talking points around the team after the morning skate. The Leafs were going to be difficult to beat on home ice and they were. Without Pettersson, who is out with what is being called a mild knee sprain, the Canucks didn't stand much of a chance and played that way for most of the night. Even at 2-0 after 40 minutes, the ice was tilted in Toronto's favour as the Leafs controlled the puck and the play for long stretches of the game. What few chances the Canucks generated came early on and the team faded over the final period as the Leafs turned the contest into a night of padding statistics in a one-sided third period. The Canucks had just two shots on goal in the first half of the third period and when Toronto made it 4-0 with eight minutes to play, the Leafs had two goals in the third period and the Canucks were stuck on two shots. There were very few memorable scoring opportunities for Vancouver players. Jake Virtanen was the most-active of all Canuck forwards with four of the team's 28 shots on goal and nine attempts on the night. Brock Boeser had three shots on goal and eight attempts, but really wasn't dangerous nor was Bo Horvat who had one dash down left wing in the first period as he got around Ron Hainsey and cut hard to the net, but was thwarted by Michael Hutchinson.
2) Travis Green said post-game that he thought his team looked tired. He wasn't using the schedule as an excuse, but rather an explanation for the lethargic finish to the six-game road trip. Saturday's game in Toronto was the team's sixth game in 10 nights. It was the team's third in four nights and fourth game in six days. The Canucks have played 45 games on the season which, at night's end, is more hockey than any other team in the league. They've also played a league-high 26 road games already -- 11 more than the St. Louis Blues who are at the other end of the league's travel spectrum. Those are indisputable facts. This was also the conclusion of the team's third six-game road trip of the season -- each has taken them to the Eastern seaboard. So they have been up against it when it comes to scheduling. But they have to play the games as they are laid out and arduous travel may be a factor, but it's not the reason the team has gone 120 minutes of hockey without a goal or been shutout in three of its last four and four of its last seven games. On the road trip, the Canucks scored 11 goals in six games. Elias Pettersson had five of them and Brock Boeser had a pair. No one else scored more than one (Motte, Roussel, Baertschi & Edler). That means no goals from forwards Horvat, Virtanen, Eriksson, Granlund, Schaller, Beagle, Goldobin and Sutter (who has yet to see the Canucks light the lamp in his return to the line-up).
3) While there are low expectations of many of the forward group listed above when it comes to putting pucks in the net, Bo Horvat's drought of seven games without a goal is mildly troubling. Horvat last scored in a Canuck victory over St. Louis on December 20th. He still sits second to Pettersson with 17 goals on the season, but he just hasn't looked like the same player that carried the hockey club for stretches in the first half of the season -- and despite the challenges was able to rise to the occasion offensively. He said post-game in Toronto that he believes it's just a matter of bounces, although hockey players are conditioned to think that way. Horvat did have four shots on goal and six attempts overall in 20:27 of ice time. He did what he's done all season and shouldered a heavy burden in the face-off circle. With Pettersson out, Horvat double-shifted at times starting the game between veterans Loui Eriksson and Antoine Roussel before seeing ice time with Brock Boeser and Nikolay Goldobin. While it doesn't sound like Pettersson will miss much action, as long as he's out someone has to step up in his absence. Horvat still remains at the top of a very short list of players on this team that can be relied on to provide offense. It hasn't happened for him since Christmas and it's one of the reasons this team's offense has ground to a halt.
4) Saturday was a forgettable night for most of the Canucks defenders. While Chris Tanev -- perhaps inspired by playing in his hometown -- skated miles and looked like a much younger version of himself, his teammates further down the defensive depth chart struggled mightily. Erik Gudbranson was on the ice for all five Toronto goals while his defensive partner Ben Hutton was along for the ride on four of them. Gudbranson's night got off to a tough start when he lost John Tavares behind the Canuck net and then allowed the Leafs leading goal-scorer to get position on him in front. Tavares, no stranger to beating d-men and scoring goals, showed world-class hand eye coordination deflecting the opening goal past Jacob Markstrom. The first one was key since Toronto is now 21-2-1 when scoring first. It went steadily downhill for Gudbranson who had the fifth Leaf goal deflect off his skate and in. It was one of those nights that started badly and got worse from there. While falling behind was hardly ideal, the Canucks weren't out of it at 1-0, but at 2-0 it was essentially game over. And Derrick Pouliot had nowhere to hide on the 2-0 goal. Recent AHL call-up Trevor Moore simply blew past the Canuck defender and beat Markstrom through the five-hole. Pouliot was caught flat-footed on the play and offered absolutely no resistance at the Vancouver blueline. It was the kind of defensive play that simply can not happen at the NHL level. Tonight, against a very good Toronto team, the depth of the Canucks defense was exposed and if not for Markstrom in the first two periods, the scoreboard could have been decidedly more slanted toward the home team.
5) Look at a player like Trevor Moore. In just his fifth NHL game, he picked up his third point. He had explosive speed and looked dangerous throughout the game. That's the luxury an organization like the Leafs has. They have depth and they have guys knocking on the door to make their hockey club. And when they get their chance, they contribute. Moore played 9:21 on Saturday and scored a beautiful goal, had three shot attempts and a couple of hits. Loui Eriksson played 10:29 -- including 1:30 on the power play -- for the Canucks and didn't register a shot and only attempted one. The league is full of young and hungry players and there's another wave in the minors that would kill for an opportunity. Eriksson is neither young nor hungry. Imagine Zack MacEwen getting 10:29 of ice time on a big stage like a Saturday night in Toronto. I'd be willing to bet there'd be considerably more of a bottom line than 0 shots and one attempt. Eriksson's not alone. With Pettersson out, the Canucks miscast Markus Granlund as a centre once again. He went 1 & 7 in the circle and had one shot in his 15:34 of ice time. Goldobin had one shot in 17:18 in his return to the line-up after two healthy scratches. He had a decent first period, but then went quiet like so many of his teammates. He didn't look like a player determined to stay in the line-up after being parked for the past two games. With no Canuck scoring since Elias Pettersson left the line-up, the young Swede's importance to this hockey club is heightened. His teammates already know it, but that fact is simply re-inforced when no one but Pettersson has put a puck in the net since Sven Baertschi opened the scoring in Ottawa on Wednesday night. There has to be some soul searching going on up and down that Canuck roster. The team can tell itself it went 3-3 on the road trip -- and the stats sheets will back them up -- but pro sports is a 'what have you done for me lately' business and there are far too many wearing Canucks uniforms who haven't done much of all the past few games.