Five Takeaways: Canucks vs Sharks
Canucks got shelled by the Sharks 7-2 on Monday night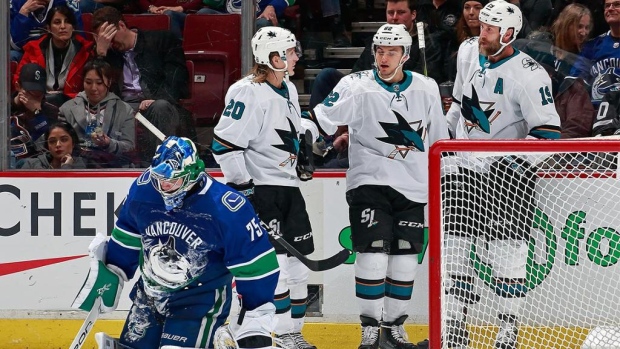 TAKEAWAYS
1) Monday's 7-2 loss to surging San Jose wasn't on rookie netminder Michael DiPietro. This loss goes on the record of Canucks management. DiPietro was forced into a no-win situation that he should never have been in in the first place. It's extraordinary enough that the 19-year-old is even in the NHL right now. It's mind-boggling that he was pressed into duty against the highest scoring team in the league since Christmas because the Canucks were unable or unwilling to address a glaring weakness in organizational depth at the most-important position in hockey that has existed for more than a month now. Sure, it was unfortunate that Thatcher Demko got injured last week -- but that was another week that has gone by with the Canucks operating without a safety net at both the NHL and AHL levels. It was pointed out then that the Canucks were one Jacob Markstrom knock away from turning to an Ontario Hockey Leaguer to handle their netminding. When Markstrom experienced lower-body tightness and was unable to play on Monday, the Canucks were left with nowhere to turn but DiPietro who didn't look NHL-ready giving up three goals on the first five shots he faced and seven goals on 24 shots on the night. While I'm sure DiPietro welcomed the chance to play in the NHL, his debut should have come under much better circumstances for everyone involved.
2) Big winger Zack MacEwen got better as the night went on in his NHL debut. He looked nervous on his first few shifts and that's understandable after getting plugged into the line-up without a practice and with only a sparsely attended optional morning skate on game day to help him prepare. In 9:45 of ice, MacEwen picked up an assist on Derrick Pouliot's third period goal, had a couple of shots, a hit and a blocked shot. He's not the most fluid skater, but he didn't look like the pace of the game was too much to handle. In the second period, he got a hard slap shot away as he skated in on right wing. A few shifts later, he showed some confidence as he tried to turn a Sharks defender inside out off the rush. On a team that is lacking consistent scoring from any wingers not named Brock Boeser or Josh Leivo, hopefully MacEwen is given a chance to build off his first NHL game and remain in the line-up on the team's upcoming road trip. Ideally, with the nerves of his debut out the way, MacEwen could use his size a little more and show a little more edge to his game. But as first impressions go, he gets more than a passing grade.
3) Bo Horvat is up to 20 goals with 25 games remaining. After an ice cold stretch of just one goal in 18 games, Horvat has now scored in back to back games which is a good sign for a Canucks team trying desperately to stay in the playoff mix in the Western Conference despite dropping four of its last five games (1-3-1). Horvat was on the finishing end of a sublime Elias Pettersson cross seam pass in the dying seconds of the first period on Monday. On the night he scored his 20th goal, interestingly enough he played 20:20. He needs two more to match the career-high he set in 64 games last season. With Brandon Sutter out indefinitely, Horvat will likely see a spike in his ice time which should lead to more scoring opportunities. Also, he's overdue for a power play goal having gone without since a December 20th win against St. Louis. With that in mind, 30 goals certainly doesn't seem out of the question for Horvat.
4) It wasn't that long ago the Canucks were a completely healthy hockey club. Everyone knew it wouldn't -- and couldn't -- last. It is, however, remarkable with this team how quickly the injuries pile up. First it was Sven Baertschi, then Alex Edler and Thatcher Demko. Now it's Brandon Sutter and perhaps Jacob Markstrom. All of those have occured since the All Star break. Sutter will be out 'a while' with a mid-body injury according to Travis Green. The Canucks are expected to dip into the farm once again on Tuesday and recall Adam Gaudette. The Markstrom injury is more perplexing and more troubling. He was sensational Saturday against Calgary and was then given Sunday off from practice. He was expected to start Monday against the Sharks, but didn't. And with a travel day and no on ice sessions Tuesday, the Canucks hope​ Markstrom will be ready to play Wednesday in Anaheim. But keep in mind, Wednesday is the start of back to back games with the Canucks in Los Angeles on Thursday. That seem like a lot to ask of a goalie who's dealing with muscle tightness. And on Saturday, it's a rematch against a San Jose team that has been way too much to handle in two meetings this season outscoring the Canucks 11-2. If Markstrom doesn't make a full and speedy recovery, Michael DiPietro could easily be pressed back into duty -- or the Canucks could roll out a sixth different goaltender to suit up for them this season (Markstrom, Nilsson, Bachman, Demko, DiPietro and perhaps there'll be another name added to the list before they face the Ducks on Wednesday night).
5) The Canucks have a number of issues facing them as they try to stay with the pack in the Wild Card chase. Ultimately, this much is perfectly clear. They won't reach the playoffs without stringing wins together. After their loss to the Sharks, they are 25-25-7. They have 57 points in 57 games. No matter how low the bar is in the West this year, it won't be 82 points -- and that's the pace the Canucks are on. Simple math tells you they will have to find a way to get on a win streak. The question is: is this group capable of putting wins together? Their season high for consecutive victories is three and they've done that three times. The last time was a December 6th home game against Nashville followed by road wins in St. Louis and Columbus. Since that December 11th win against the Blue Jackets, the Canucks have won back to back games twice. They beat the Oilers and Flames out of the Christmas break and downed the Sabres and Red Wings on home ice on January 18th and 20th. That's one set of back to back wins in the last 16 games. On paper, they may not have a better chance than consecutive games against the two bottom feeders from Southern California. You can't start a win streak without the first one and Wednesday night they face a team that has two wins in its last 21 games. Everyone else is beating the Ducks. The Canucks simply have to find a way to do it, too.