Five things to look for at the PGA Championship
TSN golf analyst Bob Weeks takes a look at the players to watch and the storylines to follow this week at the second major of the PGA Tour season.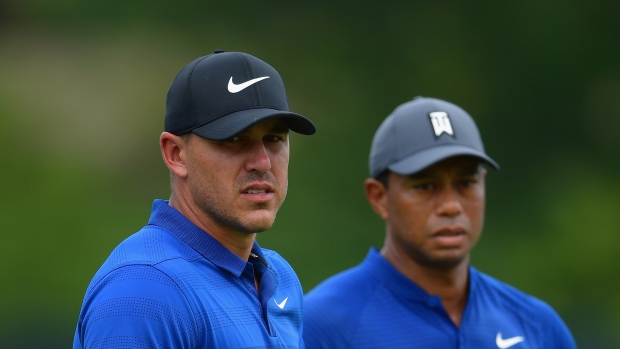 TSN golf analyst Bob Weeks takes a look at the players to watch and the storylines to follow this week at the second major of the PGA Tour season:
1. This isn't the U.S. Open
Most golf fans remember the Black course at Bethpage State Park as a brute with long rough and narrow fairways. The winning scores in the two national championships held there in 2002 and 2009 were three under and four under, respectively.
But this is the PGA Championship, where the organizers like to see birdies.
Kerry Haigh, the master course setter-upper for the PGA of America, is likely to lay out a course that is more conducive to scoring.
So perhaps a better judge of what to expect comes from the two Barclay's FedEx Cup events held here in 2012 and 2016. Those years produced winners at -10 (Nick Watney) and -9 (Patrick Reed).
Expect plenty of red numbers by the end of the week – weather permitting.
2. Tiger
The only time Tiger Woods won the first two majors of the year, they were held at...Augusta National and Bethpage Black. So perhaps it's no surprise that he arrives at the PGA as the betting favourite.
But Bethpage is not Augusta and this Tiger is not the one who was victorious here in 2002.
To have any chance for a fifth PGA Championship title, Woods will need to be much sharper off the tee than he was at Augusta, where he was 44th in driving accuracy. While the rough won't be as punishing as it was in past U.S. Opens due to the spring date, it will be far worse than the second cut at Augusta National.
To take advantage of his great iron play – he is No. 1 on Tour in Greens in Regulation – Woods will need to put the ball in the fairway. If he can do that, then a top-10 finish isn't out of the question.
3. Defending Champion
Brooks Koepka often remarks that he doesn't get a lot of respect despite his record. As defending champion this week, he has a legitimate beef. He's won three of the last eight major championships, a run that would be front-page news if his name was, say, Woods or McIlroy.
So far this year he has a win and two runner-up finishes, one of those coming at the Masters where he was one putt away from heading to a playoff with Woods. In his last 15 major starts, he's been inside the top 13 in all but two.
But instead of being at the top of everyone's betting slip, he is third behind Woods and Dustin Johnson. He's been overlooked or, at the very least, grouped in with others who haven't performed as well as he has.
Koepka seems to like playing with a bit of a chip on his shoulder and that's what makes his dangerous on a course that plays into his power game.
4. Depth of Field
For the first time in any major, all of the top 100 players in the Official World Golf Ranking will be in the field. From No. 1 Dustin Johnson through to Max Homa at 100, it's a powerful lineup for the year's second major.
It includes two Canadians in Adam Hadwin and Corey Conners. They sit 78th and 86th respectively in the world ranking.
Hadwin has made just three starts since the end of March with a tie for 13th in New Orleans his best finish in that trio.
After his maiden win in Texas, Conners played three more weeks before finally taking a break the last two weeks.
He is brimming with confidence and, if putter co-operates, his consistency off the tee and into the greens (he's fourth in Greens in Regulation) should make him a factor come Sunday.
5. New York Fans
There are no fans like New York fans. They are loud, boisterous and yes, sometimes obnoxious. There's no doubt golfers will hear some noisy support as well as some Bronx cheers as they make their way around the golf course.
Some likely targets for the latter? John Daly, who received the okay to use a cart due to an arthritic knee; Sergio Garcia, who roughed up some greens in a hissy fit in Saudi Arabia; and Matt Kuchar, who paid his Mexican caddie only $5,000 after winning the Mayakoba Golf Classic last November (he ended up making good later).
On the positive side, it's likely Phil Mickelson will get plenty of love.