Flames D Giordano to miss rest of season
The Calgary Flames' playoff hopes took a major hit on Monday. The team announced that captain Mark Giordano would undergo surgery for a torn bicep. The four-to-five month-recovery time means that the 31-year-old Toronto native will miss the rest of the season and the playoffs should the Flames qualify. "It's devastating to all of us," said Flames general manager Brad Treliving.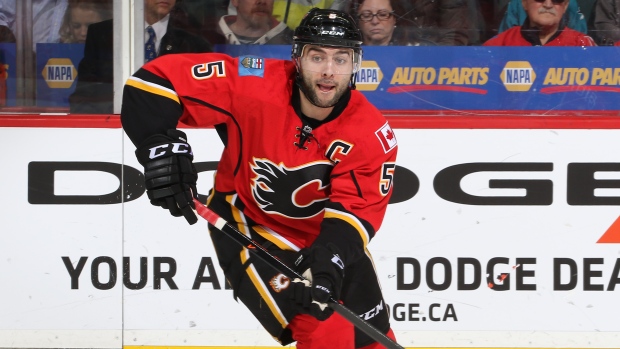 CALGARY - Rocked by a season-ending injury to Mark Giordano but with Calgary in a playoff spot, Brad Treliving's first NHL trade deadline as general manager of the Flames was a unique one.
In the end, admitting you just can't replace a player of Giordano's calibre — team captain and Norris Trophy candidate — Treliving opted to mostly stay the course with his rebuilding hockey club other than two deals, neither of which were entirely unexpected.
Giordano suffered a torn biceps muscle in an incident near the end of the Flames 3-1 win in New Jersey on Wednesday. He went down awkwardly after getting twisted off balance while attempting to fire the puck down the ice. The team had not updated his condition as medical evaluations continued but most feared the worst when he was placed on injured reserve with four games to go on their eastern road trip and sent back to Calgary.
"It's ripped all of our guts right out, that's what it's done," said Treliving from Philadelphia, where the Flames front office had been since Friday. "It's been as devastating on him as it's been to all of us."
At the time of the injury, Giordano led all NHL defencemen with a career-high 48 points (11 goals, 37 assists).
"You don't replace Mark Giordano. You just don't do that today. The urgency to do something, you have to match that with the calmness of not overreacting and all of a sudden doing something that you're making a big mistake," Treliving said. "To think that Mark's leaving our lineup and we're going to go out and replace him today, that's fool's gold. "
Calgary's lone trade on Monday was dealing away disgruntled 2011 first-round draft pick Sven Baertschi, sent to the Vancouver Canucks for a second round draft pick in 2015. In an emergency recall while playing in the Western Hockey League in March 2012, Baertschi took the city by storm scoring three goals in five games. But he was unable to maintain that pace, spending most of his three pro seasons in the American Hockey League. Baertschi made it clear he did not intend to re-sign with Calgary when his entry-level contract expires this summer. In 66 NHL games, Baertschi had eight goals and 28 points.
"It had reached a point where he needed a change so when you feel that point is at hand, you look and say what is the best value we can get," said Treliving.
The Flames have been one of this season's pleasant surprises. They have over-achieved in the eyes of many, thanks in part to a league-high and franchise-record 10 wins when trailing after two periods and an impressive 18-6-1 record against the Pacific Division.
In a playoff spot on trade deadline day for the first time since 2010-11, Treliving looked for deals that would help the Flames in the future and also right now, but he was unable to find offers that made sense.
"It was a unique situation in that we were trying to serve parallel paths, continue to add and accumulate assets but also — with the way the team has played and competed, see if there's a way to add for the push this year, but that's a difficult balancing act."
The most significant move, and one that came as no surprise, was trading 32-year-old pending unrestricted free agent Curtis Glencross to the Washington Capitals on Sunday.
Asked to submit a list of teams he'd accept a trade to, Washington was not initially on that list but with the interest the Captials showed in pursuing Glencross, he agreed to go there with Calgary receiving Washington's picks in the second and third round of the 2015 draft.
Calgary now has six draft picks in the first three rounds of the upcoming draft.
The Flames remain focused on trying to make the playoffs too. They've got 20 games to go and claimed 27-year-old defenceman David Schlemko off waivers from Dallas on Sunday to soak up some of Giordano's minutes.