Flames exit with no answer for Avs' top line
A talented Calgary team crashed out in the first round after Nathan MacKinnon's line disposed of any and every five-man Flames unit in front of them, Travis Yost writes.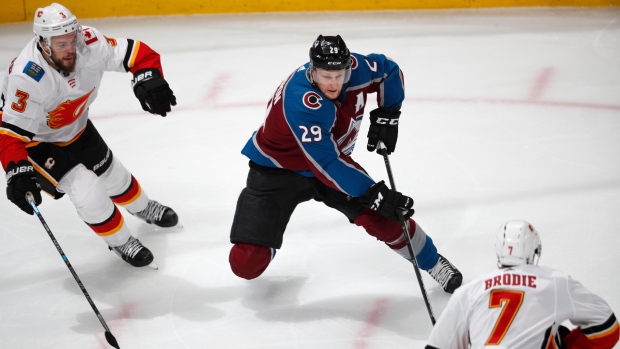 The Tampa Bay Lightning have provided ample cover for every other team with a disappointing first-round performance. That's what happens after the best regular-season team of the last 20 years is swept in Round 1 by a wild-card club.
But there have been other unimpressive showings outside of the Sunshine State. There was plenty of talk about the poor performance of the Pittsburgh Penguins, dispatched easily by a very game New York Islanders team. I was certainly expecting a longer series and actually liked the Penguins to advance, but I think – among other things – I discounted how big an impact the Isles' team speed would have against the Penguins blueline.
In Pittsburgh's defence, they were the road team and underdog in that series. The same cannot be said for Calgary.
The Flames, who more or less went wire-to-wire to win the Western Conference, lost their first-round series in five games. Much like the Tampa Bay series, it only felt like an upset because of the disparate regular-season records. Watching the five games, it never felt like Calgary was the better team. Colorado was menacing on the forecheck, carried an expected goaltender advantage courtesy Philipp Grubauer, and received some monster performances from their top line.
Colorado's first unit has been productive for two years now, and Calgary's coaching staff was quite vocal about how big of a challenge they would be ahead of the series. But the fascinating part of this matchup was that Calgary – a deep team, and one that's seemingly loaded with speed in the skating department – couldn't put together anything to slow down Nathan MacKinnon, Gabriel Landeskog, and a rotation of Mikko Rantanen and Alex Kerfoot.
If it felt like the Colorado top line was playing all offence, all the time, it's because they were. Not only did Colorado dominate territorially, but they were blitzing Calgary's units with dangerous scoring chances in bunches. MacKinnon and Landeskog generated some of the most dangerous offensive numbers the playoffs saw through the first week, and that was through a combination of both volume and quality.
If we look at forwards so far in Round 1, you can see just how dangerous this group was. Particularly at even strength: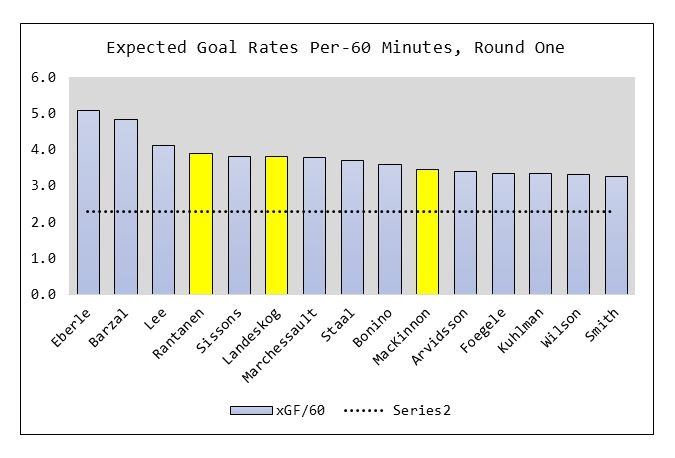 Outside of that Islanders group, you can make the argument that Colorado's top line was the most dangerous group in the league. The average forward in the first round is generating about 2.3 expected goals per 60 minutes, and 2.2 actual goals per 60 minutes. Colorado's top unit blew the ceiling off of those numbers.
What's most interesting about the series is that Calgary tried a lot of different tactics against the MacKinnon line, especially from a personnel perspective. Since we saw venues change twice in the series, we have a decent idea of how both Bill Peters and Jared Bednar felt about certain matchups. As it pertains to the MacKinnon line, it didn't matter all that much – they disposed of any and every five-man unit in front of them.
If we look at Colorado's big guns expected goal rates against their common opponents in the series, you can see that very few Flames forwards or defenders had much success slowing them down. Calgary's skater group is sorted by head-to-head ice time, where Mikael Backlund (F1) and Mark Giordano (D1) were the most common opponents for the Colorado first line: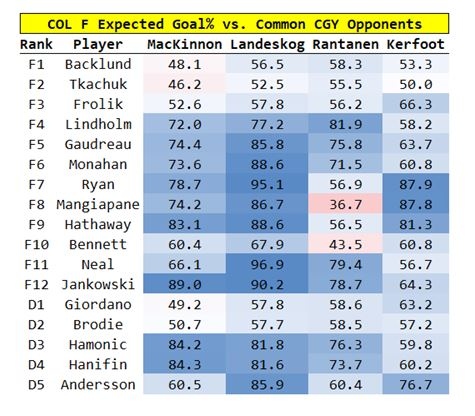 It's one thing if the MacKinnon line gets spot minutes against Calgary's third or fourth line and dominates, which is what happened in the 10 to 15 minutes where that occurred. It's another thing when Calgary's most effective units melt against the pressure.
The most effective grouping undoubtedly was when Calgary's "3M Line" in Backlund, Matthew Tkachuk and Michael Frolik was married to the Giordano pairing. But even that combination failed to slow down the speed and tenacity of the Colorado first line, with the Avalanche carrying much more than 50 per cent of the play in those matchups.
The further you go down the lineup, the uglier it gets. The Johnny Gaudreau line (which saw about 20 minutes head-to-head) was absolutely crushed by Colorado's best. That's problematic for a multitude of reasons. Peters couldn't limit his utilization of that line, so he either had to accept their performance would be neutralized or try to chase them into easier matchups and hope his 'checking line' would at least draw even.
It never happened. Call it the superstar effect. Call it whatever you would like. At the end of the day, a lot of what this short series was about centred on the fact that the Flames had zero answer for Colorado's most dangerous attackers, and that was true throughout the lineup. Sprinkle in a bit of a goaltending disadvantage and scoring slumps for key players and you have an unwinnable series.
It will be interesting to see where Calgary goes from here. The team is tremendously talented and clearly poses matchup problems for the majority of teams around the league, largely based on the skill advantage they carry into games. But you already start to wonder what the 2019-20 postseason looks like for this club. If they run into another matchup where they don't own the best skater (or, for that matter, the best line) will they run into the same issues as this year?
You can bet that question will be asked within the organization this off-season.
Data via Natural Stat Trick