Flames F Tkachuk suspended two games
TSN.ca Staff with Canadian Press files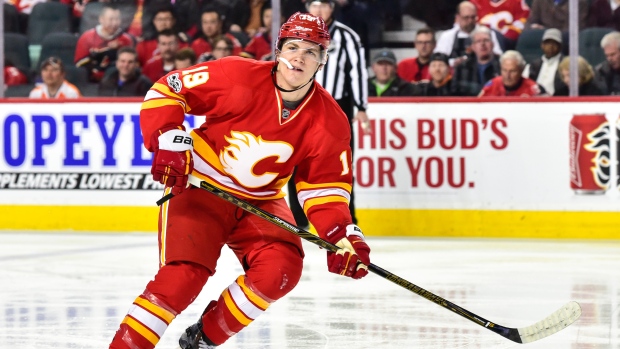 Calgary Flames forward Matthew Tkachuk has been suspended two games for his elbow on Los Angeles Kings defenceman Drew Doughty on Sunday, the NHL Department of Player Safety announced.
The incident occurred in the first period of the Flames' 5-2 victory at the Scotiabank Saddledome behind and to the right of Jonathan Quick's goal. No penalty was assessed on the play, but Tkachuk was penalized for roughing later in the shame shift when a scrum occurred in its wake.
In a video posted to the NHL's website, the league pointed out that players who possess the puck may initiate contact with their opponents, including with their elbow, but hitting a player the face is never allowed.
In his rookie season, the 19-year-old Tkachuk has appeared in 68 games, notching 13 goals and adding 33 assists. He is fifth in NHL rookie scoring. He also leads the Flames with 96 penalty minutes this season, good for eighth in the league.
The Flames are next in action on Tuesday when they visit the Washington Capitals. Tkachuk will also miss the team's Thursday contest against the Nashville Predators.
He is eligible to return Saturday against the St. Louis Blues.
Tkachuk will forfeit $10,277.78 to the Players' Emergency Assistance Fund.