Flames send Granlund to Canucks for Shinkaruk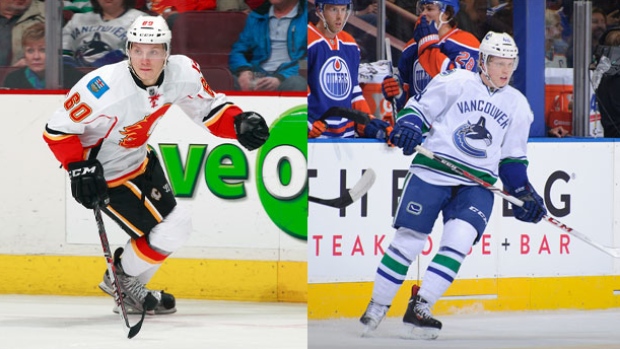 The Calgary Flames have traded forward Markus Granlund to the Vancouver Canucks for Hunter Shinkaruk.
Granlund, 22, has scored four goals and tallied seven points in 31 games with the Flames this season. He has also appeared in 12 games with the AHL's Stockton Heat this season, scoring five goals and nine points.
The centre played a career-high 48 games with the Flames last season, scoring eight goals and adding 10 assists. He was a second-round pick of the Flames in the 2011 NHL Draft.
Shinkaruk, the 24th overall pick of the 2013 NHL Draft, has scored 21 goals and added 18 assists in 45 games with the AHL's Utica Comets this season. He appeared in one game with the Canucks this season. Shinkaruk will report to the AHL's Heat.
The 21-year-old scored 16 goals and 31 points in 74 games with the Comets last season, his first in the AHL.
Granlund is set to become a restricted free agent this summer, while Shinkaruk is in the first season of his three-year, entry-level contract.