Flames' Treliving dances with devil he knows in net with Smith
With the NHL's netminding musical chairs down to just a few goaltenders, the Calgary Flames stepped in on Saturday before the music stopped, Frank Seravalli writes.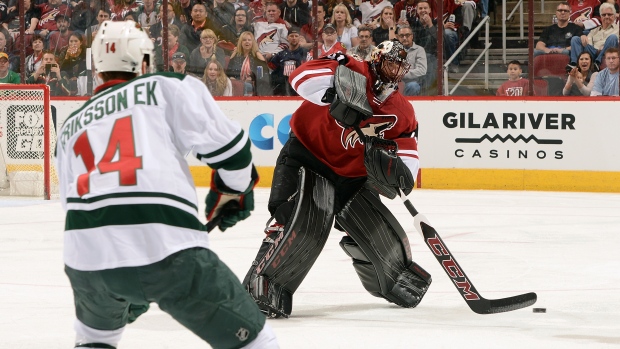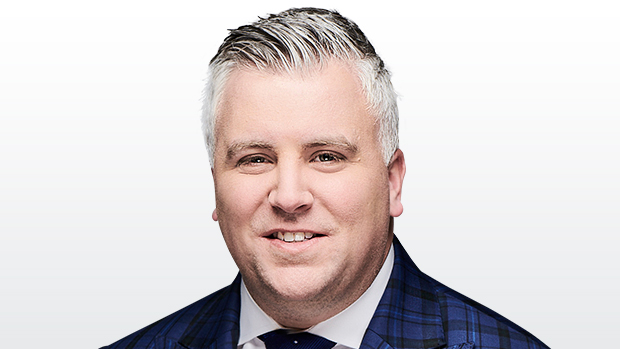 With the NHL's netminding musical chairs down to just a few goaltenders, the Calgary Flames stepped in on Saturday before the music stopped.
Flames GM Brad Treliving is turning to a name he trusts in an attempt to solidify the position that has been his team's biggest wild card.
The Flames acquired veteran
Mike Smith
from the Arizona Coyotes in exchange for the rights to goaltender
Chad Johnson
, unsigned prospect Brandon Hickey and a conditional third-round draft pick before the NHL's trade freeze kicked in Saturday afternoon. The third-round pick will become a second-round pick if the Flames qualify for the Stanley Cup playoffs next season.
Arizona retained 25 per cent of Smith's $5.67 million deal, which has two seasons remaining.
Treliving's bet is that Smith will be the bridge Calgary needs in net until promising prospects such as 22-year-old
Jon Gillies
or 19-year-old
Tyler Parsons
can take over.
Treliving saw Smith at his best in Arizona. During his 11-year run as the Coyotes' assistant general manager, Treliving watched Smith up close for three full seasons, including Smith's career-best campaign in 2011-12 when he led the Yotes to the Western Conference Final with a .930 save percentage.
"This is a guy who is highly competitive," Treliving said in a statement Saturday. "As athletic as anyone I've ever been around. And really, really driven."
Smith, 35, was the Coyotes' lone All-Star representative last season, but he has hovered under the league average in save percentage over the last three seasons with a poor team playing in front of him.
Since 2014, when Treliving left for Calgary, Smith is 48-81-16 with a .911 save percentage and 2.96 goals against-average.
Out of 42 goaltenders who have started at least 75 games over the last three seasons, only seven have a worse save percentage than Smith:
Kari Lehtonen
,
Antti Niemi
,
Cam Ward
,
Mike Condon
,
Michael Hutchinson
,
Eddie Lack
and
Connor Hellebuyck
.
The Flames were also seemingly running out of their pick of the litter.
Scott Darling
landed in Carolina;
Ben Bishop
went to Dallas;
Marc-Andre Fleury
is seemingly destined for the Vegas Golden Knights after agreeing to waive his no-move clause with the Penguins in February.
That leaves possibly the Winnipeg Jets, Philadelphia Flyers and now the Coyotes as teams in need of a netminder.
Louis Domingue
, 25, started nearly 40 per cent of Arizona's games last season. Johnson, acquired in the deal, satisfies Arizona's expansion requirement in goal since they prefer to protect Domingue. Johnson went 18-15-1 with a 2.59 GAA and .910 save percentage in 36 games last season.
Ryan Miller
,
Steve Mason
,
Jonathan Bernier
,
Brian Elliott
and
Ondrej Pavelec
are the goaltenders looking for work this summer as pending unrestricted free agents.
Smith will become the Flames' fourth starting goaltender in four seasons, joining Elliott, Kari Ramo and
Jonas Hiller
. Elliott is set to become an unrestricted free agent on July 1 after a rollercoaster season that saw him have stretches playing as both the NHL's best and worst goaltender. He went 26-18-3 with a 2.55 GAA and .910 save percentage in 49 games last season.
"I see plenty of upside with this group," Smith said in a statement. "I've had the chance to play against them a lot over the last six years, I've seen them grow into a playoff-calibre team. I'll be thrilled to pull that sweater on for the first time … It sounds kind of surreal right now. I'll do everything in my power to help this team."
The Flames' acquisition of Smith was the most significant transaction before Saturday's 3 p.m. ET trade freeze, which halts all trading between clubs with the exception of the Vegas Golden Knights before next week's expansion draft. League-wide trading can resume on Thursday at 8 a.m. ET.
Each team's expansion draft protection lists were due to the NHL at 5 p.m. ET on Saturday. The lists will be examined, approved and released by the NHL's Central Registry on Sunday morning at 10 a.m. ET.
Tune in to TSN's Expansion Draft Special live show at 10:30 a.m. ET on TSN 1/3/4/5.
Contact Frank Seravalli on Twitter: @frank_seravalli