Flames' Wideman suspended indefinitely
According to TSN Hockey Insider Darren Dreger, Calgary Flames defenceman Dennis Wideman has been suspended indefinitely pending a hearing for his hit on linesman Don Henderson on Wednesday.
By Frank Seravalli, TSN Senior Hockey Reporter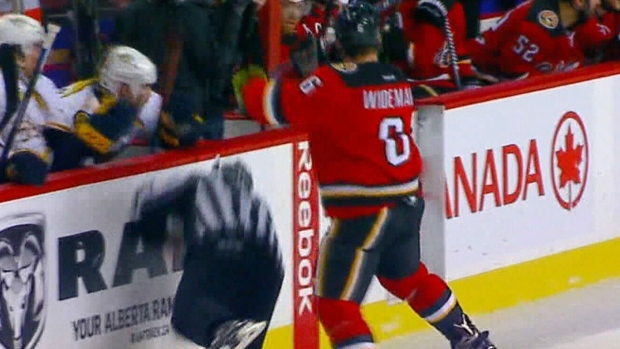 NASHVILLE, Tenn. — Calgary Flames defenceman Dennis Wideman was suspended indefinitely by the NHL on Thursday for his contact with linesman Don Henderson during Wednesday night's game in Calgary.
A disciplinary hearing will be held for Wideman on Tuesday following the NHL's All-Star break to determine the next course of action.
Wideman knocked Henderson to the ice with an arms-extended hit to Henderson's back while returning to the Calgary bench in the second period.
Wideman, 32, called the contact "completely unintentional" post-game and said he "looked up … at the last second" and "couldn't avoid it." He skated over and apologized to Henderson during the next stoppage. There was no penalty called on the play. Wideman appeared to be woozy following a hit from Nashville Predators forward Miikka Salomaki a few seconds early I the shift.
According to the Calgary Sun, Henderson went to a Calgary-area hospital post-game and was treated until the early morning hours for neck pain and nausea and also underwent concussion testing.
Even if it was unintentional, Wideman is facing a possible 10-game minimum suspension for "Physical Abuse of Officials," according to NHL Rule 40. Any hearing with the possibility for a suspension lasting longer than five games would give Wideman the right to attend the hearing in-person as opposed to over the phone.
According to Rule 40, the NHL has the option to suspend Wideman for a minimum of 10 or 20 games, but not fewer than 10. The difference between the two suspensions is "intent to injure."
A 20-game ban shall be handed down automatically for a Category I violation when "any player who deliberately strikes an official and causes injury or who deliberately applies physical force in any manner against an official with intent to injure," according to the rulebook.
For the purpose of that rule, "intent to injure" shall mean "any physical force which a player who knew or should have known could reasonably be expected to cause injury."
The lesser penalty, a minimum 10-game Category II suspension, is for "any player who deliberately applies physical force to an official in any manner (excluding Category I), which physical enforce is applied without intent to injure."
Dan Carcillo, then of the New York Rangers, is the only player suspended for physical abuse of an official in the last six seasons. He was handed a 10-game ban on May 23, 2014 for using physical force against a linesman while being escorted to the penalty box during a playoff game.
Carcillo's suspension was appealed and later reduced to six games. Ten other players have been suspended under the same Rule 40 since 2000, though Chicago Blackhawks' centre Tom Lysiak is one of the few to be suspended for 20 games (Oct. 31, 1983).
The NHL officials working Wednesday's game along with Henderson may have opted to file a report with the league, even though a game misconduct penalty was not called. The other three officials on the ice may have missed it since the collision happened behind the play.
The NHL Officials' Association expressed their concerns about the hit to the league on Thursday, according to sources.
Wideman said Wednesday he would be "surprised" if the play resulted in discipline. He is a veteran of 755 NHL games.
"If it happens, all I can do is tell my side and tell what happened and hope for the best," Wideman said. "In my view it was obviously unintentional. Throughout my career, and I've been around for a few years, I think I've treated every official with the utmost respect and I would never intentionally try to hit a linesman or a ref or anything like that."