Flames' Wideman to appeal 20-game suspension
Calgary Flames defenceman Dennis Wideman has been suspended 20 games by the NHL on Tuesday for his Jan. 27 hit on linesman Don Henderson. Wideman, 32, is the 12th NHL player to be suspended for physical abuse of an official in the last 15 years. Wideman will appeal the decision.
Frank Seravalli, TSN Senior Hockey Reporter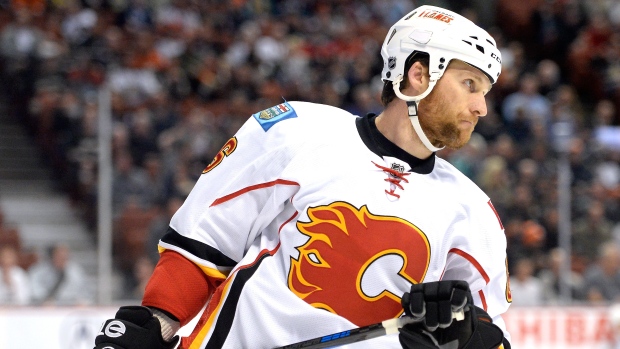 Dennis Wideman called his cross-check to linesman Don Henderson "completely unintentional."
It was a costly mistake.
Wideman, 32, was suspended 20 games by the National Hockey League on Tuesday for his violent Jan. 27 collision with Henderson - the amount recommended by rule for the most serious offense for physical abuse of officials.
Wideman will appeal the decision, which was made by the NHL's Hockey Operations Department headed by Colin Campbell. According to the Collective Bargaining Agreement, Wideman can appeal the ruling to NHL commissioner Gary Bettman. He can then further appeal to a neutral arbitrator if Bettman stays a suspension longer than six games.
"We strongly disagree with the League's decision to suspend Dennis Wideman," the NHLPA said in a statement. "Dennis has played in 11 NHL seasons and almost 800 games without incident. The facts, including the medical evidence presented at the hearing, clearly demonstrate that Dennis had no intention to make contact with the linesman. An appeal has been filed on the player's behalf."
Wideman is scheduled to forfeit $564,516.20 in salary, which goes to the Players' Emergency Assistance Fund.
The Flames have been granted non-roster status for Wideman, and have activated forward Micheal Ferland from injured reserve. General manager Brian Burke released the following statement later Wednesday.
"We were informed earlier today that our player, Dennis Wideman, was suspended for contact with an official in last Wednesday's game against Nashville," Burke said. "We disagree with the severity of today's suspension ruling and maintain that Dennis' collision with the linesman was unintentional and accidental. We agree that our officials' safety and well-being is of extreme importance in order to allow them to perform their duties. They perform an invaluable but underappreciated role in our game.
"We support sanctions against players who make deliberate contact with any official. However, unintentional and accidental contact does occur at times in our game. We will have no further comment on the matter at this time."
Wideman is the 12th NHL player to be suspended for physical abuse of an official in the last 15 years. Only Tampa Bay's Gordie Dwyer, back in 2000, was given a stiffer sentence (23 games), but that included an additional penalty for leaving the penalty box. In 2014, New York Rangers forward Dan Carcillo was suspended 10 games for physical abuse of an official, but Carcillo later appealed it down to six games.
The NHL acted quickly and forcefully with Wideman. He was suspended indefinitely by the NHL less than 24 hours after the incident, pending a disciplinary hearing.
Wideman presented his side of the story in Toronto on Tuesday afternoon. He was accompanied by Flames president Brian Burke, who served as the league's disciplinarian from 1994 to 1998, as well as Flames general manager Brad Treliving and assistant GM Craig Conroy.
As is custom, Wideman was also represented in the hearing by NHL Players' Association, including general counsel Don Zavelo and assistant to executive director Mathieu Schneider.
Henderson also appeared on his own behalf. Henderson, a Calgary native and veteran of nearly 1,300 regular season games, checked into a hospital after the game with headaches and nausea.
There was no penalty called on the play in question.
The sequence began when Wideman was checked in the Flames' end by Nashville Predators forward Miikka Salomaki. On his way to the bench, Wideman extended his arms and made contact with Henderson, who had his back to the defenceman.
Wideman appeared to be woozy after a hard hit from Salomaki. He said he didn't see Henderson until the last second, which may have been indicated by a small stutter in Wideman's skates.
"I took a pretty hard hit down in the corner and had some pretty good pain in my shoulder and my neck and I was just trying to get off the ice," Wideman told reporters on Jan. 27. "I was kind of keeled over and at the last second, I looked up and I saw him and I couldn't avoid it."
Under the league's Rule 40 (Physical Abuse of Officials), Wideman was facing a minimum 10-game suspension, regardless of intent. However, since there was no call on the play, the NHL had more broad powers to suspend Wideman under Rule 28 (Supplementary Discipline), which covers "any offense committed during the course of a game."
Instead, the NHL's hockey operations department followed the discipline guidelines of the most severe outcome of Rule 40.
Wideman's physical contact drew the attention of the mainstream sports world, with the NBA Officials' Association condemning the attack and calling for a lengthy suspension. The NHL's own Officials Association was also involved in pushing for significant and meaningful suspension.
Now, no player - not even a player of Wideman's status in the league - can claim ignorance to an official on the ice. Wideman had a clean disciplinary record through his 755 career NHL games until this week.
Wideman is eligible to return to the Flames' lineup on March 14 vs. St. Louis.
Notable Suspensions for Abuse of Officials
| Player | Team | Date | Suspension |
| --- | --- | --- | --- |
| Dennis Wideman | Cgy | January 2016 | 20 games |
| Dan Carcillo | NYR | May 2014 | 6 games |
| Michael Peca | Clb | October 2008 | 5 games |
| Andre Roy | Tam | February 2007 | 3 games |
| Gordie Dwyer | Tam | September 2000 | 23 games* |
| Tom Lysiak | Chi | October 1983 | 20 games |
| Maurice Richard | Mtl | March 1955 | Reminder Of Season |
| Billy Coutu | Bos | April 1927 | Lifetime+ |
* - 10 for abuse of official, 10 for leaving penalty box, + 3 more for game misc
+ - reduced to 2 1/2 years
Frank Seravalli can be reached at frank.seravalli@bellmedia.ca.