Fleury or Murray? Sens 'don't care' either way
Penguins coach Mike Sullivan declined to name his Game 4 starter on Thursday, but the Senators won't be changing their game plan no matter who gets the call.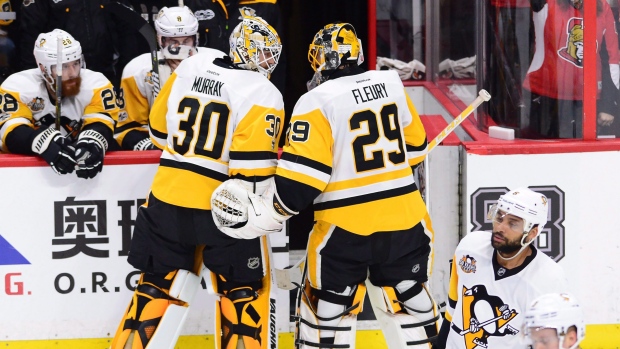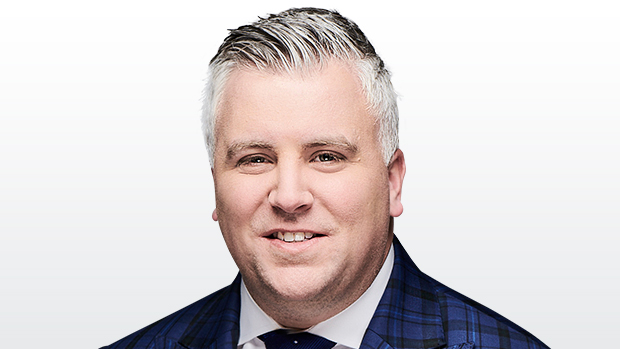 OTTAWA — Marc-Andre Fleury had a net to himself at Penguins practice on Thursday, typically a sign that coach Mike Sullivan will go back to him for a pivotal Game 4 on Friday night.
Except that Matt Murray, the man who backstopped Pittsburgh to the Stanley Cup last spring, was splitting reps with Tristan Jarry in the other net.
Sullivan's crease conundrum is anything but a typical goaltending controversy. How many coaches have the luxury of deciding between Stanley Cup winners?
Sullivan declined to name his Game 4 starter on Thursday, saying he would wait until Friday to announce his choice.
"It's always a hard decision, but it's a good hard decision because we have two real good goalies," Sullivan said. "It's never an easy decision for us. It never has been all year for us ...We try to make the best decisions that we think give our team the best chance to win and we go from there."
Fleury said after practice he hadn't been told who would start.
Not going back to Fleury for Game 4 would represent one of the shortest leashes in NHL history, considering the three games he strung together before his Game 3 meltdown. Fleury allowed just one goal in Game 1 and that was sandwiched around two shutouts – including Game 7 against the Washington Capitals in the second round. Fleury posted a .977 save percentage in those three games.
It would also serve as a pretty good indication of how Pittsburgh's coaching staff prefers this off-season to play out. The expansion draft will likely force the team to decide whether they should keep the 22-year-old Murray, or Fleury, who is the longest-tenured Penguin.
Fleury, 32, ran with his second chance in the crease since Murray went down with an injury in warmup on opening night of the playoffs. It has left some to wonder if the Penguins would possibly defy conventional wisdom and consider keeping Fleury for the final two years of his contract, moving Murray instead.
Murray has the significantly higher trade value, while Fleury has two more years on a reasonable salary cap hit. Jarry, 22, is also in the pipeline as a well-thought-of young netminder.
Fleury refused to relinquish the net until Wednesday night. He had a .931 save percentage in the postseason before allowing four goals on nine shots. What occurred in Game 3 was also historic: only five goaltenders have ever allowed four goals in one 13-minute span in the playoffs, the last coming 21 years ago in 1996, according to Hockey-Reference.com.
"I really did enjoy to be out front," Fleury said. "It's not going to go 16 games in a row perfectly. So, I put that one behind me and I'll be ready to go."
Murray bristled when asked if he hoped to start Game 4.
"You know, I don't really like the word hope," Murray said. "I have no expectations. Either way, I have to be ready. That's how I kind of look at it. I'll be ready to go either way whatever coach's decision is, but I'm not really hoping one way or the other. It's out of my control, so I don't really think too much about it."
Murray allowed one goal on 20 shots in his first game action since April 6. He said he "didn't need to knock the rust off to be good."
"You don't need to play all the time to be good. It's not necessary," Murray said. "No matter what happens, you've got to be able to kind of adapt and give your team the best chance to be successful."
Senators' centre Derick Brassard said he would be "shocked" if the Penguins didn't go with Fleury because "he's the guy who got them here." Sullivan admitted there was a loyalty factor in play, but said it was loyalty to the larger group and also included Murray.
Whether it's one or the other, the Sens won't be changing their game plan.
"To be honest with you, we don't care," coach Guy Boucher said. "We've had to deal with [Tuukka] Rask, who was on a tear, and then we had to deal with [Henrik] Lundqvist, who was on a tear, and we just played against Fleury, who was on a tear. Whether it's him or another goaltender, it's not something we control, and makes no difference in our game."
Contact Frank Seravalli on Twitter: @frank_seravalli