Flyers hire Hakstol as new head coach
Philadelphia Flyers general manager Ron Hextall announced this morning that Dave Hakstol has been named the 19th head coach in Flyers history. "Dave brings a wealth of head coaching experience and success to the Philadelphia Flyers organization," said Hextall.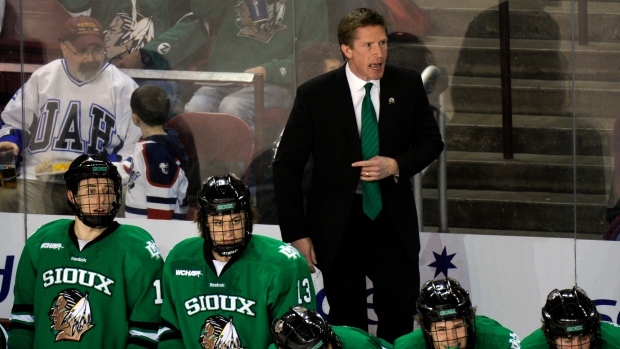 PHILADELPHIA - Once the surprise news hit Philadelphia, Flyers die-hards — heck, NHL fans everywhere — all sounded a bit as if they should have been Jeopardy contestants.
Who is Dave Hakstol?
Not even an easy clue would have given an indication on who was Flyers general manager Ron Hextall's top target to try and lead the franchise to their first Stanley Cup championship since 1975.
Hextall strayed so far off the grid with his choice, Marge Gunderson couldn't have cracked the case, especially as the usual candidates — such as Detroit's Mike Babcock — swirled in the rumour mill as potential replacements.
"I wasn't going to choose the coach that was the people's choice, the popular choice," Hextall said Monday. "I was going to pick the coach that I felt like for this franchise from today, next year, moving forward was the right coach. Dave was the right coach for this franchise."
The Flyers can only hope the Hextall-Hakstol tag team is a championship combination.
A stranger in NHL rinks, Hakstol did boast one of the top collegiate resumes at the University of North Dakota. The 46-year-old Hakstol went 289-143-43 with a .654 winning percentage over 11 seasons and reached the Frozen Four seven times in that span. In 2014-15, he led North Dakota to a 29-10-3 record with a .726 winning percentage and a berth in the NCAA Frozen Four.
His program had become a pipeline to the NHL with players such as Jonathan Toews (Chicago), Matt Greene (Los Angeles), T.J. Oshie (St. Louis) and Chris VandeVelde (Philadelphia) all developed out of the North Dakota system. Hakstol's program has produced 20 NHL players and 46 have played professionally at some level.
For all the big wins and bigger prospects, Hakstol could never win a championship, something that has given Philly four decades of agony.
"He's had a lot of success at the college level, (just) never found a way as a head coach to win a national championship," Toews said. "I think it's an opportunity he definitely earned, and I think he'll seize it and do well."
But one prospect yet to make the NHL provided the biggest tie to Hakstol and the Flyers — Hextall's son, Brett. Brett Hextall played for Hakstol, letting the Flyers GM in on all the inside-the-locker-room info that made the North Dakota program hum along as one of the best in the nation.
Hextall had a checklist of qualifications he wanted his next coach, and his first major hire, to meet.
Among them:
— Could Hakstol handle the 82-game grind?
— Could he develop young talent?
— Could he accept pressure from the fans, media, the strain of the Stanley Cup drought and press on with confidence with his own style?
Hextall said he checked every requirement box with Hakstol except NHL experience. Turned out, the North Dakota coach's lack of bench time in the NHL was the least of Hextall's concerns.
And he expected the players to adapt to the rookie coach.
"I think they'll figure out in a hurry here who's in charge," Hextall said.
Hextall fired coach Craig Berbue at the end of the season after he failed to lead them to the playoffs. Berube went 75-58-28 (.553) in two seasons with the Flyers and took them to the playoffs last season. The Flyers have missed the playoffs two times in a three-season span for the first time since they missed it five straight seasons from 1989-1994.
Hakstol signed a multi-year deal and terms were not disclosed. North Dakota named assistant Brad Berry its new coach on Monday.
Hextall refused to say if he talked with Babcock, the hottest coach on the market. Though Babcock is still under contract with Detroit through June 30, the Red Wings have given other teams permission to meet with the coach.
Babcock has met with the Sabres, and hasn't ruled out the possibility of staying with the Red Wings, where he's coached for 10 years and won the Stanley Cup in 2008. Last week, Babcock told Canada's TSN network that he intends to make a decision on his future before the end of this week.
"I hope in this case we have another Mike Babcock," Flyers chairman Ed Snider said.
Hakstol is one of the few coaches to graduate straight to the NHL bench from college. He joined "Badger" Bob Johnson and Ned Harkness as coaches to get their first NHL job straight out of colleges, according to College Hockey Inc.
"I believe in what we do and I believe in the things that I do, and I'm not going to change that," Hakstol said. "Do I need to alter the delivery of the message? Maybe a little bit. The fact that I do not have experience at this level, I'm not going to pretend that I do. But I do have an awful lot of confidence in terms of knowing the game well."
He'll inherit a team with talent. Jake Voracek and team captain Claude Giroux spent most of the season in the hunt for an NHL scoring title and each finished with some stout stats: Voracek had 22 goals and 81 points and Giroux had 25 goals and 73 points.
Wayne Simmonds led the Flyers with 28 goals and Steve Mason's 2.25 GAA was the lowest for a Flyers goalie since 2003-04. Defenceman Mark Streit had 52 points.
"I do have a great deal of confidence in what we do, in what my philosophies are, and in the fact that they're going to be successful here," Hakstol said.