Flyers offered Lindros a comeback
Philadelphia Flyers hockey legend Eric Lindros looks back on the return that never was ahead of his enshrinement in the Hockey Hall of Fame, writes Frank Seravalli.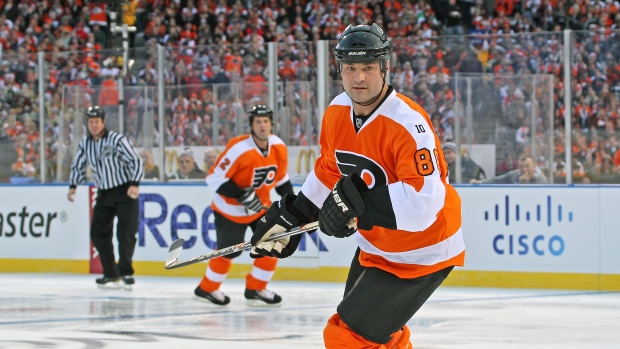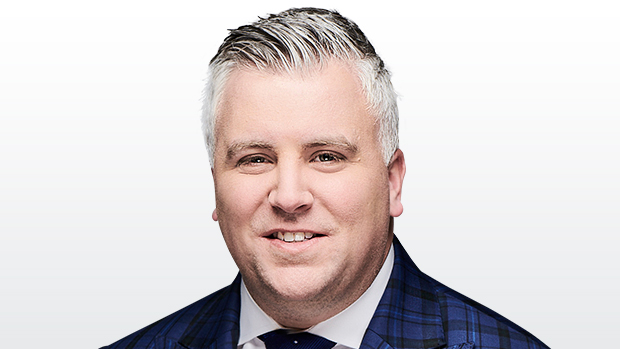 Brayden Schenn arrived for the Philadelphia Flyers' morning skate at Air Canada Centre on March 29, 2012 and heard the whispers.
Flyers legend Eric Lindros was in the dressing room, gearing up for a surprise on-ice appearance.
"I was a rookie that year. All of the guys were giving it to me, telling me Lindros was there for a tryout," Schenn recalled Thursday. "They told me he was going to take my job."
Little did Schenn — or any of the Flyers — know.
Two months earlier, the Flyers tried to coax Lindros, then 38 and five years removed from the NHL, out of retirement for one last run at a Stanley Cup.
Now that 'Big E' will finally be enshrined in the Hockey Hall of Fame on Monday, the statute of limitations has long since expired on a story that would have sent reverberations throughout Philadelphia and the NHL.
"Yeah, I did place a call to Eric in 2012 to see whether he would consider coming back," Flyers president Paul Holmgren said Thursday. "He looked that good at the outdoor alumni game. I thought he could help our team."
Holmgren wasn't exactly sure on the timing of the offer, but it was definitely after the Flyers-Rangers alumni game at Citizens Bank Park on December 31, 2011.
It didn't seem like an outlandish idea. Part of Holmgren's thinking came from watching Jaromir Jagr, who is one year older than Lindros, rack up 54 points that season on a line with Claude Giroux and Scott Hartnell after a three-year hiatus in Russia's KHL.
"I told him 'You wouldn't have to be the guy here. We have Claude, he is our guy,'" Holmgren said. "I figured even if he was a power play guy, stood in front of the net, played 10 or 12 minutes a game, that he could still be a significant factor."
Holmgren, then the Flyers' GM, told Lindros he would have a month or two to get in shape. The plan was for Lindros to be in the Flyers' lineup for the last chunk of the regular season, followed by the playoffs. The Flyers knocked off the Pittsburgh Penguins in an epic first-round series that spring.
One problem: Lindros immediately declined. Holmgren told him to think it over for a few days. He checked in with Lindros four or five days later. The answer was still no. The story died right then and there.
By the time Lindros showed up to skate with the team – in full equipment and his usual Flyers practice jersey – two months later, it was simply because Lindros wanted to have fun on Air Canada Centre ice again. He wasn't there to take Schenn's spot.
"Clearly [Holmgren] had really bad seats in that baseball stadium and he couldn't see what was going on on the ice all that well," Lindros said, laughing, in an interview Wednesday. "I don't know how serious Paul was about that, but he kept talking about cap space and things like that and I was like 'You're out of your mind. You're out of your tree.'"
The Flyers on the ice with him that day didn't think Holmgren was out of his tree.
"If I can play, why not?" Jagr told the Philadelphia Daily News on March 29, 2012. "He would have to lose some pounds. Maybe 20. But that's easy to do."
Giroux idolized Lindros growing up in Hearst, Ont., and still vividly remembers that one 30-minute skate. He was stunned to learn Thursday there was actually a conversation of a comeback.
"He could still shoot the puck. Big body, huge shot," Giroux said. "It was pretty cool to be out there with him. If anyone could have come back and played after that long, it's him."
Now 43, happily retired and raising three young children in Toronto with his wife, Kina Lamarche, Lindros said he never seriously considered a comeback. He has admitted repeated concussions changed the way he played the game - cutting his career to 760 games.
Lindros still skates twice a week, just not anywhere near an NHL level. He said he "realized there was more to life than playing the game."
"The players are so quick, so fast, so explosive. It's a completely different game," Lindros said. "It's interesting to see the guys that are coming up now have grown and played the game with the rules that are currently completely different than the '90s."
Lindros joked that the "sands of time" caught up to him, as they do us all. That his dominant game — a unique package of size, speed and skill hardly matched before or since — is still applicable to today's game is really the ultimate tribute to his now Hall of Fame legacy.
"I think he could still play today, just from a sheer size standpoint," Holmgren said. "The impact he made on the game was incredible. This was long overdue."
Contact Frank Seravalli on Twitter: @frank_seravalli