Fontaine, Wild double up Blues
Justin Fontaine had a goal and two assists, linemate Thomas Vanek also scored and the Minnesota Wild breezed by the St. Louis Blues with a 6-3 victory on Saturday.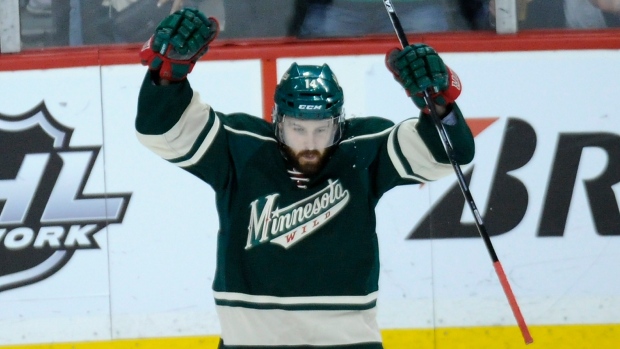 ST. PAUL, Minn. - The way the Western Conference was stacked up this weekend, the St. Louis Blues would face the Minnesota Wild in the first round of the playoffs.
For the second straight Saturday, the Wild gave the Blues a potential preview of the dangerous opponent they could be with a decisive victory.
Justin Fontaine had a goal and two assists, linemate Thomas Vanek also scored and the Wild beat the Blues 6-3 with a well-rounded performance.
"This is a tough matchup. I think the last couple games we've played them well," said right wing Chris Stewart, who scored first for the Wild. "That's a good sign."
Stewart was enjoying some extra satisfaction in sparking the win against his former team, but the Wild were wary of expressing any contentment with their recent mastery of the Central Division leader.
"We're just trying to get to the playoffs right now. Obviously I don't have any time to sit around and think about stuff like that," coach Mike Yeo said. "I don't find that team, regardless of the score, do we ever have a feeling of confidence or a feeling of comfort."
Zach Parise, Jonas Brodin and Mikko Koivu contributed goals, too, and Charlie Coyle and Ryan Suter each had two assists for the Wild, who improved to an NHL-best 22-6-2 since trading for goalie Devan Dubnyk on Jan. 14. They have a league-high 93 goals in that span.
"We didn't play very well. Some of the goals were once-in-a-lifetime goals, but still, they scored six goals," Blues coach Ken Hitchcock said.
Vladimir Tarasenko and Jaden Schwartz each had a goal and an assist and Paul Stastny scored late for the Blues, who stayed three points behind Anaheim for the top seed. The Blues have played one fewer game. The Wild are in the first wild-card position, which would be matched up against the second division leader.
Brian Elliott stopped only 12 of the 16 shots he faced and was pulled after Brodin's slap shot at 4:05 of the second period gave the Wild a 4-0 lead. That came 26 seconds after Parise tapped in a rebound of Brodin's shot to move into the top 10 in the league with 28 goals.
Elliott was 4-1-1 in his past six starts, including two shutouts. The Blues were 7-1-2 in their previous 10 road games.
Dubnyk, acquired from Arizona for a third-round draft pick, has played all 30 games since. He made 26 saves in this one after a season-high 41 saves in a 3-1 win at St. Louis last weekend, when Minnesota managed only 19 shots. That was Elliott's first loss to the Wild in seven starts.
"The one in our building, I don't think we disliked the way we played at all. We deserved two points in that game. We just had a lapse and they capitalized and their goalie stopped 40 shots," Blues captain David Backes said.
"Tonight I think they were the better team. They were on their toes, jumping us, putting pucks in the right spots, playing a really fast game."
Tarasenko, on a power play, and Schwartz, with a rebound back-hand, brought the Blues within two. But Fontaine, playing the wing with Vanek on the third line centred by Coyle that was all over the ice, pushed the lead to 5-2 with his goal with 3:49 left before the second intermission.
"Whoever we play in the first round of the playoffs, it's going to be a heck of a series. You look at all the teams that are in right now or on the cusp and there's none of them that you're saying, 'That's the one we want to play,'" Backes said.
Stewart, who was traded by the Blues to Buffalo last year and acquired by the Wild at the deadline earlier this month, provided the early spark with a highlight-reel breakaway goal.
He raised his stick to fake a snap shot as he entered the slot, then faked again as if he was going to his backhand before a quick-twitch tap of the puck between Elliott's pads. Stewart has three goals and three assists in 10 games since arriving in a trade from Buffalo. He has brought grit as well as the burst he showed on the breakaway.
"You need guys like that. His presence alone makes a big difference in the room and on the ice," Parise said.
NOTES: Blues defenceman Carl Gunnarsson left in the second period with an upper body injury. ... Wild defenceman Marco Scandella returned from an upper body injury that kept him out of the previous nine games. ... Stewart has nine goals and seven assists in 13 games against the Blues. ... Koivu's goal ended a streak of 18 straight penalties killed by the Blues.