Forgotten man: Favours ready to bounce back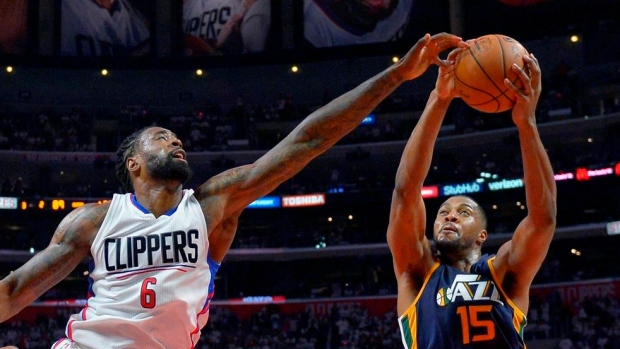 SALT LAKE CITY — Derrick Favors knows he's been the forgotten man in the Utah Jazz's grand scheme.
"I'm pretty much used to it," Favors said. "The whole time I've been here has been like that. It seems like everybody seems to forget about me all the time. That's what people kind of forget, I can score the ball, too, when I get the chance.
"I definitely prepared myself this summer to be a big part of the offence, whether it's scoring or being a playmaker."
The Jazz are going to need Favours to produce.
They are embarking on a new era with the departure of Gordon Hayward. All-NBA centre Rudy Gobert and guard Rodney Hood are commonly thought to be the future of the franchise, but Favours could be the key to the Jazz earning back-to-back playoff berths for the first time this decade.
Favours spent the last season and a half dealing with knee and back injuries that didn't require surgery, but sapped him of his athleticism. Being light-footed and nimble in a powerful 6-foot-10 frame is what made Favours unique. He could attack the rim, finish with touch and knock down jumpers past the elbow. On the defensive end, the former No. 3 overall pick out of Georgia Tech was agile enough to guard multiple positions, protect the rim and not be a liability in pick-and-roll.
But all that seems like a distant memory.
Memories of Favours are now of him struggling to move, playing just 50 games and averaging 9.5 points and 6.1 rebounds last season — his worst since 2012-13. But the season before the injuries, Favours averaged 16.0 points, 8.2 rebounds, 1.7 blocks and was considered a borderline All-Star. He and Hayward were thought of as the nucleus of a young Jazz roster.
Hayward, however, developed into a max-contract All-Star and Gobert evolved into one of the dominant centres in the league while Favours struggled to stay on the floor. The Jazz then brought in George Hill, who had a career year, and Joe Johnson, who started eating up major minutes at power forward, and then advanced to the second round of the playoffs for the first time since 2010.
Favours was no longer one of Utah's rising stars.
"Anytime a player goes through this, there's no question of a mental component," Jazz general manager Dennis Lindsey said. "We do appreciate that Derrick persevered and didn't complain when his role was adjusted. And adjusted appropriately because he could only handle so much of the load and minutes."
Favours is now the healthiest he's been in nearly two years and the timing couldn't be better for the Jazz, who lost nearly 40 points per game with Hayward in Boston and Hill in Sacramento. The Jazz listed Favours at 265 pounds last season before he dropped nearly 20 pounds during the summer. He improved his diet — cutting out a lot of red meat and pork while emphasizing lighter fare and more vegetables. Favours also worked to strengthen the muscles around his knee and focused on improving foot speed, lateral and explosive movements.
"There was a lot of frustration last year, but he handled it well," Jazz assistant coach Antonio Lang said. "He was really professional. There were some people taking some shots at him because he wasn't as efficient as he's been in the past, and he's never a guy that's going to say, 'I'm not 100 per cent.'
"When Derrick's healthy, Derrick can be back to being Derrick."
Those around the organization say there's a clear difference in the vibe surrounding Favours. He took a couple weeks to get away after the season, spending time with family and friends. His third child, Derrick Jr., was born on July 24.
"You see what he can do and what he's done," coach Quin Snyder said. "Any time a player's fighting fatigue or health, it's hard. He's had a good summer and we know what a special player he is that is so unique.
"We'll continue to try to use him the right way where he can help our team win games. And that's something I would anticipate he keeps doing because he's done it before."
A motivated Favours now has something he has never had in Utah: a starting pass-first point guard in Ricky Rubio. And if that isn't enough, Favours is in a contract year.
"I've got a big opportunity in front of me right now," Favours said. "We're going to be a different type of offence now that Gordon is gone."
___
More AP NBA: http://apnews.com/tag/NBAbasketball