Former Blue Jay Roy Halladay killed in plane crash
Former Major League star pitcher Roy Halladay, who played 12 stellar seasons with the Toronto Blue Jays, died on Tuesday after his plane crashed into the Gulf of Mexico off the coast of Pasco, Florida. He was 40.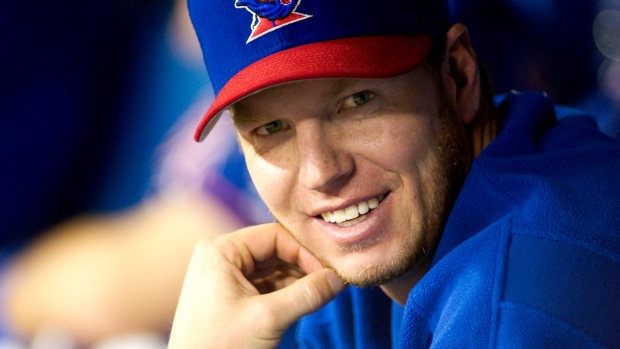 Former Major League star pitcher Roy Halladay, who played 12 stellar seasons with the Toronto Blue Jays, has died after his plane crashed into the Gulf of Mexico off the coast of Pasco, Fla., on Tuesday. He was 40.
Pasco County Sheriff Chris Nocco said during a news conference that Halladay's ICON A5 went down around noon off the coast of Florida. The sheriff's office marine unit responded to the downed plane and found Halladay's body. No survivors were found.
The Pasco sheriff's office also confirmed that Halladay was the only one on the aircraft. They did not say where the plane was headed but did confirm that no mayday call was made to Tampa Air Traffic Control.
Halladay was an amateur pilot who often posted on social media about small planes. ICON aircraft had posted a video with Halladay trying out a new plane.
TSN's Rick Westhead confirmed that according to the National Transportation Safety Board, this was at least the second fatal crash involving an ICON A5. The A5 was a newer model from Icon, based in Vacaville, California. On May 8, two Icon employees, the company's lead test pilot and the director of engineering, were killed in a crash in an A5 in Napa County, California. The NTSB report said the probable cause was "the pilot's failure to maintain clearance from terrain while manoeuvring at a low altitude."
Westhead says the NTSB has opened an investigation into the crash of Halladay's plane. NTSB investigators will examine pilot record, weather, transcript of cockpit recording and similarities to other crashes involving the same plane. The investigation could take a year to complete.
Nicknamed "Doc", Halladay played 16 seasons in the majors with the Toronto Blue Jays and Philadelphia Phillies.
He began his career with the Jays after Toronto selected him with the 17th pick of the 1995 MLB Amateur Draft.
After a breakout season in 2002 where he finished with a 19-7 record, Halladay made his mark in 2003 when he led the American League with 22 wins and a 3.25 ERA on his way to capturing the Cy Young Award.
Despite the Jays' struggles in the standings, Halladay remained among the league leaders in wins during his time in Toronto, including another 20-win season in 2008. In 12 years with the Blue Jays, he amassed a 148-76 record with a 3.43 ERA.
The Blue Jays organization released the following statement: "The Toronto Blue Jays organization is overcome by grief with the tragic loss of one of the franchise's greatest and most respected players, but even better human being. It is impossible to express what he has meant to this franchise, the city and its fans. Our thoughts and prayers are with his family and friends."
The Denver, Colo., native joined the Phillies in 2009 in a trade for Travis d'Arnaud, Kyle Drabek and Michael Taylor. He made an immediate impact with his new team, winning 21 games in 2010 and throwing the 20th perfect game in Major League history on May 29, 2010 against the Florida Marlins.
Halladay won his second Cy Young in his first season in Philadelphia.
On Oct. 6, 2010, in his first career playoff start, Halladay became just the second pitcher in Major League history to throw a postseason no-hitter when he blanked the Cincinnati Reds in the NLDS.
His final career numbers were 203-105 with a 3.38 ERA, with 2,117 strikeouts and 67 complete games before his retirement in 2013.
MLB Commissioner Robert Manfred issued the following statement regarding Halladay's death: "All of us at Baseball are shocked and deeply saddened by the tragic passing of former Toronto Blue Jays and Philadelphia Phillies pitcher Roy Halladay. A well-respected figure throughout the game, Roy was a fierce competitor during his 16-year career, which included eight All-Star selections, two Cy Young Awards, a perfect game and a Postseason no-hitter.
On behalf of Major League Baseball, I extend my deepest condolences to his family, including his wife, Brandy, and two sons, Ryan and Braden, his friends and countless fans, as well as the Blue Jays and Phillies organizations."
Other baseball players to die in plane crashes included Pittsburgh Pirates star Roberto Clemente in a relief mission from Puerto Rico travelling to earthquake victims in Nicaragua on New Year's Eve in 1972; New York Yankees catcher Thurman Munson piloting his own plane near his home in Canton, Ohio, in 1979; and Yankees pitcher Cory Lidle piloting his own plane in New York City in 2006.