Former Leaf Bozak makes emotional return to Toronto tonight
TSN Toronto reporter Mark Masters checks in daily with news and notes on the Maple Leafs. The Leafs and the Blues skated this morning at the Scotiabank Arena ahead of Saturday's game.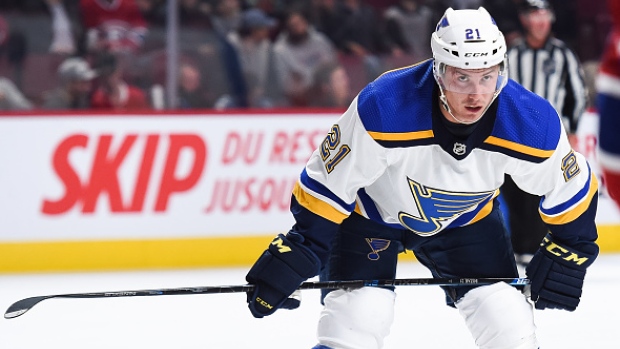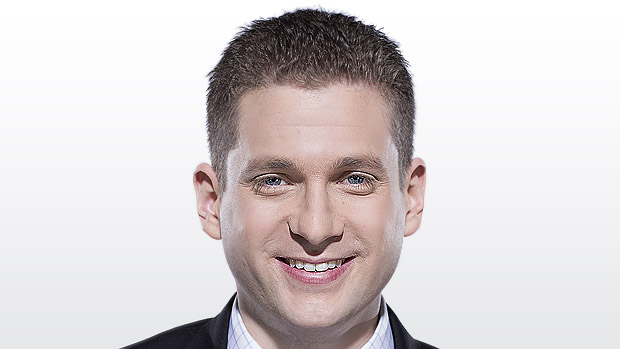 TSN Toronto reporter Mark Masters checks in daily with news and notes on the Maple Leafs. The Leafs and the Blues skated this morning ahead of Saturday's game.
---
With just one win in six games, there's a sense of urgency around the St. Louis Blues these days and head coach Mike Yeo is adding to that by scratching veteran defenceman Jay Bouwmeester.
"It's a very, very difficult decision for me as a coach when you've got a player you respect like Bouw and what he's accomplished in his career," Yeo explained. "Really what it comes down to is we see Bouw at a very high level, we value what he can bring. We don't feel it's quite at that level. Maybe it's the time off from last year, maybe it's confidence. I'm not sure, but hopefully a game like this gives him a chance to reset and get to that level."
This is the first time that Bouwmeester, a veteran of 1,112 regular season games since breaking into the NHL in 2002, has been made a healthy scratch. And he wasn't happy about it.
"I'm not going to talk a lot about it, because nobody likes to be in that position," the 35-year-old said. "It's the nature of the business. Every game there's guys that get scratched so you deal with it. That's all you can do."
It was just two years ago that Boumeester was playing for Mike Babcock and Team Canada at the World Cup in Toronto. But he suited up in just 35 games last season while dealing with injury issues (ankle, hip).
How would he assess his play so far?
"Probably like everyone in the room, there's room for improvement," Boumeester said. "But I'm not going to talk about any of that s--t."
After practising on Thursday and Friday, the Blues held an optional skate on Saturday morning and only one player, Patrick Maroon, wasn't on the ice.
"No pressure on him," Yeo said with a small smile, "he was just the only one who took his option. I made sure to tell him that too."
After missing the playoffs by one point last season, Blues management made significant changes to the roster – acquiring Ryan O'Reilly while signing David Perron, Maroon and Tyler Bozak – and so far the returns have been underwhelming.
"We just haven't been playing well enough," Yeo said. "The urgency has to be in finding our game. The urgency has to be in improving in the little areas that are costing us games. We're in every game right now, but instead of finding ways to win hockey games, we're finding ways to lose hockey games and it sounds cliche and it sounds simple, but what it comes down to is making sure that you value every single time you go on the ice, something's required of you and you have to make sure you're ready to do that job."
---
How will the Leafs match the Blues desperation level tonight?
"Well, I'd like to think we'd have a desperate team," said Babcock. "We're the team that just lost the other night. The game the other night, as much as you can make some of the numbers look fine for us and the scoring chances and all that stuff, the retrieval races and the battle level, tracking, being above the puck, the detailed part of it that allows you to win, the will part of it, I thought they did better than we did. This is our building and we're 2-2 (here) this year and haven't been as good as we can be and we want to be better."
Toronto's high-powered offence was stalled by the Penguins on Thursday as Auston Matthews saw his seven-game point streak snapped. He'll look to get back on track against the only NHL team that's held him off the scoresheet. Matthews has no points in four previous games against St. Louis.
​​"We had a hard time getting on the inside and getting shots off," Matthews said on Thursday night, "but their goalie (Matt Murray) made saves because we didn't take away his eyes and he's a big goalie and pretty much every goalie in the NHL is going to stop that first shot from a ways away. I think there are a lot of things that we can improve on. It seems like they were just calm, cool, collected out there. They didn't run around, they just played smart and didn't force anything and made plays. It seemed like they had us running around quite a bit."
After a hot start, Mitch Marner has just one point – a goal against Los Angeles on Monday – in his last three games.
"We just got to make sure we get to the net," he said after taking part in Saturday's skate. "We didn't get enough shots through last game. We didn't get enough shots on net and we didn't create enough havoc around the net. Tonight, we have to make sure we're getting there, getting around it, making it hard on this goalie (Jake Allen) and try to be hard to play against down low."
---
Marner's start this season (11 points in eight games) stands in stark contrast to his start to last season when he scored just twice in his first 34 games. What's been the biggest difference?
"Just making sure I came in every day happy and joking around and being myself," Marner revealed. "I think I came in last year a little too serious and not being myself."
Marner will likely share some laughs on the ice tonight with old friend Bozak, who is facing off against his old team for the first time. The centre played 612 games with the Leafs (regular season and playoffs) over nine seasons before signing with St. Louis this summer.
"He was always chirping guys all the time and he was kind of like Mitch that way," Jake Gardiner recalled. "I'm sure Mitch learned from Bozie making fun of guys constantly and having fun most of the time. I'm going to have to focus a little harder tonight, I think. He's a pretty funny guy."
Who is Bozak looking forward to chirping the most?
"Maybe Mitchy a little bit, because he's a little sensitive," Bozak said with a grin, "try and get him off his game a little bit."
Bozak will have his parents, wife and two young children in attendance tonight and the Leafs are planning to honour their former alternate captain with a video tribute.
Marner believes Bozak will get a bit misty-eyed.
"He's emotional," Marner said. "I mean, the big hoopla going around is that new "A Star is Born" movie that everyone was going to see with their girlfriends and, I don't know, everyone said it was pretty emotional and I heard he was (emotional) so I don't doubt tonight maybe you'll see something out of him."
Well, Tyler, did you get a bit emotional while watching Bradley Cooper and Lady Gaga on screen?
"Yeah, I did actually," he said. "If you don't I feel like you're a little weird, actually."
As for the video tribute?
"It will be a pretty special moment. I came here as a young guy and I left with a family so essentially kind of grew up and became a man here and started my family," Bozak said. "My son Kanon was born here and it was just a lot of good memories. A lot of friendships that I'll have for the rest of my life were made in this city. Met a lot of great people so obviously it holds a special place in my heart."
https://www.tsn.ca/nhl/video/bozak-expecting-weird-emotional-night-vs-old-leafs-friends~1519302
---
Projected Leafs lineup tonight:
Hyman-Tavares-Marner
Marleau-Matthews-Kapanen
Lindholm-Kadri-Brown
Johnsson-Gauthier-Leivo
Rielly-Hainsey
Gardiner-Zaitsev
Dermott-Ozhiganov
Andersen starts
Projected Blues lineup tonight:
Schwartz-Schenn-Tarasenko
Sanford-O'Reilly-Perron
Maroon-Bozak-Steen
Blais-Barbashev-Kyrou
Dunn-Pietrangelo
Parayko-Schmaltz
Edmundson-Bortuzzo
Allen starts