Johnson looking for fresh start with Raptors
Through four mostly underwhelming seasons in the NBA, former top-10 pick Stanley Johnson has seen his role fluctuate and his production plateau but now that he's in Toronto the small forward is hoping to carve out a role in a winning environment with the Raptors and re-establish his value, Josh Lewenberg writes.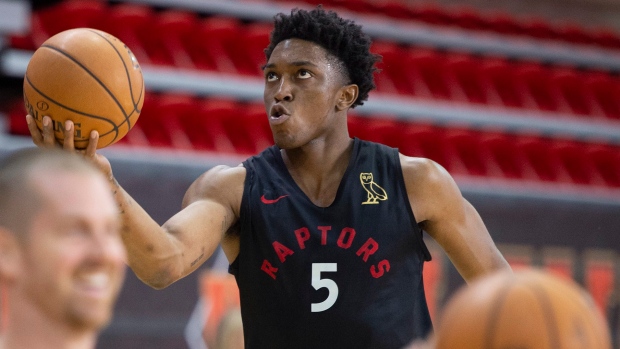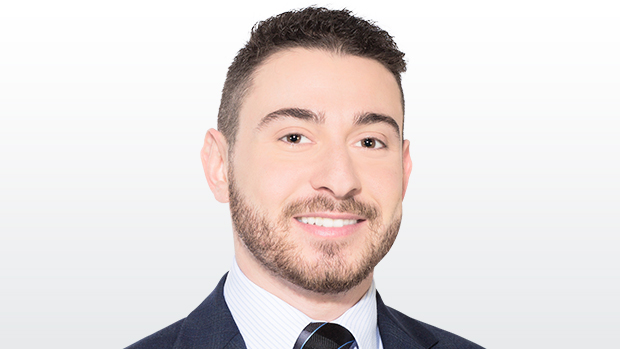 QUEBEC CITY – Stanley Johnson's NBA career hasn't exactly gone according to plan.
A top high school recruit and star at the University of Arizona, Johnson was selected by Detroit with the eighth-overall pick in the 2015 draft. He was a promising two-way prospect, an 18-year-old with an NBA body, and the Pistons' small forward of the future. He drew comparisons to Kawhi Leonard. Yes, that Kawhi Leonard.
But through four mostly underwhelming seasons in the league, Johnson has seen his role fluctuate and his production plateau. He's shown flashes, particularly on the defensive end, but – to this point, anyway – he's fallen well short of expectations, including his own.
After three and a half seasons with the Pistons, he was sent to New Orleans as part of a three-way trade at last February's deadline and now finds himself on his third team in five years.
Having just lost Leonard and Danny Green in free agency, the Raptors were looking for affordable wing replacements with upside. Johnson was looking for a fresh start and a chance to prove that, at just 23, he can still become that player he was supposed to be coming out of college.
"I know so much more than I did before," Johnson told TSN last week. "Just the knowledge and understanding what's going on a lot more than I did when I was 18-years-old. I'm really happy in the place that I am, I'm really happy with every hill and valley that I've had in my career thus far, and I wouldn't be where I am today without it. I think life gives you so many obstacles to deal with and you've just gotta deal with them and keep fighting every day. That's how I approach every day. I have to prove myself every day and fight for what I want."
It's a fit that makes sense for both parties. Johnson spoke to Raptors president Masai Ujiri over the phone early in the free agency. There was interest on both sides, but Toronto was in a holding pattern as the team waited on Leonard's decision.
Once the Finals MVP chose the Clippers, the Raptors – still capped out and unable to chase a marquee free agent – moved on Johnson, signing him to a two-year $7.5 million deal, with a player option in the second season.
"Me and my representation talked to a bunch of teams and felt this was the best fit for me," Johnson said. "The system and the culture that we knew was here and how they care so much about everything – it was the right fit. So I got lucky that it was open and available."
While the Raptors have minutes, shots and even a starting job up for grabs at his position, Johnson insists that's not what drew him to Toronto. The defending champs have built a strong league-wide reputation for developing young players. And, despite his experience as a pro, Johnson is still a young player with plenty of room to grow.
That things didn't work out in Detroit isn't an indictment of Johnson or even the Pistons' system, necessarily. Players develop at different rates. There's no blueprint. Some reach or exceed their potential – and even "potential" is subjective – quickly, others take more time, and some don't ever get there.
Projecting a player's upside is an inexact science. No team gets it right every time. The Raptors have had some recent success finding and developing talent – Pascal Siakam, Fred VanVleet and Norman Powell come to mind – but somebody like Bismack Biyombo might be a more relevant example here.
Like Johnson, Biyombo was coming off his rookie deal when the Raptors signed him to an inexpensive short-term contract in 2015. The former seventh-overall pick had fallen out of favour with Charlotte but turned his career around in Toronto, where he became a crucial piece of a Raps team that pushed LeBron James and the Cavaliers to six games in the Conference Finals. He signed a much larger deal with Orlando that summer.
That's exactly what Johnson is hoping to do this season. In Toronto, he'll have the chance to carve out a role in a winning environment, re-establish his value and then re-enter free agency next summer, or the year after.
What will that role look like? That remains to be seen. OG Anunoby is the favourite to inherit the vacant starting small forward gig, and has earned rave reviews early in camp, but Johnson can push him with a strong showing of his own. At minimum, he should be an important part of Nick Nurse's second unit.
His strength is as a defender – where his size, length and versatility allow him to switch and guard multiple positions – which is something the Raptors value highly and have clearly prioritized in building their roster. That should get him on the floor, but if he wants to stay out there and make the most of his minutes he'll need to take a step forward on the offensive end.
Johnson is a career 37 per cent shooter, having only hit 29 per cent of his three-point attempts. Having a reliable three-point shot – or at least be able to create offence for yourself and others – has almost become a prerequisite for wing players in today's game, where even big men are expected to stretch the floor.
He actually shot the three-ball better in his lone season at Arizona (37 per cent on 3.1 attempts per game) than he has in any of his pro seasons, albeit with a closer arc. After shooting 31 per cent as a rookie, he's hit roughly 29 per cent of his threes in each of his three seasons since. He shot 32 per cent in 18 games with the Pelicans last year – still below league average of 35, but it did show progress.
Johnson hasn't lost confidence in his shot and the Raptors don't believe there's anything wrong with his mechanics. The emphasis in camp hasn't been how he's shooting it, but where the shots are coming from.
"Stanley is going to have to step into some stuff and make some stuff," Nurse said. "He's getting some opportunities and he's been a little bit streaky – hot-cold a couple days here. He'll come up empty one day and make everything the next. I have confidence in him, because his mechanics are good. It's not like there's a broken jump shot there."
"He should get opportunities. [Teams will] use his man to plug and he should get some good solid looks. It's always one of the battles with guys that are decent shooters but shoot a low percentage. It's choices. You're maybe shooting the wrong ones. We need him to learn our rhythm a little bit and make some better choices and get some better looks and hopefully his percentage can climb."
That's been the focus for Johnson, as well. It's about decision-making. He's not the kind of player that should be relying on his jump shot, and he may never be. If he's able to put pressure on the defence by cutting and getting to the rim – a skill he also hasn't fully developed yet – then he'll get better, cleaner looks from beyond the arc. He just has to take advantage of them. For him, that starts with consistency.
"The numbers show inconsistency, and that's the truth," Johnson said. "Numbers really don't lie. For me it's like good shot here, bad shot here, good shot here – the average is all bad, you know what I'm saying? So for me, my job is to take better threes, make 'em more consistently and the numbers will show differently."
"It would be like, in Detroit, I remember there were like seven or eight games I [was] shooting like 42 per cent, and then there's other games where I [was] shooting like 23 per cent, like 12 of them. How does that average out? Not well, you know? I can't go 2-for-4 three nights in a row and then go 1-for-8. That doesn't average out well. So it's not about not being able to make the shot. It's choosing the right shots to shoot and then making those shots that are open. Because at the end of the day I can drive on anybody as well so I shouldn't be relying on making threes, my game is not that. It takes a while to realize that because your weakness, you want to show everybody you can do it. But for me it's always been to the rim and that's what I'm really focused on."
In Detroit he wasn't just Stanley Johnson, he was top-10 pick Stanley Johnson. That's something he always had to live up to there, where he was drafted and what was expected of him. Now, in Toronto, he can start fresh, he can be Stanley Johnson. We still don't know exactly who he is as a player, or what he can be, but he insists that we're about to find out.
'[I'm] just a guy who's going to come out and play hard as hell every night, be competitive and give his all," he said. "I've grown up a little bit and I think I'm ready to take some steps in my career. I'm excited for the opportunity, I'm excited to be here and I can't wait to get on the court and play."​