Frankly Speaking: Five minutes with Jagr
TSN Senior Hockey Reporter Frank Seravalli sits down with 43-year-old Florida Panthers forward Jaromir Jagr, who has already notched two goals in the first two games of his 22nd NHL season.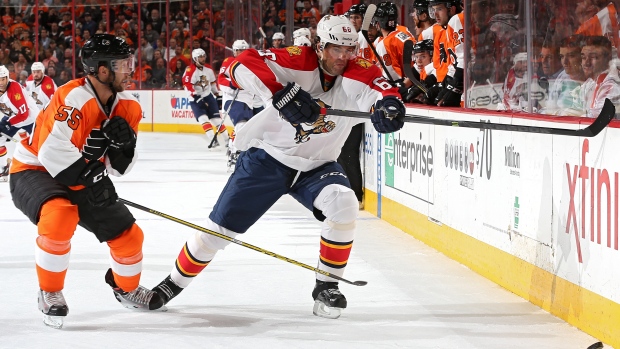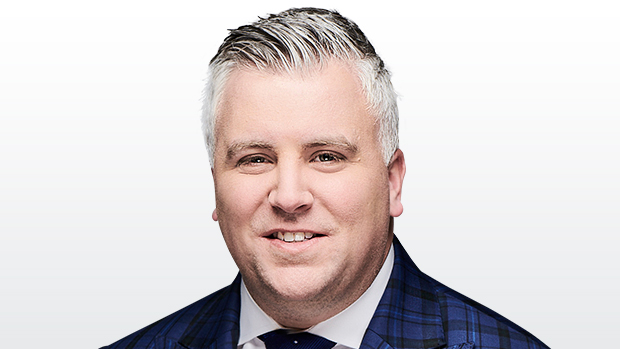 PHILADELPHIA - Jaromir Jagr plucked a black mullet wig off his stall's rung and placed it in a bag - lingering evidence of a pregame dressing room exploit.
On Monday night, though, Jagr was in no joking mood after being shut out by the Flyers. It was time to pack up and move on to Carolina.
Quietly brooding, Jagr carefully examined one pair of skates, and wrapped them in tape to keep them tight. Then another. He put them in a bag, followed one-by-one with ankle weights, a neon yellow softball, four pairs of skate laces, other training contraptions and yes, the two religious medals he displays conspicuously in his locker.
Jagr, 43, has two goals in his first two games this season. He's just 47 points away from passing Gordie Howe for No. 3 on the NHL's all-time points list. Here are five minutes with hockey's most interesting man:
Q: Most people go to Florida to retire. You decided to re-sign with the Panthers. What did you see in a 20-game audition that made you want to re-sign there?
Jagr: "I had a good 20 games. It was exciting. We were fighting for the playoffs. I had a chance to play with good, young, talented guys. Mostly, the way we play. I remember we had a chance to win every game. The young guys have potential.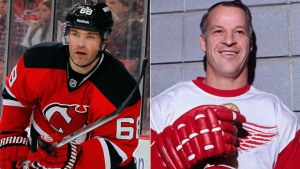 "They had a chance to get better this year. Why not? I have fun. It's a good place to play."
Q: It's been 23 years since you won the Stanley Cup. Most thought you would want to go to a contending team. Are the Panthers a playoff team?
Jagr: "I think so. Otherwise, I wouldn't come here. We've got 7-8 guys that are around the same age: 20, 21, 22. We've got some veterans. Lou (Roberto Luongo) in net."
Q: Who is the most under-the-radar star on the Panthers?
Jagr: (scans the locker room) "Well, I think I've got two of them on my line (Jonathan Huberdeau and Aleksander Barkov). Flying under the radar is good. It's good for everybody. Sometimes, if someone doesn't have a big name, it doesn't mean they're not a good player.
"For example, look at those two rookies this year everybody is talking about - (Connor) McDavid and (Jack) Eichel. But I watched Arizona for a little bit. I saw Max Domi. He was (bleeping) unbelievable. Nobody's talking about him. Why?
"How about the guy in Detroit? (Dylan) Larkin. Good player, already plays on the first line, making plays. Who else? The big guy on the Rangers: (Oscar) Lindberg.
"Then I watch Domi. It's not even the goals. I like the way he played, one-on-one. He won battles. He made passes and got open. That was impressive, too, mostly because he is Tie Domi's son. (laughing)"
Q: Yeah, but you're only two years younger than Tie Domi. Where did Max's talent come from?
Jagr: (laughs) "Tie had talent. He just had to fight. It was a different game."
Q: Speaking of old, did you know that you've played more NHL games including playoffs (1,754) than the entire Panthers' franchise?
Jagr: "I did not."
Q: Does that at least make you feel old?
Jagr: (laughs) "Nah, not at all."
Q: Really though, how do you feel? Are you still training the same way, skating at night, using weights?
Jagr: "I train mostly the same. Sometimes skate at night … My body can take a lot more than I do right now. I've tried to work smarter. For me, the toughest games are the first 10 to 15 games, just to get into it. When you're old, and you have three to four months without a game, it's brutal. I told my linemates, you have to skate for me the first 15 games. They're young. They know."
Q: You said a couple years ago that you'd like to play until you're 50. Is that still realistic?
Jagr: "I know I'm going to play to 50. I know that - if I don't get injured. I never said I'm going to play here (in the NHL) until I'm 50. That's a different story. You can always play 'til 50. There's a lot of guys that play until 60, you know, just beer hockey."
Q: But what about the NHL?
Jagr: "I don't think I could go until 50. It's very tough."
Q: Why?
Jagr: "First of all, the thing is, you can see it: there's a lot of young guys getting the green light. It's tough to compare (young guys) to me in training camp. For the young guys, they know it's the playoffs for them. They're getting ready the month before training camp. They have to make it. They have to play the best hockey in training camp. For older guys, you want to play the best hockey in playoffs. It's a totally different mentality. A lot of times, the younger guys look a lot better than older guys in the training camp. It's a misunderstanding. There's no way you can peak then, and play a top game for 9 months. It doesn't work like that."
Q: I guess you can play in the Czech league when you're 50? Especially when you own the team (HC Kladno / Czech Extraliga).
Jagr: (laughs) "Exactly. Nobody can fire me. I can play whatever minutes I want."
Q: Because of your stature in the league, some team will always have some form of interest in you. What will make you walk away? Yourself?
Jagr: "I've always wanted to have a one-year contract; it's always pushing me and motivating me. But I know: one bad year and I'm done. It's kind of like walking on eggshells (laughs)."
Q: You didn't get off to a good start last year in New Jersey. Was there any thought in your own mind that could've been your last year?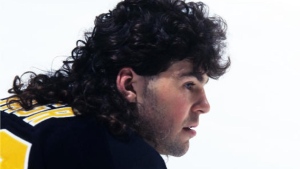 Jagr: "But. Even though I didn't have a good start, I still felt the best I've felt. So inside I still believed in my game. Because I felt very good - the way I felt, the way I skated. The numbers weren't there. But sometimes there's something else (going on), too.
"As long as you believe you can do it, that's the most important thing. Everything happens for a reason. If the Devils (didn't make a coaching change), I probably wouldn't have been in Florida."
Q: You also said you were retiring from international play for the Czech Republic. You came back last year at the World Championships and scored 8 points in 10 games on home soil. Will you play in the World Cup of Hockey next September?
Jagr: "No. No way. No chance. Not in a million years. Not even if I score 80 goals."
Q: You're bringing back the mullet. How's it looking?
Jagr: "I had to. Two more months. Two more months, it will be good."
Q: Jakub Voracek said there will be a lot of grays in that mullet.
Jagr: "Just for Men, right?"
Frank Seravalli can be reached at frank.seravalli@bellmedia.ca.