Frankly Speaking: Nill on his high-scoring Stars
TSN Senior Hockey Reporter Frank Seravalli sits down with Dallas Stars general manager Jim Nill to talk about his team's quick start to the season, Valeri Nichushkin's struggles and the next big evolution in hockey.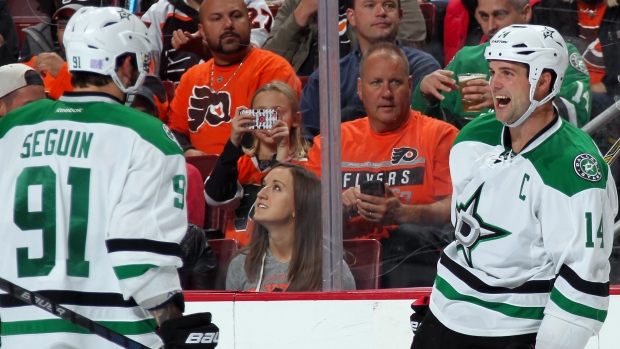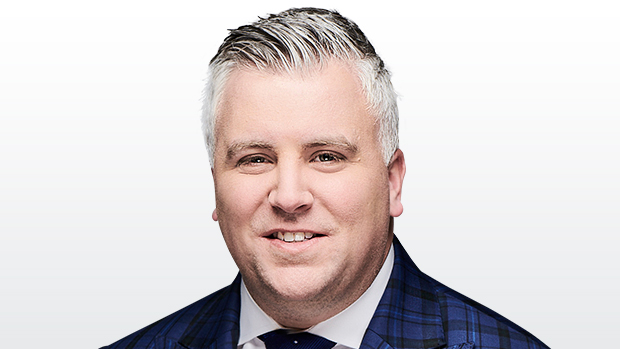 PHILADELPHIA - A quick glance at Wednesday's standings will reveal the Dallas Stars sitting atop the Western Conference with a 5-1-0 record, in a first-place tie with Nashville and St. Louis.
Defending Art Ross Trophy winner Jamie Benn is tied for the league lead in points (10) with linemate Tyler Seguin - as Benn also paces the league in goals (six). Jason Spezza nearly has as many goals (four) as the entire Anaheim Ducks team (five).
No NHL team has averaged 3.5 goals per game since the Capitals in 2009-10, but backed by Lindy Ruff's aggressive attack and top-flight talent, this year's Stars seem poised to run-and-gun for that mark. Until Tuesday night's 2-1 win over the Flyers, the Stars were the only team to net at least three goals in all five games, and their plus-7 goal differential is second only to Montreal.
Here are five minutes with the man who aligned the Stars, third-year GM Jim Nill:
TSN: What are you most encouraged about so far during this strong start?
Nill: "Well, I think we're handling adversity better. We're more mature in those situations, and I think it's showing. We can score. We know we can score. But there's a difference between scoring and being patient with it. The other day (Saturday in Florida), we got behind 2-0 in the first period. In the past, we'd feel like we need to go and get it right back, then all of the sudden it's 3-0. We're more patient."
TSN: This start seems like a pretty big change from how the preseason (1-6-0) went.
Nill: "I'll be honest with you, we were scared to death (watching the preseason). It's tough to judge. We played a lot of young kids. Benn and Ales Hemsky only played one or two games a piece. You've got to be careful (judging) with exhibition games. You've got to respect them - and we weren't. But that doesn't always mean something."
TSN: The biggest concern, at least for last year, wasn't scoring, but keeping pucks out of the net. The Stars were second in goals (261) but 26th in goals against (260). Are we starting to see the early returns from new goaltending coach Jeff Reese with Antti Niemi and Kari Lehtonen?
Nill: "It's Jeff and it's both goalies putting in the work. I think Kari is first to admit that he had a tough year last year. That isn't Kari Lehtonen (.903 save percentage). We knew he was going to bounce back. That was a commitment he made last summer. It's also Antti Niemi coming in. Antti is a workhorse. He doesn't want to leave the ice. I think that's rubbing off on Kari."
TSN: Through six games, the two Finns have exactly split the workload. Do you envision a true tandem for the season, or would you be okay with one taking the reins in net?
Nill: "They're both so used to starting, but we're going to manage that. It's a long year. We know we have tough travel. Do we have a plan? Yeah. But it could deviate here or there. Right now, we know we've got two No. 1s that we know can play and we're happy with it. They're buying in. They've got no problem with it. They want to win."
TSN: At the same time, you're spending much more money ($10.4 million) on goaltending than any other team in the league. That's nearly 15 per cent of the total cap. That can't be ideal.
Nill: "It's not. But we can do it. We're fortunate. We've got a lot of younger players on (less expensive) contracts. It'd be no different than you say we're spending a lot on forwards right now. What's the most important position in hockey? We think one of them is goaltending. We've got a three-to-five year window where we can do it. We're lucky."
TSN: Let's say we get to March and the Stars are right in the thick of the West. Do you have the cap flexibility to spend and add pieces at the trade deadline?
Nill: "We have cap room. Our ownership has been very good. We're in the top half of the league right now (spending). I think our additions might come from within. Our scouting staff has done a good job. We've got a good team in Texas (AHL). We might not have to (trade). We're in that phase where we've got young kids coming, we've got a group financially where we can do some things. We're not capped out. We're in a good spot."
TSN: When you say that, whom do you have in mind?
Nill: "We've got Esa Lindell, Stephen Johns, Mattias Backman, Ludwig Bystrom, and (2014 first-round pick) Julius Honka. That's five defencemen right there."
TSN: How close are they?
Nill: "Three of them are real close. Lindell played in the world championships last year (for Finland). And then we've got eight 'D' guys up here. Then Devin Shore was just AHL Player of the Week last week; he's got seven points in four games. Jason Dickinson, Remi Elie, Travis Morin - we've got five or six forwards playing good hockey down there."
TSN: What's going on with Valeri Nichushkin? He's almost a forgotten guy. He's been a healthy scratch twice already this season after that impressive 18-year-old rookie campaign (34 points) two years ago.
Nill: "He's going to be fine. Look, he missed a whole year. He's getting frustrated to score, so he changes his game a little bit. He is a top six guy. Is he there right now? We hope he is. Maybe some nights he needs to go down (the lineup) to get away from certain matchups, or even position-wise, to go from right wing to left wing. There might be more opportunity for him on the left side. We'll manage him. He'll be back."
TSN: Your old boss, Ken Holland, said last week that with 3-on-3 overtime there is even less room for enforcers or tough guys on rosters. There's been such an emphasis on speed and youth recently. In your opinion, what is the next big evolution in the game?
Nill: "We were just talking about this internally. I think it's special teams. At even strength, it's just so hard to score. Special teams are more important than ever. You look at the teams that win every night; they're scoring two power play goals, or no goals against penalty killing. It's so hard to score now. Everybody is well coached. We all see what every team does. You're not going to get any advantage coaching-wise or system-wise. Fourth lines can now neutralize a first line, so there are few matchups to take advantages anywhere. Special teams are going to be the next thing. It's the only chance you really have to score."
TSN: How does that evolve though?
Nill: "It's coaching, it's players understanding that you've got to play a certain way on the power play still. You can't be all fancy-fancy and still get pucks on net. The game is so close right now."
TSN: Speaking of close, what's it like being a GM in the Central Division?
Nill: "It's actually going to make us better. If you want to be part of that elite group in the NHL, you've got to man-up. There are no excuses. We're in that division and we know it. Now we've got to react to it. Chicago, St. Louis, Nashville, they've all set the bar. Winnipeg is getting better, Minnesota is getting better, and we're getting better. There's no off-night."
TSN: The real irony is that the Stars fought so long to get into the Central, to get more local time zone games and cut down on travel, but it's a brutal division.
Nill: (laughs) "What did we wish for? No. It's good. In the end, if you want to win, you've got to beat everyone anyway. We're in it. Let's get to work. It's up to us to get better. We're getting there."
Frank Seravalli can be reached at frank.seravalli@bellmedia.ca.