#FranklySpeaking: Five minutes with Patrick Roy
Colorado Avalanche head coach Patrick Roy sits down with TSN Senior Hockey Reporter Frank Seravalli to weigh in on his team's seven-game road swing, Jarome Iginla's longevity and the league tinkering with the size of nets.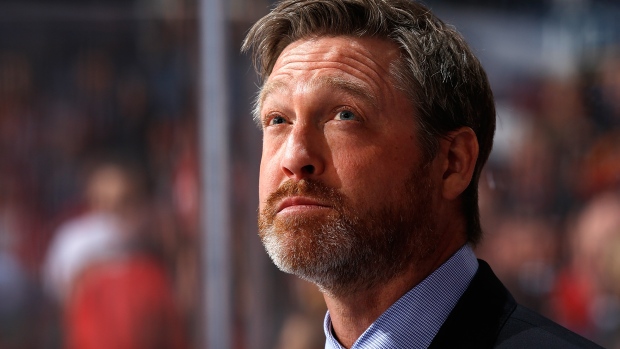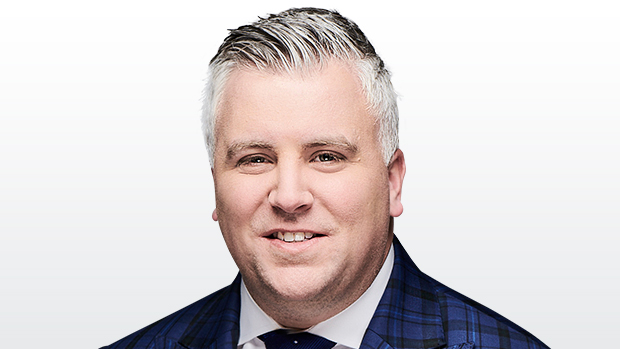 PHILADELPHIA - Watch even five minutes of an Avalanche morning skate and it's not hard to figure out that Patrick Roy has his finger on everything for Colorado.
Roy, 50, runs every drill. He barks commands. His mouth serves as the whistle to stop and start play. He even demonstrates proper execution - a rarity in today's NHL, where most head coaches just observe.
Roy also has his finger on the pulse of the league. The Hall of Fame netminder wouldn't mind the NHL tinkering with the size of nets, something NHL senior vice president of hockey operations Colin Campbell said Tuesday is on the table if an adjustment to goalie equipment fails to produce more scoring.
But right now, Roy has a bigger issue on his plate. Matt Duchene was not being overly dramatic when he said the Avalanche need to "fight for our lives" on this current road trip.
Colorado embarked on a season-defining, seven-game road swing here on Tuesday night, tied for the longest trip in franchise history. It began on a solid note with a 4-0 win over the Flyers, but there are many miles to go.
The Avalanche won't return to Denver until Nov. 24, with stops in Boston, Montreal, Toronto, Pittsburgh, Washington and Winnipeg on the way.
Depending on the results, it's entirely possible that the Avalanche (5-9-1) will not look the same by the time they get back to the Mile High City. They are already in a seven-point hole for a playoff spot, constantly sledding up hill in the Central division.
Avalanche GM Joe Sakic told the Denver Post recently that he has not considered a coaching change - and that Roy's job, which doubles as director of hockey operations, is not in jeopardy. Off to a rocky start, Colorado looks a lot like the club that finished seventh in the Central last season.
Here are five minutes with Avalanche coach Patrick Roy, the man tasked with the turnaround:
Q: What are you looking to learn about your group on this trip? How critical is this for your team in the big picture of the season?
Roy: "I'm not going to say this is 'critical,' but they understand. We are in a tough spot right now. The urgency of winning hockey games is there for us. We need to play well on this trip; we need to find a way to win hockey games.
"We've been involved in nine one-goal games. We're 1-7-1 in those games. We know it's not enough. We need to find solutions. Structure-wise, I think we're doing a good job.
"I mean, we've been telling people 'we're close, we're close,' but at the same time, we're not that close - because we're losing all those games. I think if we could be a little more relentless, at 5-on-5 and on the power play, if we could get a big save here, a big defensive play, or a big goal from any one of our forwards, it would turn things around.
"As close as you could be, as far as you could be, sometimes it's a play here or there that could make the difference. That's what we're looking for."
Q: When your team struggles in one-goal games, how much of that is mental?
Roy: "The worst part about it is the third period. We feel at times that we don't manage our game the right way, especially late in the game. Sometimes you just want to push those games into overtime, to get that one point.
"Those are things we're capable of doing. I mean, most of our games have been one-goal games going into the third. Even the game we lost in Florida (on Oct. 27), we were down 1-0 going into the third and we lost 4-1. Most of our games have been close going into the third period and we just need to find a way to manage our game a little bit better. We just need to be a little more relentless in our game and hopefully get a big game from our bigger guys."
Q: Matt Duchene now has five goals in his last five games. What was your idea behind putting Duchene on the right wing with Nathan MacKinnon and Gabriel Landeskog?
Roy: "One thing I like is that it gives me the flexibility to play them a lot. They're young and they have good legs. I'm sure they're capable of eating a lot of minutes. The last game, we played back-to-back against Arizona and I used the three of them for an average of 22 or 23 minutes - just to show they're capable of taking those minutes and playing hard.
"It kind of also reminds me of when Bob Hartley put together Peter (Forsberg) and Joe (Sakic). That worked really well for us. I'm not comparing those guys to them, but just the situation."
Q: Jarome Iginla is now four goals away from No. 600 in his career. He has continued to produce at age 38 with 12 points in 15 games. What kind of impact has he had on your locker room?
Roy: "Jarome is a very positive person. He's not a guy that's going to come into the dressing room and throw guys under the bus. He's having a more positive approach. At times, I think this is good. We have other guys that are capable of putting more pressure on our guys. He's taking care of himself both on and off the ice. He's a guy that has a great presence in this room."
Q: Semyon Varlamov has struggled this season. His .890 save percentage is sixth worst among goaltenders that have started at least five games. Reto Berra has taken the reins recently - and shut out the Flyers. How do you evaluate your goaltending so far?
Roy: "You know what, I'm sure Varly probably would've loved to had a better start. There have been some games where he played well. There have been some games where we thought he could've made a save here and there. But I think Varly knows that he needs to have more consistency. He needs to be a difference maker.
"Let's not kid ourselves. Two years ago, we had 112 points. He was the main reason. I said all along, when I got the Jack Adams Award, I said it was because Varlamov was so good. He should've been the MVP. He should've won the Vezina, because he was that good. Now people are realizing how good he was that year, because of the results.
"Last year, we had 90 points. If you combine those two years, we had an average of about 101 points, playing in such a tough conference and such a tough division. We play a lot of games in our division and we're challenged night after night. We try to find a solution for us to win some hockey games. Maybe Varly could be more consistent, but he works hard, he cares about the team, and he's doing everything the right way to get back on track."
Q: What are your thoughts on possibly increasing the size of nets?
Roy: "It's been a subject for a while. I don't know if I would make the net much bigger, but I would maybe make the goal posts smaller. Then, every time it hits the post, it goes in. That makes a huge difference, because there's a lot of crossbars and posts hit in a game.
"If we want to get the scoring up a bit, I think that would be a good way."
Q: If they were to make a change to nets, though, do you think all of the previous stats and history require an asterisk for play under different rules and circumstances?
Roy: "It's a good question. It's a good question. I'm happy I don't have to make that decision. I'm sure there are people hired to think about those things. I've got enough to coach the Avalanche."
Frank Seravalli can be reached at frank.seravalli@bellmedia.ca.