Free agent Caggiula begins making NHL rounds
The Frozen Four's most outstanding player was at Game 3 between the Flyers and Capitals in Philadelphia on Monday night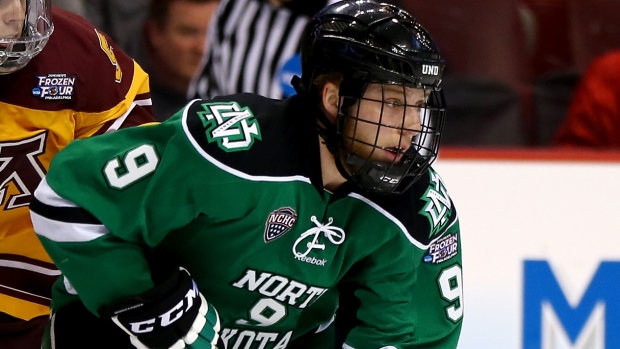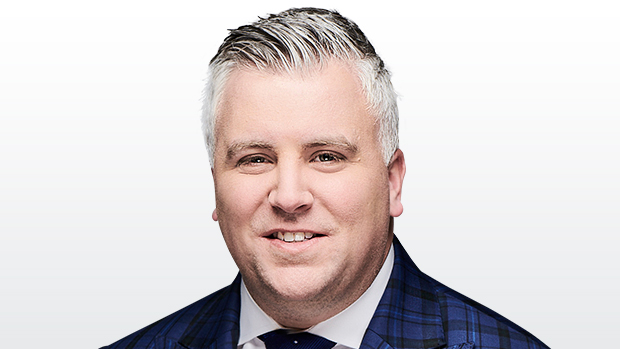 PHILADELPHIA - If nothing else, Game 3 of the Capitals - Flyers series made for a pretty interesting introduction to the Philadelphia faithful for prospect Drake Caggiula.
The Frozen Four's most outstanding player was in the Wells Fargo Center press box on Monday night alongside his agent as he began making the NHL rounds in a wine-and-dine tour.
Caggiula, 21, is an undrafted free agent forward free to sign with any team after wrapping up his senior season at North Dakota. He was highly touted all season, but his stock soared with four goals and one assist in two Frozen Four contests earlier this month in Tampa, leading North Dakota to its first national championship since 2000.
According to sources, Caggiula has whittled down his list to include (in no particular order) Philadelphia, Edmonton, Ottawa, Vancouver, Chicago and Buffalo.
Caggiula is expected to visit the Oilers sometime next week, where a tour of Edmonton's new arena will likely be part of the game plan, followed by stops in Vancouver and Ottawa. It is believed he will make a visit to all of the teams on his list before making a decision.
Before Monday's raucous game, Caggiula reportedly went to lunch with Flyers GM Ron Hextall and head coach Dave Hakstol. The Flyers ended up getting pounded 6-1 by Washington but did so in front of a full and boisterous crowd. It devolved into the bizarre with the Flyers penalized for delay of game after hundreds of fans repeatedly rained down silicone wristbands on the ice, which were given out pregame.
The Philadelphia connection is an interesting one for Caggiula. Hakstol recruited and coached him for three seasons at North Dakota. Caggiula's agent, Justin Duberman, was Hakstol's teammate and also served as Hakstol's agent.
"We're one of many teams that are interested in him," Hextall said Tuesday. "I had a chance to sit down with him and talk to him and he saw a game. Beyond that, I really and truly don't have any idea. We think he's a good fit for us and I'm sure a lot of other teams do, too."
Upwards of 20 teams were believed to have expressed interest in the 5-foot-10 native of Whitby, Ont. The knock on Caggiula for the NHL draft was that he lacked the size to compete in the league.
Hextall said whether Caggiula ends up in a team's top-six or bottom-six forward grouping remains to be seen.
"It depends on how his game transitions from college to the NHL level," Hextall said. "He's a talented player. He's got speed, he plays hard, he has a lot of good attributes. He's got a shot at being a top six [player] based on his ability. He's not the biggest player but he plays hard."
Caggiula finished with 25 goals and 51 points in 39 games this season.
If North Dakota lost in the national semifinal on April 6, he planned to sign with an NHL team and make his debut on April 9, before the end of the regular season. He has taken the last two weeks to savour the win and consider all his options, which now include perennial playoff teams like the Blackhawks.
Contact Frank Seravalli on Twitter: @frank_seravalli