Free Agent Frenzy: Moore's stock rising in thin 'D' market
John Moore has rocketed toward the top of the class as a free agent in demand as his stock rises considerably in TSN's Top 75 Free Agent list, TSN Senior Hockey Reporter Frank Seravalli writes.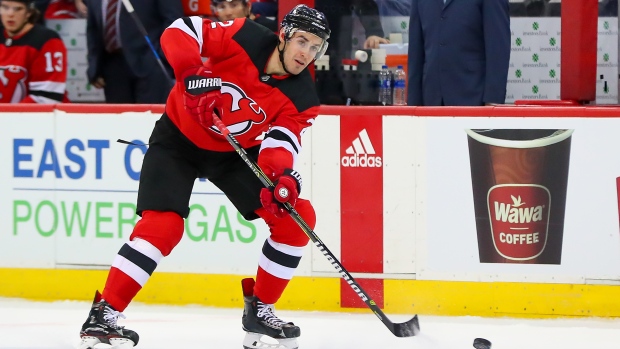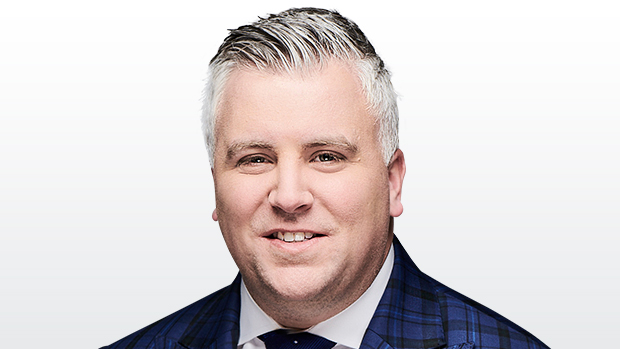 While the #TavaresWatch is in play-by-play mode for the handful of teams handpicked to make the pitch to John Tavares, the interview period has been hectic for the rest of the NHL, too.
The other 25 or so NHL teams are sorting through a thin market on defence in an attempt to bolster their back end.
For a true impact defenceman, the best bet remains the Trade Bait board – which starts with two-time Norris Trophy winner Erik Karlsson and also includes names such as Justin Faulk, Brandon Mountour and maybe even Colton Parayko.
The Free Agent Frenzy? That's a little more tricky.
It's Buyer Beware for Mike Green at No. 5, a big-ticket item who is coming off neck surgery last season that prevented him from moving at the trade deadline. He is one of just seven right-shot defencemen available though. Lefty Jack Johnson checks in at No. 9.
He may not have the same name recognition as Green or Johnson, but John Moore has rocketed toward the top of the class as a free agent in demand.
The Moore camp has fielded interest from more than a dozen NHL teams and has already conducted interviews with eight different clubs.
Moore, 27, has seen his stock rise considerably as the prototypical "modern" mobile defenceman who can join the rush in today's NHL while also remaining responsible in his own end. He is one of just three defencemen in TSN's Top 75 Free Agent list who averaged 20 minutes or more in ice time last season – Green and Olympic gold-medal winner Dan Hamhuis are the others.
Stanley Cup champion Brooks Orpik (No. 18) could re-sign with the Capitals at a reduced price after being bought out by Colorado.
Washington is still pushing to re-sign Michal Kempny, one of the best trade deadline value pick-ups in history, to keep their top four defencemen together. Agent J.P. Barry of CAA Sports has received interest from eight or more teams about Kempny, who was amazingly plotting his return to Europe before being plucked from Chicago.
(The Capitals are also still working to sign Devante Smith-Pelly, who was not issued a qualifying offer by Monday's deadline, but he's ready to cash in after playing playoff hero.)
Former Islander Calvin De Haan (No. 20) is also a hot commodity, fielding calls from as many as 10 teams, despite playing just 33 games last season due to injury. He can skate, so he'll be paid. Two-time Stanley Cup champion Ian Cole (No. 21), seen as the glue on Pittsburgh's back end during injury-riddled Cup runs, will also be a popular man on July 1.
After Cole, beauty is in the eye of the beholder, with plug-and-play depth defencemen of varying talents and specialities available.
The San Jose Sharks raised some eyebrows when they did not qualify right-shooting defenceman Dylan DeMelo. He joined the board alongside other intriguing names Anthony Duclair, Tobias Rieder, Derrick Pouliot, Nick Shore and Nail Yakupov – all of whom were not qualified.
It's possible not all of those players hit the market, as their teams may not have qualified them but remain interested and wanted to avoid the arbitration process.
Nonetheless, it's been a stunning fall of grace for Yakupov, who was drafted No. 1 overall just six years ago by the Edmonton Oilers. Yakupov was ranked the fifth-worst top pick of all-time last week by TSN.
Yakupov joins the list at No. 42 on TSN's Top 75 Free Agents available ahead of Canada Day:
The Top 75 FAs
| RK | Player | Team | Pos | Age | GP | G | PTS | 17-18 |
| --- | --- | --- | --- | --- | --- | --- | --- | --- |
| 1 | John Tavares | NYI | C | 27 | 82 | 37 | 84 | $5.5M |
| 2 | James van Riemsdyk | TOR | LW | 29 | 81 | 36 | 54 | $4.25M |
| 3 | Paul Stastny | WPG | C | 32 | 82 | 16 | 53 | $7M |
| 4 | James Neal | VGK | LW | 30 | 71 | 25 | 44 | $5M |
| 5 | Mike Green | DET | RD | 32 | 66 | 8 | 33 | $6M |
| 6 | Tyler Bozak | TOR | C | 32 | 81 | 11 | 43 | $4.2M |
| 7 | Rick Nash | BOS | LW | 33 | 71 | 21 | 34 | $7.8M |
| 8 | David Perron | VGK | RW | 30 | 70 | 16 | 66 | $3.75M |
| 9 | Jack Johnson | CBJ | LD | 31 | 77 | 3 | 11 | $4.36M |
| 10 | Carter Hutton | STL | G | 32 | 32 | 2.09 | .931 | $1.13M |
| 11 | John Moore | NJD | LD | 27 | 81 | 7 | 18 | $1.67M |
| 12 | Michal Kempny | WSH | LD | 27 | 53 | 3 | 10 | $900K |
| 13 | Thomas Vanek | CBJ | LW | 34 | 80 | 24 | 56 | $2M |
| 14 | Patrick Maroon | NJD | LW | 30 | 74 | 17 | 43 | $2M |
| 15 | Jonathan Bernier | COL | G | 29 | 37 | 2.85 | .913 | $2.75M |
| 16 | Riley Nash | BOS | C | 29 | 76 | 15 | 41 | $900K |
| 17 | Derek Ryan | CAR | C | 31 | 80 | 15 | 38 | $1.43M |
| 18 | Brooks Orpik | COL | LD | 37 | 81 | 0 | 10 | $5.5M |
| 19 | Robin Lehner | BUF | G | 26 | 53 | 3.01 | .908 | $2.25M |
| 20 | Calvin De Haan | NYI | LD | 27 | 33 | 1 | 12 | $3.3M |
| 21 | Ian Cole | CBJ | LD | 29 | 67 | 5 | 20 | $2.1M |
| 22 | Michael Grabner | NJD | RW | 30 | 70 | 27 | 36 | $1.65M |
| 23 | Anthony Duclair | ARI | LW | 22 | 56 | 11 | 23 | $1.2M |
| 24 | Tobias Rieder | LAK | LW | 25 | 68 | 12 | 25 | $2.25M |
| 25 | Devante Smith-Pelly | WSH | RW | 26 | 75 | 7 | 16 | $650K |
| 26 | Jay Beagle | WSH | C | 32 | 79 | 7 | 22 | $1.75M |
| 27 | Leo Komarov | TOR | LW | 31 | 74 | 7 | 19 | $2.95M |
| 28 | Kyle Brodziak | STL | C | 34 | 81 | 10 | 33 | $950K |
| 29 | Valtteri Filppula | PHI | C | 34 | 80 | 11 | 33 | $5M |
| 30 | Dan Hamhuis | DAL | LD | 35 | 80 | 3 | 24 | $3.75M |
| 31 | Matt Calvert | CBJ | LW | 28 | 69 | 9 | 24 | $2.8M |
| 32 | Anton Khudobin | BOS | G | 32 | 31 | 2.56 | .913 | $1.2M |
| 33 | Tomas Plekanec | TOR | C | 35 | 77 | 6 | 26 | $6M |
| 34 | Petr Mrazek | PHI | G | 26 | 39 | 3.03 | .902 | $4M |
| 35 | Blake Comeau | COL | RW | 32 | 79 | 13 | 34 | $2.4M |
| 36 | Thomas Hickey | NYI | LD | 29 | 69 | 5 | 25 | $2.2M |
| 37 | Chris Kunitz | TBL | LW | 38 | 82 | 13 | 29 | $2M |
| 38 | Mark Letestu | CBJ | C | 33 | 80 | 9 | 23 | $1.8M |
| 39 | Greg Pateryn | DAL | RD | 27 | 73 | 1 | 13 | $800K |
| 40 | Scott Hartnell | NSH | LW | 36 | 62 | 13 | 24 | $1M |
| 41 | Ryan Reaves | VGK | RW | 31 | 79 | 4 | 10 | $1.13M |
| 42 | Nail Yakupov | COL | LW | 24 | 58 | 9 | 16 | $875K |
| 43 | Kevin Connauton | ARI | LD | 28 | 73 | 11 | 21 | $1M |
| 44 | Brian Gibbons | NJD | C | 30 | 59 | 12 | 26 | $650K |
| 45 | Tim Schaller | BOS | LW/C | 27 | 82 | 12 | 22 | $775K |
| 46 | Toby Enstrom | WPG | LD | 33 | 43 | 1 | 6 | $5.75M |
| 47 | Luca Sbisa | VGK | RD | 28 | 30 | 2 | 14 | $3.6M |
| 48 | Dylan DeMelo | SJS | RD | 25 | 63 | 0 | 20 | $650K |
| 49 | Nick Holden | BOS | RD | 31 | 73 | 4 | 17 | $1.65M |
| 50 | Xavier Ouellet | DET | LD | 24 | 45 | 0 | 7 | $1.25M |
| 51 | Brandon Manning | PHI | LD | 27 | 65 | 7 | 19 | $975K |
| 52 | Brandon Davidson | NYI | LD | 26 | 51 | 4 | 7 | $1.43M |
| 53 | Joe Morrow | WPG | LD | 25 | 56 | 6 | 16 | $650K |
| 54 | Christian Folin | LAK | RD | 27 | 65 | 3 | 13 | $850K |
| 55 | Antoine Vermette | ANA | C | 35 | 64 | 8 | 16 | $1.75M |
| 56 | Brad Richardson | ARI | RW | 33 | 76 | 3 | 15 | $2.08M |
| 57 | Antoine Roussel | DAL | LW | 28 | 73 | 5 | 17 | $2M |
| 58 | Derek Grant | ANA | C | 28 | 66 | 12 | 24 | $650K |
| 59 | Eric Fehr | SJS | C | 32 | 18 | 3 | 4 | $2M |
| 60 | Jaroslav Halak | NYI | G | 33 | 54 | 3.19 | .908 | $4.5M |
| 61 | Ondrej Pavelec | NYR | G | 30 | 19 | 3.05 | .910 | $1.3M |
| 62 | Alexei Emelin | NSH | LD | 32 | 75 | 1 | 9 | $4M |
| 63 | Michael Hutchinson | WPG | G | 28 | 3 | 3.26 | .907 | $1.15M |
| 64 | Nick Shore | CGY | RW | 25 | 64 | 5 | 18 | $925K |
| 65 | Matt Read | PHI | RW | 31 | 33 | 7 | 16 | $3.63M |
| 66 | Roman Polak | TOR | RD | 32 | 53 | 2 | 12 | $1.1M |
| 67 | Kris Versteeg | CGY | RW | 32 | 24 | 3 | 8 | $1.75M |
| 68 | Daniel Winnik | MIN | LW/C | 33 | 81 | 6 | 23 | $660K |
| 69 | Cam Ward | CAR | G | 34 | 43 | 2.73 | .906 | $3.3M |
| 70 | Scottie Upshall | STL | LW | 34 | 63 | 7 | 19 | $800K |
| 71 | Luke Schenn | ARI | RD | 28 | 64 | 1 | 7 | $1.25M |
| 72 | Daniel Carr | MTL | LW | 26 | 38 | 6 | 16 | $725K |
| 73 | Chris Wagner | NYI | C | 27 | 79 | 7 | 16 | $637K |
| 74 | Tommy Wingels | BOS | RW | 30 | 75 | 9 | 17 | $750K |
| 75 | Logan Shaw | MTL | C | 25 | 72 | 4 | 14 | $650K |