'Friendly competition' fuels Canada's keepers ahead of World Cup
Canada's national women's soccer team head coach Kenneth Heiner-Møller will announce his 23-player squad next week for June's FIFA Women's World Cup in France. With Stephanie Labbé cemented as the No. 1 goalkeeper, Erin McLeod, Kailen Sheridan, and Sabrina D'Angelo are all vying for the two remaining spots.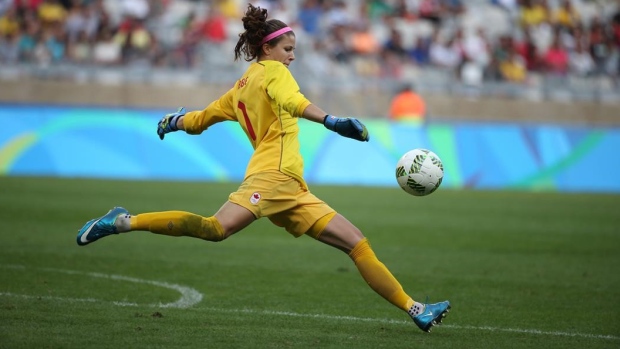 When Canada's national women's soccer team announces its roster next week for the upcoming FIFA Women's World Cup, one burning question will be answered: Who will be the goalkeepers behind starter Stephanie Labbé?
Canadian head coach Kenneth Heiner-Møller will announce his 23-player squad next week for June's tournament. With Labbé cemented as the No. 1 goalkeeper, Erin McLeod, Kailen Sheridan, and Sabrina D'Angelo are all vying for the two remaining keeper slots.
How close is Heiner-Møller and his coaching staff to making a decision regarding the two remaining goalkeeper positions?
"We're pretty close," a smiling Heiner-Møller told TSN.
Since Labbé took over the starter's role in 2016, McLeod, Sheridan and D'Angelo have seen playing time in the Canadian net.
"It's finding the players that are fit and the players that can also contribute to the team. Some of the goalkeepers won't see game time, but they'll have to be ready every single session," said Heiner-Møller.
"It's definitely friendly competition, but the goalkeepers on this squad are the most incredible people I've ever met," added Sheridan. "They keep it a friendly competition, but at the same time, it's all about pushing each other to be better. I know that if I'm working my hardest and Steph is working her hardest, and Sabrina and Erin are doing that, then we're all getting better."
McLeod, 36, has the most experience of all the Canadian keepers, recording 118 appearances and 45 clean sheets in her storied 17-year career with the national team. She is the only one of the four to have ever played at a senior-level World Cup, as she started for Canada at the 2007, 2011 and 2015 editions, as well as the Olympics in 2008 and 2012.
But McLeod has struggled with injuries over the years. She tore her right ACL for a third time in 2016, causing her to miss the Rio Olympics and all of 2017. She also sat out Canada's World Cup qualification tournament las year with a foot injury.
"Erin's struggling a little bit with injuries, but everyone knows her ability to go for crosses, and her shot stopping is through the roof," said Heiner-Møller.
"Erin obviously brings a lot of experience. She's played in multiple World Cups and Olympics, so her experience and her presence on the field is undeniable," added Labbé.
After Labbé and McLeod, the experience level takes a significant drop, with D'Angelo and Sheridan combining for 13 caps in the past three years. The 26-year-old D'Angelo has six of those appearances, recording three clean sheets. She has played at Under-17 and Under-20 Women's World Cups, and three years ago she was the backup for Labbé at the 2016 Rio Olympics, posting a 3-1 win against Zimbabwe during the group stage.
"I think the biggest thing with [Sabrina] is her calmness under pressure. You can really see that pressure doesn't really shake her," said Labbé.
After playing in just seven games last year with the North Carolina Courage in the NWSL, D'Angelo made the decision to join Vittsjö GIK in Sweden for this season. Both D'Angelo and McLeod, who also plays in Europe with German team SC Sand, were not available for Canada's current camp due to club commitments.
Sheridan is in Toronto with her Canadian teammates ahead of their friendly against Mexico on Saturday afternoon at BMO Field, which is Canada's last game at home before they leave for the Women's World Cup in France.
Sheridan, 23, is the youngest of the four keepers. She has five clean sheets in seven appearances for Canada, and last fall she helped her country qualify for next month's World Cup at the 2018 CONCACAF Women's Championship.
"To be put on the [World Cup] roster would be incredibly exciting for me," said Sheridan. "I would take that as a win for myself, but at the same time, I know that the main goal and my personal goal is the final and the No. 1 medal around our neck. That's the only thing that this team is focusing on."
"Kailen brings an incredible distribution aspect to her game. She can pick out passes, and she's got the range to beat any team in terms of hitting the ball in behind, breaking their press," said Labbé.
Sheridan has played with Sky Blue FC in the National Women's Soccer League for the past three seasons. Although the team struggled last year, finishing with just one win in 24 games, Sheridan set an NWSL record with 108 saves in the season.
The native of Whitby, Ont., also has experience at youth-level World Cups, as she played every minute for Canada at the 2012 FIFA U-17 Women's World Cup and the 2014 FIFA U-20 Women's World Cup.
"I think the youth levels really present a good opportunity to be in tournaments, and the intensity of the games is insane, so being able to draw on my experiences from U-20 and U-17 is a good opportunity, but [the senior-level World Cup] is definitely a big step up from those environments," said Sheridan.
Labbé has been in the position that Sheridan, D'Angelo, and McLeod currently occupy. For years, the 32-year-old played behind McLeod and retired keeper Karina LeBlanc, unable to leapfrog either in the pecking order. It wasn't until LeBlanc's retirement in 2015 and McLeod's injury in 2016 that Labbé was able to assume the starting role.
"It's been a bit of an unconventional journey – lots of ups and downs for me," said Labbé. "But the biggest thing I've learned over the past few years is just to be present and really enjoy the journey. I've really enjoyed the whole process of it – every moment, whether it's been up or down."
While Labbé has been to two previous editions of the World Cup, she has not seen the field. But despite her lack of playing time, Labbé says she can still draw from those experiences.
"I think I've learned a lot from both Erin and Karina, playing behind them," she said. "With the girls that are with me now, with Kailen, Sabrina and Erin, all four of us have really pushed each other to new levels. I think it's about learning from everyone that's played before me, and then doing my best to bring my individual style and my strength that I can bring to this team."
Could Labbé make Heiner-Møller's decision on which three goalkeepers to select for France?
"I don't know if I could," she laughed. "Any four of us can be the starter. I fully believe that, and I think that any four of us can help the team bring home victory. It's a tough decision, and I'm so proud to be a part of this really strong goalkeeper unit. We've produced really great quality goalkeepers over the years. Whoever it is, I know everyone's going to be ready to step up to the plate."