From lifetime ban to Kings lifeline?
Once handed a lifetime ban for drug abuse, former NHL enforcer Brantt Myhres is sober and back in hockey, starting a new role as a 'player assistance director' with the Los Angeles Kings. As TSN Senior Hockey Reporter Frank Seravalli writes, Myhres will act as advisor in a dressing room enmeshed in trouble.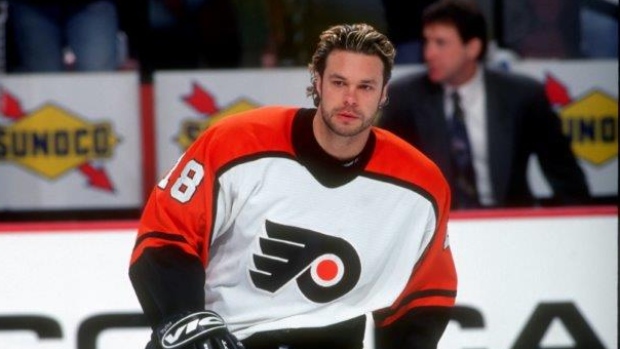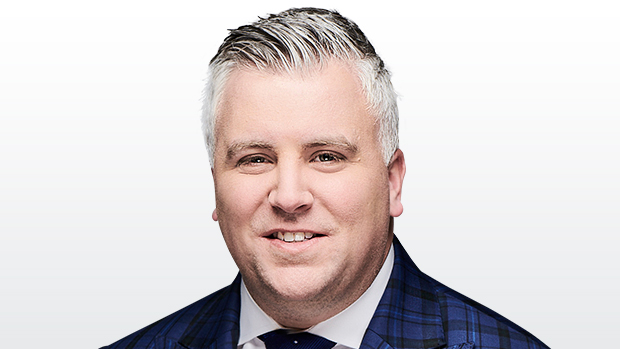 Brantt Myhres was as good as anyone at gaming the NHL's substance abuse testing program.
"In the old testing system, they didn't watch you go to the bathroom," Myhres said. "I would go into the stall and I'd have clean urine waiting there. Or I would just pay off the tester."
It didn't cost much.
"Tickets to the game," Myhres said, laughing in disbelief. "That's it. I manipulated the system for a long time."
Myhres could only doctor the results for so long before rampant cocaine and alcohol abuse caught up to him. The NHL tried to help, but Myhres wasn't ready to help himself.
After four "dirty" drug tests and 21 months of in-patient rehab, Myhres was hit with a lifetime ban by the NHL in Nov. 2006, ending a once promising career as an enforcer that began with the Tampa Bay Lightning in 1994-95.
Myhres is banished from playing, but not from mentoring.
Sober for more than seven years now, Myhres was hired by the Los Angeles Kings last month as "player assistance director," where he'll act as advisor in a dressing room enmeshed in trouble with three separate arrests over the last 11 months.
Myhres' unprecedented role was formally announced by Kings' general manager Dean Lombardi. The GM personally took blame for a season that included the domestic violence arrest of defenceman Slava Voynov, as well as the arrests of former players Jarret Stoll and Mike Richards, who were charged with alleged possession of controlled substances in Las Vegas and Manitoba.
"This is my fault," Lombardi told ESPN.com in June. "It's very clear I should have been doing something before this happened."
Lombardi vowed to make changes to the Kings' internal program and player education. Myhres is one of his answers, part of their new "Conduct Awareness Training Initiatives."
Myhres is expected to be around the Kings constantly. He will attend practices and games, fly on the team plane and be "one of the guys" in the locker room.
Myhres, now 41, says he is not the Kings' new babysitter. He says his job is to listen and help players when necessary.
"There isn't anything that these guys could come to me about that I haven't done 100 times over," Myhres said. "I've been through the wringer. I spent a year and a half in complete darkness. I went to rehab four times. I overdosed twice. I've made countless attempts to get sober.
"We felt bringing in a player that's been in the trenches with substance abuse and pretty much anything that could go on would have more weight with the players than somebody coming in for an hour, leaving and not seeing them for another five months."
———
Myhres is not immune to the skepticism surrounding his role.
How can a former player who knows all the tricks, now paid by the team, overcome being viewed as a mole in a team's inner-sanctum? The first thought on the minds of Kings players could be that Myhres is the pipeline to Lombardi.
"I'm here for the players only," Myhres said. "I'm not going to disclose how the program works. It's still in its first stages of development. Since it's a new program, I'm sure there will be tweaking as we go along. But I will disclose that it's strictly confidential between me and the player. That's how I had to have it. The minute that trust gets broken with one guy in the room, I'm done."
Lombardi declined to discuss Myhres' role with TSN. In their news release, the Kings would only say Myhres will serve as a "special consultant to the hockey operations department."
Myhres would not say what steps would be taken, nor how Lombardi and team brass would be involved if a player voiced a personal problem or concern. Myhres says his role is not limited to discussions about substance abuse.
"I'm not here to be a policeman in any way," Myhres said. "I'm here to listen. If you've got some parts of your life that are spiraling out of control and you don't know where to turn because you don't want to talk to the coach or your agent and raise red flags, talk to me. Because I guarantee you I've been through it."
Both the NHL and the NHLPA declined to comment specifically on Myhres' new role, other than to say that they were not consulted on his hiring by the Kings, making it purely a club decision. The NHL also declined to comment on Myhres' statements on circumventing the drug testing system. Players have always been able to seek counseling confidentially, without fear of retribution, league-wide through the joint Substance Abuse and Behavioral Health policy.
The Kings, in cooperation with parent company AEG, will also work with Los Angeles-based domestic violence education group "Peace over Violence," and former NBA player and drug addict Chris Herren, who was the subject of an ESPN 30-for-30 documentary. Players will also undergo sexual harassment training.
This is not the first time Lombardi and the Kings made an unprecedented hire in the spirit of independence. The Kings were the first NHL team to hire a news reporter, paid by the team, who publishes stories on LAKingsInsider.com which do not require team approval.
———
After taking a course in substance abuse and behavioral health at Mount Royal University in Calgary, paid for by the NHL, Myhres spent the last five years pitching the league, the NHLPA and individual teams on this program.
He didn't gain any ground until this year, which was "annus horribilis" for hockey. In addition to the three black eyes the Kings gave the NHL, there have been countless other collisions with the law. Patrick Kane, the league's biggest American-born star, is under investigation for an alleged sexual assault in Hamburg, N.Y.
Voynov, who last week announced his intention to forego the remaining $19.25 million of his contract and return to Russia, spent the summer in jail. He was subsequently detained by U.S. Customs and Immigration, where he was scheduled for a hearing on his immigration status after pleading "no contest" to a domestic battery charge. The Kings said they were taking the necessary steps to terminate Voynov's contract anyway prior to the Sept. 17 start of training camp.
Richards had the $22 million left on his contract terminated by the Kings on June 30 after he was detained at the Canada-U.S. border for possession of prescription painkiller OxyContin. Richards and the NHLPA filed a grievance against the Kings last month; no hearing date has been scheduled.
Minnesota Wild assistant coach Darryl Sydor was arrested in August for allegedly driving under the influence of alcohol at nearly four times the legal limit with his 12-year-old son in the back seat. Sydor, 43, played 18 years in the NHL and retired in 2010. He recently extended his voluntary stay in a California rehab facility, according to reports.
"Let's just get honest. There are issues," Myhres said. "It's not just with the Los Angeles Kings, it's with every sport. It's today's sports environment. Not all 23 guys have a problem. Addiction doesn't care whether you play hockey. This stuff affects everyday people. We want to take a proactive approach, rather than reactive."
According to ESPN.com, only one-third of the joint NHL-NHLPA drug tests screen for recreational drug use, such as cocaine or marijuana, and even a positive test would not trigger a suspension. Only a test which shows a "dangerously high level" would trigger a visit from a substance abuse counselor, according to the Collective Bargaining Agreement.
Myhres believes the Kings' players knew about the trouble before arrests were ever made.
"The room is a tight little fraternity," Myhres said in an interview with TSN 1050. "Guys usually know. I'm sure that some of the players knew about it."
Myhres endeavors to break down that wall, while also keeping a barrier from management.
"What didn't work for me was the fact that I felt I didn't have anybody in the organization or the [NHL Players' Association] or the league that I could go to without hindering my career," Myhres said.
———
Myhres might not be alive without hockey.
His downward spiral began with a stern warning from Philadelphia Flyers general manager Bob Clarke during the 1997-98 season. Clarke told Myhres, who racked up a wild 169 penalty minutes in 23 games with the team, he would be released if he couldn't curtail his alcohol intake.
"I was one of the guys that was first out after the game," Myhres said. "I couldn't stop."
Clarke followed through on his promise. Myhres went to in-patient rehab in Los Angeles for three months. He relapsed the first month into the following season in San Jose, playing for Lombardi and current Kings coach Darryl Sutter. Another three-month stint in rehab ensued.
He went back and forth, from rehab to rink, through all four stages of the joint NHL-NHLPA substance abuse and behavioral health program from 1998 through 2003. He bounced from the Predators to Capitals to Bruins. Along the way, Myhres was twice reinstated by NHL commissioner Gary Bettman after six-month and one-year suspensions.
The lifetime ban, covering pro hockey in North America, soon followed. Myhres made more than $2 million in the 1990s and flushed it away.
Myhres thought he could restart his career in England in 2006-07. He lasted one month.
What followed was 18 months of what he describes as "complete darkness."
The NHL told him they would no longer pay for his treatment, saying they spent more money on him than any player in the program's history.
"I was pretty much killing myself," Myhres said.
Myhres hit rock bottom. This seemingly invincible enforcer, a good-looking pro hockey player with fame and friends, was once recognized by passersby alone and strung-out outside of an Edmonton gas station. It was a cold winter night, maybe minus-12 or minus-13, and Myhres was destitute, wearing only a suit jacket.
Then, one night in 2008, he received a phone call from a league executive. The NHL heard Myhres was in bad shape and needed help.
"He asked: 'Are you serious about getting sober?' and I said, 'Yes,'" Myhres recalled. "I asked how long the rehab would be and he said 'Don't worry about how long it takes.'
"That was my last night of drinking. I committed to rehab in Oregon. Six months in-patient, two months outpatient. That phone call saved my life. The league paid for the whole thing."
He has spent nearly three years of his life in rehab. Sobriety requires daily maintenance, he said, like a person with heart problems taking medication.
More than seven years later, Myhres is the chief executive officer of Greater Strides Hockey Academy, which is focused on guiding and developing aboriginal players in southern Alberta. He visited the Kings' practice facility in El Segundo, Calif., one day last year to catch up with Sutter, his old Sharks coach. It was Sutter who recommended Myhres visit with Lombardi upstairs, which got the ball rolling on his new role.
It was Sutter, in 1998, who said the Sharks were the only team in the league willing to take a chance on Myhres.
"This is his second or third chance," Sutter said in an interview with The Philadelphia Inquirer on Dec. 29, 1998. "He's not going to get a whole lot more. He's a nice kid. We're all pulling for him."
Now, Lombardi and Sutter are taking big another chance on him, hoping Myhres can make a bigger impact than he ever did on the ice.
"I don't miss my role, but I miss the camaraderie and the tight bond of a bunch of guys who want to go to war together," Myhres said. "That's my job now, to be 'one of the guys.' I'm not a miracle worker by any means. I'm just a guy who wants to help people with my experience."
Frank Seravalli can be reached at frank.seravalli@bellmedia.ca.