From Mr. Irrelevant to the Stanley Cup final on Crosby's wing
Pittsburgh's Patric Hornqvist has come a long way from being the very last player selected in the 2005 NHL Draft, TSN senior hockey reporter Frank Seravalli writes.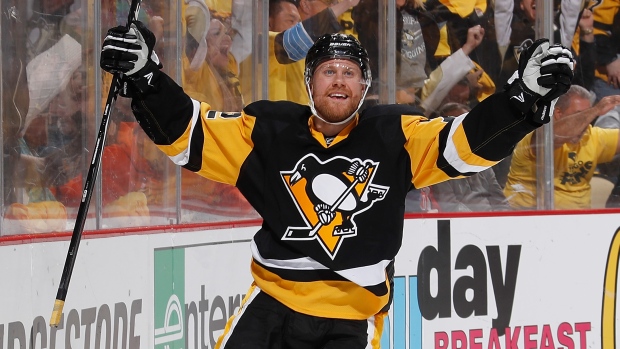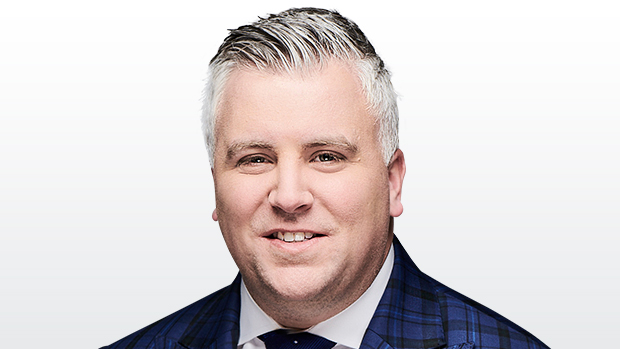 PITTSBURGH - The date was July 31, 2005 — one that still stands out for Patric Hornqvist because he went to bed that night disappointed.
It was the second day of the strangest NHL Entry Draft in history, one that was hastily conducted in the Westin Hotel in downtown Ottawa eight days after the 2004-05 lockout ended.
Most remember it only for the Pittsburgh Penguins winning the Sidney Crosby sweepstakes, but it was unique in other ways.
It was a "snake" draft order, to compensate for the fact that with no season played there was no way to fairly determine a sequence based on standings. It wasn't open to the public, and the NHL reduced the number of rounds from nine to seven, chopping off 60 picks.
"My agent called me that same day and he said 'I don't think you're going to be drafted,'" Hornqvist said. "There's only seven rounds this year."
Hornqvist said the draft is conducted in the middle of the night in Sweden, so he went to sleep. The road from Sollentuna to the NHL seemed much longer than 6,000 kilometres.
At some point during the night, Hornqvist's father woke him up.
"He said 'You've been drafted by Nashville,'" Hornqvist said. "I didn't believe him at first."
Hornqvist just didn't know where. He jumped out of bed to check online.
That he was Mr. Irrelevant, the very last player chosen at 230th overall, didn't matter.
"I saw my name there, that was a huge moment for me," Hornqvist said. "I don't care if you're first or last, you just want to make it. I got a little chance."
Fast forward 11 years and the last pick of the 2005 draft now flanks Crosby on the top line for the Penguins in the Stanley Cup final. Only more amazing is that the Predators received the "throw away" 230th pick used to select Hornqvist as compensation for losing goaltender Wade Flaherty to free agency more than a year earlier. They made it count.
"I think the way he competes every night, I feel like it wouldn't be right if he didn't have a chance to compete for the Stanley Cup," Crosby said. "He wasn't drafted high or didn't have all of these expectations, but I know for a fact with how he competes that this is where his game can shine, in tough situations and tight hockey like this."
Hornqvist is the one constant with Crosby in head coach Mike Sullivan's lineup; Conor Sheary and Chris Kunitz rotate in and out on the other side through playoff games.
The duo has developed a sort of tough-love relationship, where they seem to go at each other almost like brothers on the bench. In the Eastern Conference final, cameras captured Crosby and Hornqvist yelling back and forth at each other. In Game 1 on Monday night, Crosby feverishly pointed out a play to Hornqvist with his finger on a whiteboard.
To some, that may seem contentious. Crosby said recently the banter is appreciated.
"He has that twinkle in his eye," Sullivan said of Crosby after Game 1. "You could see his hunger to win. I thought he was a force out there all night. Every time he jumps over the boards, we feel he is a threat to score."
No one loves to talk about the nuts and bolts of hockey more than Crosby. Hornqvist is one of the few competitors with a passion that burns similarly. He isn't offended by the conversation and he doesn't defer to Crosby just because he is Crosby.
"Out there, we're so intense. We want to score every time we're on the ice," Hornqvist said. "Then, if we have a breakdown, we want to correct it on the bench. After a shift is probably not the best time to do it because you're so fired up and all that, but at the same time, you want to be on the same page when you come back on the ice together. That's why we get fired up on the bench once in a while. I think that's a pretty back-and-forth, normal thing.
"I couldn't ask for a better centreman. He's the best player in the world. I just have to get open."
That Hornqvist even made it to the NHL may be a surprise to some. Of the final 105 picks in the 2005 draft, only six players are still active in the league: Mark Fayne, Ryan Reaves, Nathan Gerbe, Darren Helm and Anton Stralman.
Hornqvist, now 29, has beaten the odds. Exactly 111 of the 230 picks in 2005 made it to the NHL; nine of them played just a single game. Hornqvist has tripled the number of games played (519) by the highest-ranked Swede that year in Nicklas Bergfors, who was a first-round pick of the New Jersey Devils. The average career goals scored by the 111 players who made it to the NHL is 32; Hornqvist registered his third consecutive 20-goal season this year.
For others, it isn't so much of a surprise. For one, the Predators hit on another 230th overall pick in defenceman Karlis Skrastins in 1998, who went on to play 832 NHL games. But Hornqvist was also known regionally as a sniper.
"I remember when he got drafted," said Carl Hagelin, who went in the fifth round in 2006. "He's a year older than me; we're both from the Stockholm area. He was always really good. I played against him a couple times and saw him in the Swedish Elite League. You can see the effort he puts in, that's why he is where he is right now. He is a talented player, too. He doesn't only work hard. He's making the best of his opportunity to play with Sid."
There may never be another Hornqvist. Sure, every draft will have a Mr. Irrelevant — someone has to be chosen last. With few compensation picks, no player has been picked as late as 230th overall since 2005. His path is one paved by survival, determination and perseverance.
"I think in the start of your career, you have a little advantage if you're a higher pick. That's just the way it goes," Hornqvist said. "But you're 18 years old when you're drafted, a long way away from what you're going to be in five or six years. We have some guys who were undrafted, and that's even worse than me."
Contact Frank Seravalli on Twitter: @frank_seravalli