Game of Throws: Identifying X-factors for each team heading into championship Sunday
For the first time in history, the NFL's top four scoring offences have advanced to the final four and that includes Tom Brady and Patrick Mahomes returning to face each other as the Patriots visit the Chiefs in the AFC Championship Game while the Rams visit the Saints in the NFC Championship Game, Domenic Padula writes.
Domenic Padula (@dpadula12)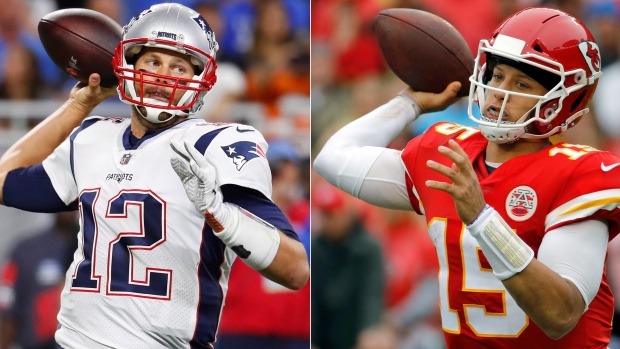 The best team in football doesn't always win it all.
However, there's no doubt that the four teams still standing heading into Conference Championship weekend represent the best the NFL has to offer this season.
For the first time in league history, the top four scoring offences have advanced to the final four.
Nobody will be shocked if the New England Patriots and Los Angeles Rams reach Super Bowl LIII.
And yet, it's the Kansas City Chiefs and New Orleans Saints that are the betting favourites to get there.
So what can we expect heading into championship Sunday?
Here is a look at the X-factors for all four teams:
New England Patriots: Running Game
Tom Brady and the Patriots' passing game will get the bulk of the attention leading into Sunday's matchup with Kansas City. The five-time Super Bowl champion Brady needs to be sharp in order to beat the Chiefs again (the Patriots beat the Chiefs 43-40 on Oct. 14 this season and they won 27-20 in the 2015 AFC Divisional Playoff on Jan. 16, 2016). However, if New England can run the football effectively it should take some of the pressure off Brady.
Sony Michel averaged 5.3 yards per carry while rushing for 129 yards and three touchdowns in last week's 41-28 win over the Los Angeles Chargers. The Patriots have the fifth-most rushing yards and the fourth-most rushing touchdowns this season. New England also averaged 1.9 rushing yards before contact per carry this season, which was the fourth-best mark in the NFL.
When these teams met in Week 6 of the regular season, the Patriots registered 173 rushing yards and three rushing scores in a 43-40 win. The Chiefs allowed an AFC-worst 5.0 yards per carry during the regular season, including a league-high 5.2 yards per carry allowed on first down. If New England can take advantage of this matchup and move the chains efficiently on the ground, it will keep Mahomes on the sideline and take some of the pressure off Brady and the passing game.
Sunday will mark just the seventh time in the Brady-Bill Belichick era that the Patriots will be a playoff underdog. They will have their work cut out for them. It will certainly help if New England can move the football on the ground against Kansas City.
Kansas City Chiefs: Patrick Mahomes vs. Man Coverage
Patrick Mahomes went 23-of-36 for 352 yards with four touchdowns and two interceptions in that regular season loss to New England. While a lot has changed since then, a closer look at Mahomes' numbers from that game reveals a very intriguing split based on the coverages he faced.
When he faced zone coverage against the Patriots, Mahomes went 13-of-15 for 267 yards and two touchdowns and zero turnovers. Those are excellent numbers.
However, when he faced man coverage, Mahomes went 9-of-17 for 70 yards with two touchdowns and two interceptions.
Based on those numbers alone, there is a good chance the Patriots will line up in man coverage more often than not this weekend. How will the first-year starter fare against them the second time around?
Another interesting stat I came across from this season is that Mahomes led the NFL with 10 interceptions thrown on plays when he had three seconds or more to throw from the pocket this season. The New England defence led the NFL with 12 interceptions when the quarterback had three seconds or more to throw this season, including playoffs. It will be interesting to see what kind of variations Belichick throws at Mahomes in terms of mixing up his coverages and pass rush schemes.
In order for the Chiefs to win, Mahomes needs to move the football efficiently against New England's man coverage defence without turning it over.
Los Angeles Rams: Aqib Talib vs. Michael Thomas
The Rams rushed for a franchise-record 273 rushing yards in last week's 30-22 win over the Dallas Cowboys. Todd Gurley and C.J. Anderson became just the sixth pair of teammates to each rush for more than 100 yards in a Divisional playoff game. There is no doubt that L.A. will need to establish the run early against New Orleans on Sunday. The Saints haven't allowed a 100-yard rusher since Week 11 of last season, which makes the Rams ground game versus the Saints defensive front-seven a very intriguing NFC Championship game matchup.
Still, an even bigger X-factor for Los Angeles will be cornerback Aqib Talib matching up against Michael Thomas. Talib didn't play when New Orleans beat the Rams 45-35 back in Week 9. With Talib out, Thomas torched Marcus Peters and company for 12 catches, 211 yards and a touchdown on 15 targets. He also produced 11 first downs in that game.
Thomas is coming off another monster performance in last week's 20-14 win over the Philadelphia Eagles, with 12 catches for 171 yards and two touchdowns. Thomas accounted for nearly 57 per cent of Drew Brees' total passing yards and caught both of his touchdown passes.
Considering how important Thomas is to the Saints offence and how he torched L.A. in their first meeting, there is a good chance the Rams have Talib line up against him in an effort to slow down Brees in the rematch.
New Orleans Saints: Faster Start
Each of the four higher seeds in the Divisional round won.
Of those four teams, New Orleans was the only one that trailed at halftime of their game.
Anybody that watched that game from start to finish understands how many clutch plays the Saints needed in order to score 20 unanswered points and dig their way back from an early 14-0 deficit. Our NFL analyst Jabari Greer talked about it after the game.
From a fake punt conversion by Taysom Hill to a fourth-and-goal touchdown pass from Brees to Keith Kirkwood, Thomas' catch to convert a third and 16 on the go-ahead touchdown drive and a pair of interceptions by cornerback Marshon Lattimore including a late pick that went right through the hands of Eagles wide receiver Alshon Jeffery to seal the win in the final frame.
It seemed like the game could have easily swung in Philadelphia's favour if New Orleans failed to execute on any one of those plays.
The Saints can't afford to fall behind by 14 points again versus L.A.
In order to beat the Rams, New Orleans will need a much more efficient performance on both sides of the football from start to finish.