Game On: The NHL is back
Game On. "It's been a long four and a half months for a lot of people," NBC's Brian Boucher said, opening coverage from inside the NHL's bubble in Toronto. "But I needed this. "Boucher isn't alone. We all needed this. Here is a running recap of day one by TSN's Frank Seravalli.
Game On: Button - 'A star in the making' awaits qualifying round loser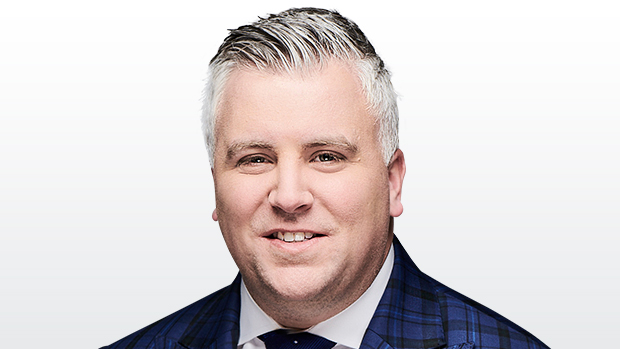 Game On.
"It's been a long four and a half months for a lot of people," NBC's Brian Boucher said, opening coverage from inside the NHL's bubble in Toronto.
"But I needed this."
Boucher isn't alone. We all needed this.
There is nothing that will feel normal about the NHL's return-to-play in this most unusual sprint for Lord Stanley. From empty arenas with fake crowd noise to 24 teams playing playoff games to teams sequestered in their hotel, all of it is strange - even for this reporter, who is used to criss-crossing the continent to chronicle the four-round chase.
But Saturday is the first step in the NHL's new normal.
Join me and watch along as we point out all of the quirks, quips and quotes in a full-day of hockey sensory overload after 142 days without it.
Five games. Fourteen hours. Giddy up:
11:43 am: NHL commissioner Gary Bettman joins Liam McHugh in the NBC studios in Connecticut. The first five days in the bubble produced no positive COVID-19 tests with more than 1,500 personnel being tested daily - but Bettman stresses: "It's early."
Bettman is asked whether the traditional end-of-series handshake line is acceptable.
"We may be looking at elbows and fist-bumping, leaving the gloves on," Bettman said. "But again, having been in the bubble for as long as the players have been in and having zero positive tests, I think puts us in a good position if the traditions and the moment overtake the social distancing."
When asked about handing out the Stanley Cup in 75 days or so, Bettman says he hasn't given it much thought "because there is so much road to cover between now and then."
"I'm hopeful that we get to that point, my guess is I'll be booed a little bit less than I normally am," Bettman said, chuckling. "My guess is when we get to that point, it will be extraordinarily emotional for all of us who love this game and all of us who are part of it, particularly for the players who will have endured being away from family and friends for so long."
11:57 am: First curveball of the day. The Rangers announced expected starter Igor Shesterkin is "unfit to play" just minutes before puck drop. As part of the protocol, teams are not permitted to say whether it's for injury or illness, to protect player's right to medical privacy.
Shesterkin, 24, proved himself as the rightful heir to King Henrik Lundqvist's throne with an impressive 12-game run (.934 save percentage) prior to the pandemic.
Instead, Lundqvist made his 127th consecutive playoff start for the Broadway Blues, keeping his streak in-tact.
12:07 pm: The hum of crowd noise is piped into the broadcast and building during the American and Canadian national anthems. (Yes, playing in Toronto, they played O Canada during a game between two American clubs.) It's almost overpowering, knowing that there are no fans there, and sounds more like a baseball crowd on a warm summer night.
Unlike during the exhibition games, the Rangers and Hurricanes are not standing together on the blue lines for the anthems. The NHL says it's opening ceremony, in which they will unveil their #WeSkateFor initiative, will come before the Edmonton-Chicago and Montreal-Pittsburgh games.
12:11 pm: That was Fast. Jaccob Slavin is the answer to the trivia question of who scored the first goal in the NHL's restart - and it's his first career playoff goal, too. Slavin slipped by Jesper Fast, who was run over earlier in the shift by Brady Skjei, to get the Canes on the board just 61 seconds in.
12:14 pm: They're scraping blood off the ice less than three minutes in. To quote Drake: That went zero to 100, real quick. Justin Williams and Ryan Strome dropped the gloves - with Strome requiring repairs in the dressing room after - leaving no doubt whether these players would be able to flip the switch and turn on the intensity given the unique environment. It kicked off a first period that reminded us of everything we missed over the last four and a half months.
1:27 pm: The whistles aren't rusty. It's a power-play-a-palooza with 12 minor penalties between the Canes and Rangers in the first 32 minutes of action. Fun fact: NHL director of officiating Stephen Walkom said the league considered going with an electronic whistle - which the NFL uses - but there wasn't enough testing done to implement it. Instead, the NHL's officials are using Fox 40 pea-less whistles for the first time, which has a different 'trill' according to Walkom. It also may cut down on the number of germs flying.
1:32 pm: The glorious blast of the Madison Square Garden goal horn booms. The Rangers are on the board and their goal song blares, too. Both the home and road teams have their unique goal horn and goal song queued up and ready to roll to add atmosphere for each game.
1:39 pm: First crack in the NHL's blanket injury/illness policy. Cameras show Shesterkin sitting in the seats wearing a facial mask with No. 31 on it - giving a hint that Shesterkin is likely injured and not ill. That's because protocol calls for any player with a positive COVID-19 test to be immediately isolated in the hotel.
1:43 pm: We get a glimpse at the fan-produced pump-up videos that will pipe through the arena. A storm of Canes fans were shown on the screens in the lower bowl above players cheering on their club on the power play.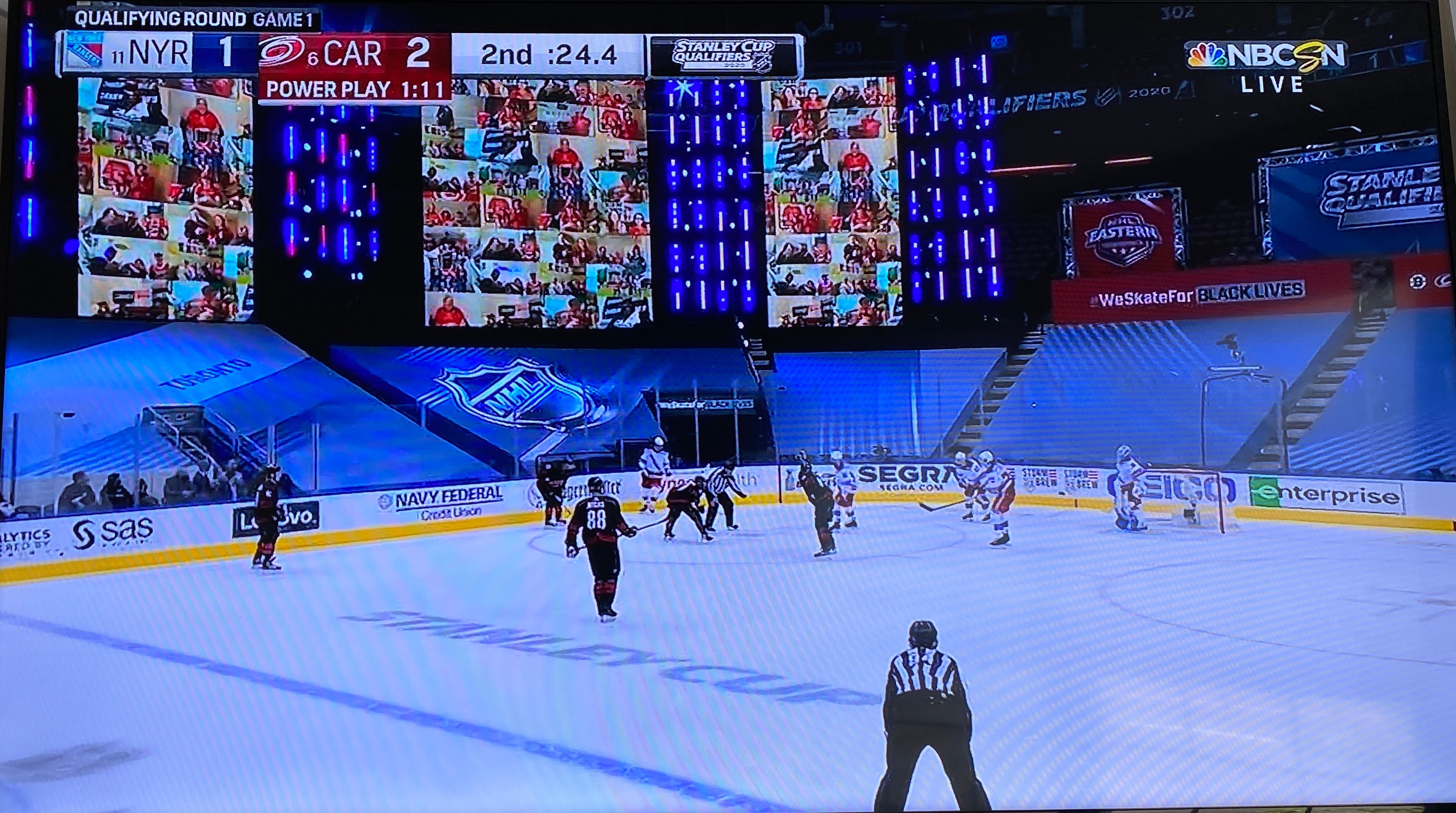 2:03 pm: Lunch time. What's better than a buffalo chicken cheesesteak and puck?​ With 16 minor penalties between Rangers-Canes, trying to show a little more discipline with the side of fries.
2:38 pm: Game 1 in the books. Canes jump out to a 1-0 lead in the best-of-five series with a 3-2 win over the Rangers. Critical contest. When the NHL played five-game series from 1980 through 1986, the team winning Game 1 took the series 81 per cent of the time.​ Rangers appeared sluggish to open the series, Artemi Panarin wasn't his usual dominating and dynamic self. Lundqvist was solid and kept New York in it, but aside from the win, Carolina might have also punctured King Henrik's aura of invincibility. Lundqvist was 3-0 against the Canes this season and had a 33-12-1 record in his career with a gaudy .934 save percentage.
3:18 pm: Over to Edmonton.
With the Chicago Blackhawks and Edmonton Oilers circled around him, Minnesota Wild defenceman and Hockey Diversity Alliance executive board member Matt Dumba stepped out to centre ice and shared perhaps the most impactful words ever by a hockey player.​
Here is his speech in its entirety:
"I'd like to say thank you to all of the fans watching at home and all of the people that have made a positive difference in our world right now. We appreciate you.
"I know none of us need to be reminded how our day-to-day lives have been affected by the outbreak of COVID-19, so I hope this Stanley Cup playoffs can bring a little normality and peace of mind during all these times of uncertainty.
"I'll transition topics to a topic that is very important to me and my fellow members of the Hockey Diversity Alliance and the NHL. During this pandemic, something unexpected but long overdue occurred. The world woke up to the existence of systemic racism and how deeply rooted it is within our society.
"For those unaffected by systemic racism, or unaware, I'm sure that some of you believe that this topic has garnered too much attention during the last couple months. But let me assure you, it has not.
"Racism is a man-made creation and all it does is deteriorate from our collective prosperity. Racism is everywhere. Racism is everywhere - and we need to fight against it.
"On behalf of the NHL and the Hockey Diversity Alliance, we vow and promise to stand up for injustice and fight for what is right. I know first-hand, as a minority playing the great game of hockey, the unexplainable and difficult challenges that come with it.
"The Hockey Diversity Alliance and NHL want kids to feel safe, comfortable and free-minded every time they enter an arena. I stand in front of you today, on behalf of those groups, and promise you that we will fight against injustice and fight for what is right.
"I hope that this inspires a new generation of hockey players and hockey fans. Black Lives Matter. Breonna Taylor's life matters. Hockey is a great game, but it could be a whole lot greater, and it starts with all of us."
Dumba then kneeled on the red carpet - wearing his HDA sweatshirt - for the playing of the Star Spangled Banner, while Black players Malcolm Subban and Darnell Nurse put their hands on his shoulder in a show of support.
Dumba became the first NHL player to kneel during a national anthem; none of the players on either the Oilers or Blackhawks joined him in kneeling. Dumba, a Saskatchewan native who calls Calgary home, then stood up for O Canada.
There was a significant amount of friction between the Hockey Diversity Alliance and the NHL in the days leading up to Saturday's opening ceremony, but the two sides were able to make meaningful progress in their discussions and common ground, culminating in Dumba's platform. A real sense of optimism emanates from the HDA in the early stages of their partnership with the NHL, but there is much work to be done.​
3:31 pm: Connor McDavid. That's it. That's the message.
3:52 pm: There will be no shortage of second-guessing in Edmonton on Sunday about Dave Tippett's decision to start Mike Smith. Mikko Koskinen was unquestionably the Oilers' better goalie over the last two months of the season - and had better numbers over the entire season.
But Tippett has seen Smith's playoff prowess in Phoenix. Everyone watched last season as Smith was excellent in a short series for Calgary. He didn't get much support then from the Flames.
Similarly, aside from a puck-handling miscue with Oscar Klefbom, the Oil didn't produce a drop at even-strength in the first period - spotting the Hawks a 4-1 lead behind three points from Jonathan Toews.
4:02 pm: Tippett reunites McDavid and Leon Draisaitl on a line to end the first period. Desperate times, and all that.​
4:31 pm: Death, taxes and the Oilers on the power play. The only guarantees in life. This season, Edmonton had the NHL's best single power play (29.5 per cent) in the NHL in the last 40 seasons.
4:37 pm: Smith's day is over after allowing five goals on 23 shots. This is Koskinen's first career Stanley Cup playoff appearance. The 32-year-old Finn who wears No. 19 led SKA St. Petersburg to two Gagarin Cups in the KHL.​
4:43 pm: Flip over to Islanders-Panthers underway in Toronto. Good to hear our pal Gord Miller's voice calling the action for NBC. Just don't tell him that.​
4:56 pm: Flipping back, Tyler Ennis heads to the dressing room after having his wrist sliced by Kirby Dach's skate, adding injury to insult. There likely will be no word on the severity of Ennis' injury because of the NHL's policy, but yet another reminder of the risk players assume. The Leafs' Ilya Mikheyev will return on Sunday after having an artery and tendons in his wrist cut by a skate on back on Dec. 27 in New Jersey.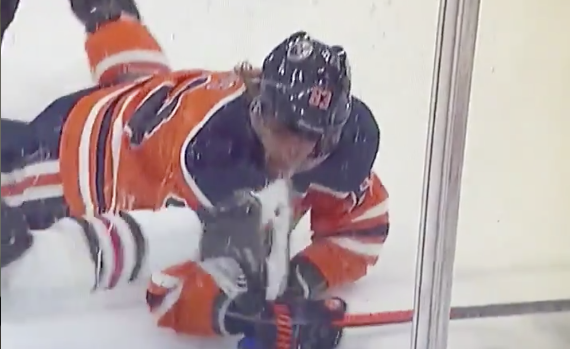 5:34 pm: Quality stat courtesy of Gordo, as Jean-Gabriel Pageau increases the Isles' lead to two goals. Only five players in Islanders franchise history have scored in both their regular season and postseason debut with the team: Pageau, Billy Harris, Mike Bossy, Pat Flatley and none other than Ray Ferraro.​
5:39 pm: First bathroom break of the day. Kind of impressive.
5:53 pm: The No. 12 seed Blackhawks, a seller at the trade deadline, seal a convincing 6-4 win over the Oilers. It's a loss that will send a shiver through Edmonton. It's one game, yes, but to borrow a phrase from the late, great Yogi Berra, it gets late early in a best-of-five series.
The Oilers are two losses away from a 12.5 per cent shot at Alexis Lafreniere.
Yep. Think about that for a second.​
6:01 pm: Nearly three games down, two to go." two games to go. Yawnnnn. Sadly, already thinking about dinner. Maybe time to sneak in a little nap. Gotta pace myself. Also: what do tigers dream of when they take a little tiger snooze?
6:53 pm: ZzzzzZzzzzzZzzzzZzzzz
7:48 pm: Oh. Hey there. If the first three games were the appetizer, then the main course tonight is two of the juiciest series. Carey Price and the Habs against Crosby and the Pens? And a one-anthem prairie battle between the Jets and Flames? Game On.​
Speaking of appetizers and entrees ... what's for dinner?
8:19 pm: To kick off Pens-Habs in Toronto, the NHL unveiled its #WeSkateFor campaign for the Eastern Conference in primetime in both Canada and the United States. While no player came to the mic, the NHL played a video with narration. The message in its entirety:
"In hockey, we often let our effort, determination and passion to win do the talking. But when an issue is bigger than the game, we must speak out - starting with three words we need to get comfortable saying: Black Lives Matter.
"The struggle for racial justice did not begin just a few months ago with the murder of George Floyd. But his death and response that followed brought the urgency of taking action into focus. We can't lose this focus.
"Equality is the only way forward. As players, as fans and as active citizens, we must confront these issues. We must be clear about what we skate for. #WeSkateFor Black Lives. And even in an empty arena, we never skate alone. Together, we must be part of the movement to end racism, because what we skate for today will bring us a better tomorrow. And that's why we skate for something more."​
8:39 pm: What would the odds have been at the betting window for Jesperi Kotkaniemi to net the first goal of the series? 150-1? Cash your tickets. After a difficult second season that saw the No. 3 overall pick from 2018 sent down to AHL Laval following a full NHL rookie campaign, the always cheery Finn was the recipient of a lucky bounce.
If the first half of the first period is any indication, the Habs - outshot 10-2 at the moment they broke the ice - are going to need a lot more bounces like that. Montreal seemed content to sit back and hang on.​ BTW: The over/under for Price's saves in the game was set at 28. He has 12 in the first 13 minutes.
8:54 pm: Saturday is the first in a grand experiment by the NHL's ice gurus. Three Stanley Cup playoff games in one day in August on the same ice surface. The NHL is confident with no fans and no doors opening to bring in the humidity and heat that they can manage it well by keeping the temperature low. Pens-Habs is the last matchup in a long day. Reports from those rinkside say the ice is indeed choppy at the end of periods - and may have played a small factor in helping the Islanders escape with a Game 1 win earlier in the day.​
9:23 pm: Scratch that. The Habs seem to have found their legs - and their confidence - after Kotkaniemi's tally. Rookie Nick Suzuki added his first career playoff goal as well and the Habs have a 2-0 lead while outshooting the Pens by an 11-8 margin.
In March Madness, it always seemed to be the No. 12 seed with the opening day upset. Another one is brewing on Day 1 of the NHL's version.​
9:32 pm: A first for Sidney Crosby: a goal in his birth month for the kid with the 8/7/87 birthday. Has any player since Wayne Gretzky scored more goals from behind the goal line than Crosby​?​ His bank job off Price's leg was almost impressive as his slick stick lift of Xavier Ouellet to make the play​.
10:28 pm: That overtime feeling is growing with the clock winding down. Pins and needles for the final 10 minutes with the score deadlocked. Oh, how we've missed that sensation.​
10:31 pm: Sushi has arrived. Tuna roll, hibachi rice and Thai tea - as if this day could've gotten any better. Finger on the trigger of the clicker, ready to rotate to Jets-Flames, but not willing to miss10:46 pm: Two of the best words in the English language: Playoff Overtime. It will mark the 10th period played on Scotiabank Arena ice on Saturday.​
10:40 pm: How's that for heart-pumping drama? Pittsburgh's Conor Sheary awarded a penalty shot with 3:03 left in a tied game after Jeff Petry was caught flat-footed off the rush. Sheary carved his way in toward Carey Price but his shot missed the net. There have been just 11 goals in 47 penalty shot attempts this season.
10:48 pm: Oh boy. Mark Scheifele is writhing in pain on the ice after contact with Matthew Tkachuk. He couldn't put weight on his left leg as he was helped to the dressing room.
10:52 pm: Hard not to immediately think of Matt Cooke and Erik Karlsson and the controversy that launched a forensic investigation in 2013. A quick Zapruder-like, frame-by-frame replay shows Tkachuk's skate blade appears to make contact with Scheifele along the boards.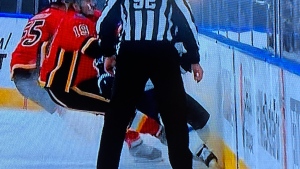 The sequence seems to be accidental in nature for Tkachuk, but there is no doubt this will magnified many times over. For the Jets, it certainly appeared to be a significant injury (Achilles?) for Scheifele, one of Paul Maurice's key drivers.
10:55 pm: Tkachuk answers the bell and drops the gloves with Jets captain Blake Wheeler in response to his hit.
11:12 pm: Back over to Toronto. The Penguins failed to score on an overtime power play. Jonathan Drouin couldn't corral the puck on a penalty shot attempt, the second player to skate in with the game on his stick in the last hour. EVERYTHING IS HAPPENING. ​
11:24 pm: The Department of Player Safety announces Chicago's Drake Caggiula will have a hearing on Sunday for an illegal check to the head of Edmonton's Tyler Ennis. Caggiula was not penalized on the play, but Ennis was issued a minor for delay of game as he shot the puck out of play with Caggiula bearing down.
11:25 pm: Jeff Petry wins it for Montreal. Two tickets to Upset City, please. The Penguins join the Oilers as the second No. 5 seed to fall to a No. 12 on Opening Day. Also fair to ponder what Alexis Lafreniere might look like in a Pens jersey - following in Crosby's footsteps from Rimouski to the Steel City. Hmmm.
11:51 pm: Go, Go, Go Johnny Go. The Flames' goal song for Johnny Gaudreau - Chuck Berry's 1959 classic Go Johnny Go [Johnny B. Goode] - is rocking. The Flames have solved Connor Hellebuyck for the first time. Better news for Calgary: it's Gaudreau's first playoff goal in 10 games after going scoreless in his two previous series.​
12:06 am: Need to get up and take a lap. Couch sores setting in.​
12:18 am: Second intermission thought - Watching the success of this wall-to-wall opening day, the NHL surely has to be thinking about a way to recreate a staggered day-long schedule when life returns to our new normal, no?​
12:41 am: One game boiled down into a special teams story. The Flames scored three power play goals in one period for the first time in a playoff game since 1989 (!), while the Jets are 0-for-5 on the man-advantage - and haven't created much in their four opportunities without Scheifele.​
12:46 am: Patrik Laine heads down the tunnel to the Jets' dressing room clutching his wrist after a cross-check from Mark Giordano. Gulp.​
1:03 am: Andrew Mangiapane ices a Game 1 win for Calgary in the Battle of Atlanta relocations. The Flames nearly scored as many goals (four) as the Jets managed shots (five) in seven power plays. Now, the injuries to Laine and Scheifele loom large, as those two players accounted for a quarter of Winnipeg's goals this season.
1:16 am: What a wild day - one of the most compelling opening days in playoff history. A Conn Smythe performance from Matt Dumba. Two stunning upsets. The first-ever NHL goals scored in August. A playoff debut record five-point day for Dominik Kubalik. The first playoff game to feature two penalty shots in 97 years. Overtime heroics from Jeff Petry. A reminder why players voted Carey Price as the NHL's best goalie three years in a row. Fights, a possible suspension, gruesome skate-cut injuries - and maybe even some Tkachuk conspiracy theories.
Really, what else were you expecting in 2020?
Contact Frank Seravalli on Twitter: @frank_seravalli​