Gaudreau named first star of December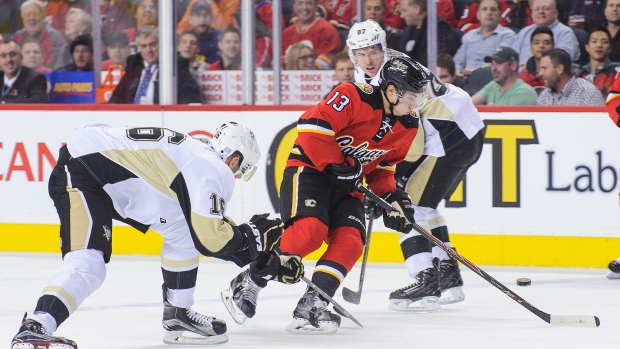 NEW YORK, N.Y. - Calgary Flames forward Johnny Gaudreau is the NHL's first star of December after leading the league with 12 goals in 13 games over the month.
Gaudreau also had six assists as the Flames went 9-4-0 in December and completed a franchise-record run of 11 straight home victories.
He registered at least one point in nine of his 13 appearances, highlighted by three game-winning goals, four multi-goal performances and a pair of hat tricks.
Washington goaltender Braden Holtby is the second star with a 9-0-1 record, 1.69 goals-against average, .947 save percentage and one shutout in 11 appearances
Chicago winger Patrick Kane is the third star as the month's leading scorer with 19 points (nine goals, 10 assists).
Anaheim goaltender John Gibson is the league's top rookie of December with a 5-3-1 record, 1.62 goals-against average, .929 save percentage and three shutouts in 10 appearances.
Earlier, the NHL named Los Angeles goaltender Jonathan Quick, Arizona forward Shane Doan and Pittsburgh defenceman Kris Letang as the three stars of the week.
Quick went 4-0-0 with a 1.00 goals-against average, .968 save percentage and one shutout for the Pacific Division-leading Kings.
Doan led the NHL with five goals in three games, while Letang led all defencemen with six points.