Getting creative with the Blue Jays' order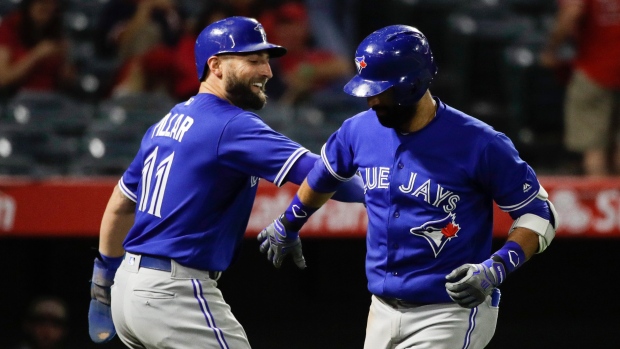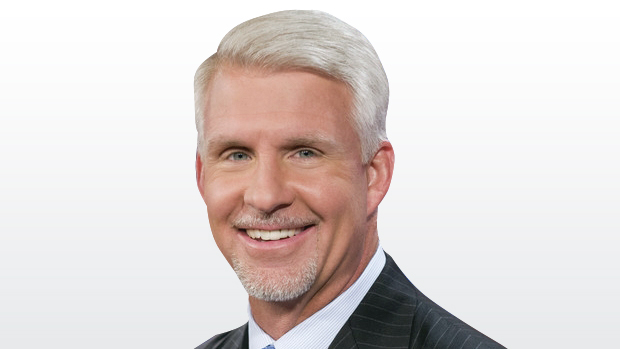 Blue Jays manager John Gibbons is at it again with the redistribution of hitters in his lineup.
He's moved Jose Bautista to the leadoff spot and Russell Martin to the two-hole in the order. A look at the numbers and you understand why. The Jays are ranked 27th in the majors in the leadoff hitters' on-base percentage, 24th in slugging percentage and 26th in OPS. The second spot in the lineup is ranked 16th in OPS so far this year.
Devon Travis' injury has compromised the ideal plan for the lineup, as the Jays preferred him in the leadoff spot. They tried Kevin Pillar there and it worked when he was hot. But Pillar is a guy who hits his OBP and rarely walks. So when the hits aren't falling, he's not a great option. They need more offence as they are only ranked 24th in runs scored.
So Gibbons is getting creative.
Bautista (.339 OBP) is a patient hitter. He works the count and is always willing to take a walk. He's best suited to bat fifth or sixth in a really good lineup, because he can drive in runs and set the table for the bottom of the order. Unfortunately, this isn't a really good lineup. Bautista's on-base percentage is his most important attribute as a hitter right now and is needed in front of the other run producers.
The same can be said for Russell Martin (.377 OBP) right now. His OBP screams placement in the front of the batting order. But I would prefer Martin in the six or seven hole in a deep lineup - he needs to be in front of the bashers right now. He and Bautista can create traffic in front of their 3-4-5- hitters: Donaldson, Smoak and Morales. And this configuration gives the Jays their best opportunity to score.
An easy case for Vlad and Doc
Roy Halladay and Vladimir Guerrero are being inducted into the Canadian Baseball Hall of Fame this weekend. Both were among the elite talents in the game during their careers and this is very likely the precursor for their induction into Cooperstown.

Guerrero earned 71.7 per cent of the votes last year (his first on the ballot), falling just short of the necessary 75 per cent. It's highly likely that he will be part of the next induction class. Vlad had the ability to drive the ball from line to line. He could put the fat part of the bat on the ball, regardless where the pitch was thrown. He was a nine-time All Star and eight-time Silver Slugger Award winner. He won the MVP in 2004 and was an RBI machine driving in 1,496 career runs, including ten seasons of 100-plus RBI. He led the league in intentional walks in five seasons, with 250 over his 16-year career. He also had one of the strongest and most feared outfield arms the game has ever seen.
In my opinion, Doc will be a future member of National Baseball Hall of Fame as well. He won two Cy Young Awards, finished second twice and third once in balloting. He was 203-105 in his career with a 3.38 ERA and pitched 12 of his 16 seasons in the AL East when it was baseball's most powerful division. It also must be noted that he dominated during the steroid era as a two-time 20 game-winner. He led the league in innings pitched four times and led the league in complete games on nine occasions.
Halladay featured a power sinker ball and devastating curveball, plus a late-breaking cutter and deceptive change up. He was tough to hit and he had a knack of making the big pitch when he needed to. If he needed a ground ball double play, he got it. If he needed a swing and a miss, he got it. He has a perfect game to his name as well as only the second ever post-season no-hitter. He was his best in the biggest moments.
Rizzo should have been gone a game
Cubs slugger Anthony Rizzo was the centre of controversy this week when he bowled over Padres catcher Austin Hedges in what MLB deemed to be a violation of the home plate collision rule. The rule makes it clear that a runner may not run out of a direct line to the plate in order to initiate contact with the catcher, or any player, covering the plate. Rizzo clearly changed his path to the plate to initiate contact, in an effort to dislodge the baseball from Hedges' glove. Hedges held on to the ball but got knocked backwards and ending up leaving the game with an injured thigh.
Cubs manager Joe Maddon called it a "good baseball play," while Padres manager Andy Green thought it was a cheap shot. That's two rather biased opinions for sure. The only opinion that really matters was that of Chief Baseball Officer Joe Torre. He deemed Rizzo's actions as a violation of the collision rule but decided not to fine or suspend him. Torre didn't believe that Rizzo was malicious in his initiating the contact and did not do it to harm Hedge's career. Rizzo explained to Torre that he could have lowered his shoulder and crushed Hedges even harder than he did.
But I think Joe Torre got this one wrong. If there's a rule, it needs to be enforced. Rizzo clearly violated the rule that was put in place to protect catchers from a collision at home plate where they can be sitting ducks. And Rizzo's intent shouldn't matter. The rule doesn't say anything about the motive of the baserunner.
Even if motive matters, Rizzo's contact was deliberate and thoughtful. How is that helpful to his case? He hit Hedges hard enough to injure him. And because of the rule, catchers do not expect contact and therefore don't brace or protect themselves and are more susceptible to injury.
Rizzo should have been suspended for at least one game. By not penalizing him, Torre has set a bad precedent for future such cases. There are some who have suggested that Rizzo, or any baserunner that violates the rule and injures a catcher by collision, should be suspended for as long as the injured catcher is out of the lineup.
Spitting Seeds
The Blue Jays are now 0-9 in games that could bring them back to a .500 record. Every time they get close, they lose.
Is that a coincidence or not?
I don't believe in coincidences. Everything means something in baseball. The first couple of times the Jays fell short of evening their record, it was just the nature of the game. They just plain lost. But when the questions get asked about their inability to get over the hump, it makes it feel bigger. And each time after that it becomes even more of a "thing" - an unexplainable hurdle - that seems impossible to overcome. There are no reasonable explanations, but these critical games feel different. It becomes a mental obstacle. As the pressure and losses mount, the players start to look for the thing that will go wrong in the game, that will be the cause of the defeat this time.
It will take an extraordinary effort for the Jays to push through and beyond .500. The good news, though, is that once the Jays do get to .500 they may get over the last hurdle before going on a run.
---
By the way, the Los Angeles Angels are 12-0 on Tuesdays. I know I said everything means something, but I'm having a tough time figuring out why. My guess is that the players have little or no knowledge about this stat.
---
The Baltimore Orioles have set an American League record of allowing five runs or more in 19 straight games. The Major League record is 20 straight held by the 1924 Philadelphia Phillies. In the month of June, opponents have the following slash line: .308/.381/.549. To put that in perspective, those numbers are very similar to the career numbers of Hall of Famer Mike Piazza (.308/.377/.545). The O's pitching staff is making superstars out of every lineup they face.
---
The Atlanta Braves have made it clear over the past couple of years during their rebuilding process that first baseman Freddie Freeman wasn't available for trade. He was one of the keepers and now we know why.
Freeman is recovering from a HBP that broke his wrist earlier this season. In his absence, Atlanta, traded for Matt Adams from the Cardinals. Adams have been crushing the ball since the trade. As Freeman nears a return to baseball activities, he has suggested to the club that he prepare to play third base, so as to keep Adams' bat in the lineup.
That's what a leader does. Back in the day, Chipper Jones moved from 3B to left field because it helped the organization. The contract doesn't stipulate that players only play at a certain position, just that they play.
---
Tigers ace Justin Verlander had a perfect game into the sixth inning this week against the Seattle Mariners. Mariners outfielder Jarrod Dyson laid down a beautiful drag bunt that he beat out for the first hit of the game, breaking up Verlander's shot at history. So many good baseball people are calling Dyson's bunt a bush league play.
They're wrong.
A batter's job is to get on base and do what is necessary to try and win a game. That is what Dyson did. Speed is his game. Bunting is a weapon. The Mariners didn't owe Verlander a shot at history. In fact, that bunt opened the floodgates a bit and the Ms scored three runs to cut the deficit to 4-3. It wasn't the wrong thing to do, it was exactly the right thing to do.
---
The unwritten rules of baseball struck again.
They struck in Los Angeles as well. Guess who?
Yasiel Puig homered against the Mets and stood and gazed at the ball as it sailed out of the ballpark. He then took 32 seconds to get around the bases. His pace and celebration angered first baseman Wilmer Flores who yelled at Puig as he rounded first. Mets catcher Travis d'Arnaud also exchanged words with the Dodger outfielder when he crossed home plate. In a bizarre twist at the end of the half inning, Jose Reyes and Yeonis Cespedes confronted Puig on the field, berating him and imploring him to not act that way again after hitting a home run. Who knew that Cespedes and Reyes are the fun police?
Players from one team should not chat with opposing players like that between innings. It is not their role to teach or hold the other team accountable. If they do want to address a situation like this then it should be done the next day around the batting cage or in the outfield.
Plus, what is the big deal about players celebrating when they hit a homer? The celebration, whether a bat flip or a gaze, is about a hitter's joy and not about showing up the opposing pitcher or team. Can we stop making everything about us when sometimes it is just about the other guy?
Steve Phillips was general manager of the New York Mets from 1997 through 2003, helping lead the club to a National League championship in 2000 and its first World Series appearance since 1986. His analysis appears each week on TSN.ca, TSN Radio and SportsCentre.