Giovinco, Altidore want to stay, win in Toronto
Jozy Altidore and Sebastian Giovinco are two key members of Toronto FC's championship and back-to-back MLS Cup Final teams. As the 2019 season approaches, neither player has signed a contract extension, but both remain committed to staying and winning in Toronto.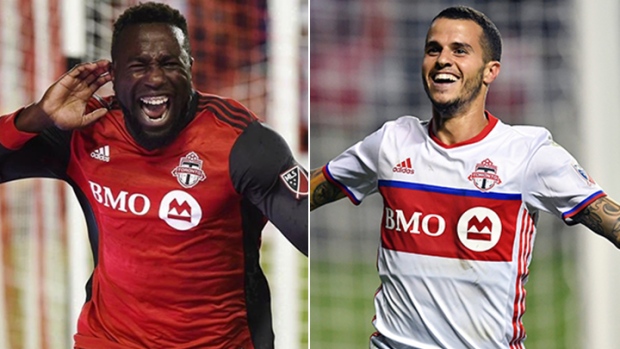 Toronto FC's first MLS title defence did not end as they would've hoped. After beginning the season with a run that saw them fall short of capturing the CONCACAF Champions League title on penalty kicks, the 2018 MLS Cup champions finished 14 points behind the Philadelphia Union for the final playoff spot in the Eastern Conference.
With their run of consecutive trips to the MLS Cup Final also snapped, two players that were key to that success, Jozy Altidore and Sebastian Giovinco, enter the 2019 season without contract extensions.
As the team tries to make another run in the CONCACAF Champions League and get back to their winning ways in MLS play, the pair of forwards are adamant about their commitment to remain with Toronto FC beyond the conclusion of their current deals, although they know the outcome of those negotiations are not totally in their hands.
"How many times have we said we want to stay here, we want to close our careers here," Giovinco told TSN's Kristian Jack. "But, at the end, this not only our decision."
Altidore also reiterated that new contract or not, their effort and play on the field will remain the best that both players can give.
"These things are natural and they're supposed to happen naturally," said Altidore. "It doesn't change anything. We're competitors, we're professionals and we're going to go out and do what we always do and if it's the end, it's the end."
Giovinco and Altidore have both been part of what is unquestionably the best and longest period of success in Toronto FC's history and feel that playing for their teammates and the people of Toronto is enough inspiration for them to perform, with or without new contracts.
"You play for the team and for the fans," said Altidore. "The fans have been through so much and the best part of those moments is when you look in the crowd, when the camera goes to the people because you can see the euphoria.
"They didn't have those moments for soccer in Toronto and the fact that we can help give them that, for me it's already a huge pleasure and I want to give them more memories before I go. That's the idea."
Giovinco posted 13 goals and 15 assists in 28 regular season games last season and he's also ready to give more to the team and supporters.
"My motivation is like it is always, try to be the best and try to win, that is part of my character," said Giovinco. "We will see how we can do more and win, because this city and this club deserve to win."
Altidore struggled through injuries last season, appearing in 13 MLS games, scoring seven times, but now feels healthy and is ready for more.
"I'm ready, I'm finally going to play, after two years, without broken bones in my feet," said Altidore. "I'm excited now to be fit and healthy and have no worries."