Giroux lifts Flyers past Sens in overtime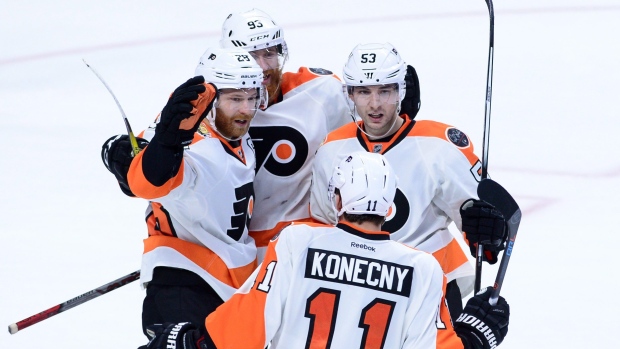 OTTAWA — Claude Giroux couldn't have asked for a much better trip to Ottawa.
The Flyers captain scored twice, including the winner 40 seconds into overtime as Philadelphia beat the Ottawa Senators 3-2.
Giroux's two-goal outing came just a night after he got engaged to his longtime girlfriend, Ryanne Breton from Ottawa, and extended his team's win streak to three games.
"It was pretty special (to get engaged) and to get the win was icing on the cake," said Giroux, who grew up in Ottawa.
Michael Del Zotto also scored for the Flyers (12-10-3) while Steve Mason made 19 saves.
Mike Hoffman and Ryan Dzingel scored for the Senators (14-8-2). Mike Condon, making his fourth start and first since Nov. 17, made 29 saves.
The loss was tough to swallow for the Senators as they jumped out to a 2-0 lead before having to settle for the single point.
"Any time you blow a lead whether it's one goal or two goals it always hurts," said Dzingel. "We had a chance in overtime even though we gave up those two goals and we couldn't capitalize, so obviously it hurts losing that one point."
Tied 2-2 through 40 minutes, the third period did little to settle anything, leaving the 14,334 on hand at Canadian Tire Centre wanting more.
Ottawa took a 2-0 lead just 1:57 into the second when Dzingel knocked down the puck in front and put a stick on it to lift it past Mason for his sixth of the season and first in 11 games.
The Senators then saw their lead disappear as the Flyers scored twice in 60 seconds.
"We had a good first, good third, but our second definitely we could have done better," said Senators coach Guy Boucher. "We stopped shooting. We created less momentum in the offensive zone and they grabbed that and got some power plays and grabbed that part of the momentum."
The Flyers, who had given up a two-goal lead two nights ago against the Boston Bruins, felt they were deserving of the two points.
"I thought (Thursday) was a real good consistent, 61-minute effort right from start to finish pretty much up and down our lineup," said Flyers coach Dave Hakstol. "It was a much needed outcome for us on the road and a pretty good effort from our group all the way through."
Giroux cut the lead in half at 16:50 as he came down and got a shot off that caught the inside of Condon's blocker and went in.
Exactly one minute later Del Zotto tied the game when he tipped Mark Streit's shot.
Despite not having played in two weeks, Condon was solid and could get more playing time as Craig Anderson is on a personal leave with his wife, who is undergoing treatment for throat cancer.
"I thought he played very well," said Boucher. "He had some instances where he had to make some big saves and I thought he was very calm. It's too bad that second goal, he didn't see it, I'm sure if he would have seen it he would have stopped it."
The Senators opened the scoring midway through the first with a power-play goal. Mark Stone made a great pass to Hoffman alone at the side of the net and he wristed it past Mason. Hoffman now has five goals in six games.
Ottawa was down to five defenceman for the third period as Fredrik Claesson suffered a lower-body injury.
The Grey Cup champion Ottawa Redblacks were on hand for a ceremonial faceoff. Quarterback Henry Burris and receiver Brad Sinopoli dropped the puck from the Grey Cup.
Notes: The Senators were without D Marc Methot (lower body, day-to-day) and RW Bobby Ryan (index finger, day-to-day). Philadelphia D Brandon Manning missed his third straight with an upper-body injury. LW Scott Laughton and D Nick Schultz were healthy scratches.